Founder/Admin
Staff Member
CFO (Chief Fun Officer)
Joined

Feb 13, 2016
Messages

37,366
Likes

156,027
Location
This is a review and detailed measurements of the AUDIOPHONICS DAC I-Sabre ES9038Q2M Raspberry Pi DAC. This was kindly sent to me near a year ago by Audiophonics. The DAC I-Sabre ES9038Q2M cost 129 Euros from Audiophonics direct. I don't know if anyone sells it cheaper or not.
Edit
: US price which excludes VAT is $118.
The ESS ES9038Q2M chip certainly requires a lot more parts than we have seen in other Pi HATS:
I should say that it is a pain to identify these products as a number of them have no markings at all on the board as to who made them or what the model number or revision is. I have had to do a visual match of the components to determine this.
For my testing, I used the identical setup to recently tested PI DACs. I simply replaced the DAC, selected the appropriate driver in Ropieee software that runs on the Pi and tested the unit.
I expect good results here since Audiophonics includes Audio Precision FFT results of a 1 kHz tone which I show in my dashboard: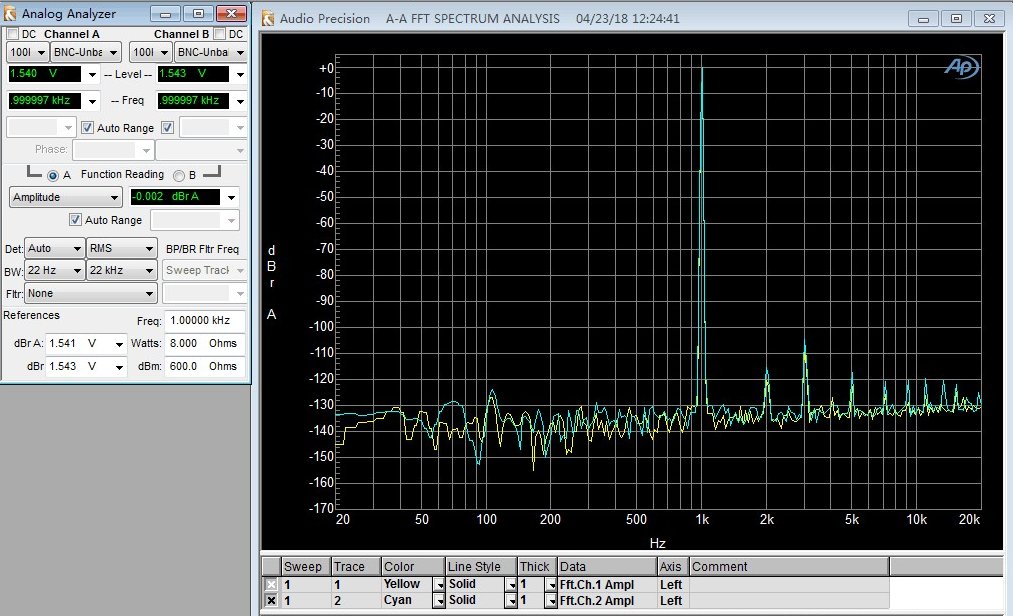 This would translate into a SINAD of about 105. Let's see how our sample does.
Raspberry Pi HAT DAC Audio Measurements
Here is our dashboard view using 44.1 kHz sampling rate as I normally use, with the data streamed from Roon over Ethernet (again, as before):
Ah, "now we are cooking with gas."
(English/cooking expression saying something is seriously proper.) The "bad" channel matches the SINAD of the manufacturer at 106. The good channel actually pulls head at nearly 109. This places the I-Sabre ES9038Q2M solidly in tier 2 of all DACs tested:
The output voltage though is rather low at 1.6 volts. Not sure why. This should have been 2 volts.
Jitter test shows a very low noise floor (good) which winds up showing more spurious tones:
This is very good results that goes along with the same tier as the SINAD of the DAC. The worst case tones are power supply related (to the left) at below 120 dB so not a concern at all.
Here is our 7 tone test results:
Not a fantastic showing but much better than the bargain priced HAT DACs I have tested recently.
Finally, here is the reconstruction filter response:
I don't know why all of these HAT DACs have such low attenuation past 24 kHz. We should be down at -80 dB or better.
Conclusions
The AUDIOPHONICS DAC I-Sabre ES9038Q2M finally brings good performance to HAT DACs. It rivals the performance of the higher priced DACs from
Allo and Orchard Audio
but at lower cost.
Of course for this kind of money you could get an external DAC and get similar performance. Then again you would not have such a compact package.
All in all, I am very pleased that the company a) has proper measurements on their site b) volunteered to send me one for review and c) the performance results are very good. To that end,
I am going to recommend the AUDIOPHONICS DAC I-Sabre ES9038Q2M.
------------
As always, questions, comments, recommendations, etc. are welcome.
For some reason, I feel poor today. So please
donate generously
using
https://www.audiosciencereview.com/forum/index.php?threads/how-to-support-audio-science-review.8150/
Last edited: