Hi
I came across this forum searching for solutions/suggestions/tips to properly setup my speakers/sub-woofer. I found some discussions in this forum but not specifically for WII + KC62 (that discussion was for LS50 Meta).
I bought a pair of LS50 WII and KC62 a week ago, and I'm struggling to get a good result. I couldn't get good / punchy / tight bass out of this setup. Bass is boomy and the setup sounds quite flat (lack dynamic).
Below are details of my setup:
- LS50 WII on KEF's S2 Stand
- Sub is connected with the right speaker / close to the wall (also tried the left one but got the same result).

- Below is the setup - I know it looks weird, but I set it up like this to fix the wake up issue. With default setting, KC62 only wakes up with moderate/loud volume and may turn off mid-song for bass-light songs.
KEF guy suggested this setup as a workaround
.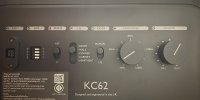 With this setting, the sub will not use LFE signal and I have to set it up like this in KEF Connect. Basically, sending the whole band to the sub and use the sub's crossover to determine the cut-in point. Also the volume to determine the sub's output. This can resolve wake-up problem.

Also note that the Phase is 180, as after several rounds of testing, I found that reversing the phase give me a bit deeper bass.
Then, to the setup, from the manual, it's suggested that there should be some gap when the speakers are "rolled off" and the sub will "cut in" to prevent bass bump, so I set the speakers to roll off around 65 and sub's crossover to 45.
Also note that I tried countless combinations of high-pass / sub out and various sub's EQ (e.g. Room / Wall / Corner), but couldn't get satisfactory result.
Also I tried that "sub crawl" trick (swapping sub/seat positions and crawl around / using sound analyzer app on my phone to measure low freq to find the best location), but to be honest... the freq/spectrum measured were pretty much the same across the room. This setup is in my bedroom (4*5 Sqm) with bed/cabinet/tv etc. So I ended up leaving the sub where it's most convenient to plug in and out of the way.
Lastly... in spite of the wake-up issue, I also tried using the app's default setting (selecting KC62 / selecting LFE + volume at 3PM and sub-out at 45 / high-pass at 70), but still couldn't get good bass.
I listen mostly to jazz/pop... for songs like
I Don't Want To Hear It Anymore (Shelby Lynne)
/
My Love Is (Diana Krall)
/
Cry (if you want to) (Holly Cole)
, bass is quite boomy and doesn't go as deep as it should (I have some good headphones with proper amplification (e.g. Focal's Utopia/ZMF Verite Closed) so I know how the bass should sound like in those songs.
Any suggestion please?
Last edited: