Joined

Feb 23, 2016
Messages

4,085
Likes

2,282
These are measurements of the Marantz AVR 7701 pre/pro I purchased second hand from Sal. It was superbly packaged and in great condition. Thanks Sal.
The original MSRP was $1699 for this unit in 2013. It has Audyssey which I may eventually report on. And of course a plentitude of other features.
One could perhaps spend weeks testing all aspects of a modern multi-channel preamp. I did a few spot checks of things and mostly this is a test of the basic analog and DAC capabilities of the device.
First we'll start with the customary J-test done with a 32K FFT. (maybe Amir will use more bins with his new AP unit).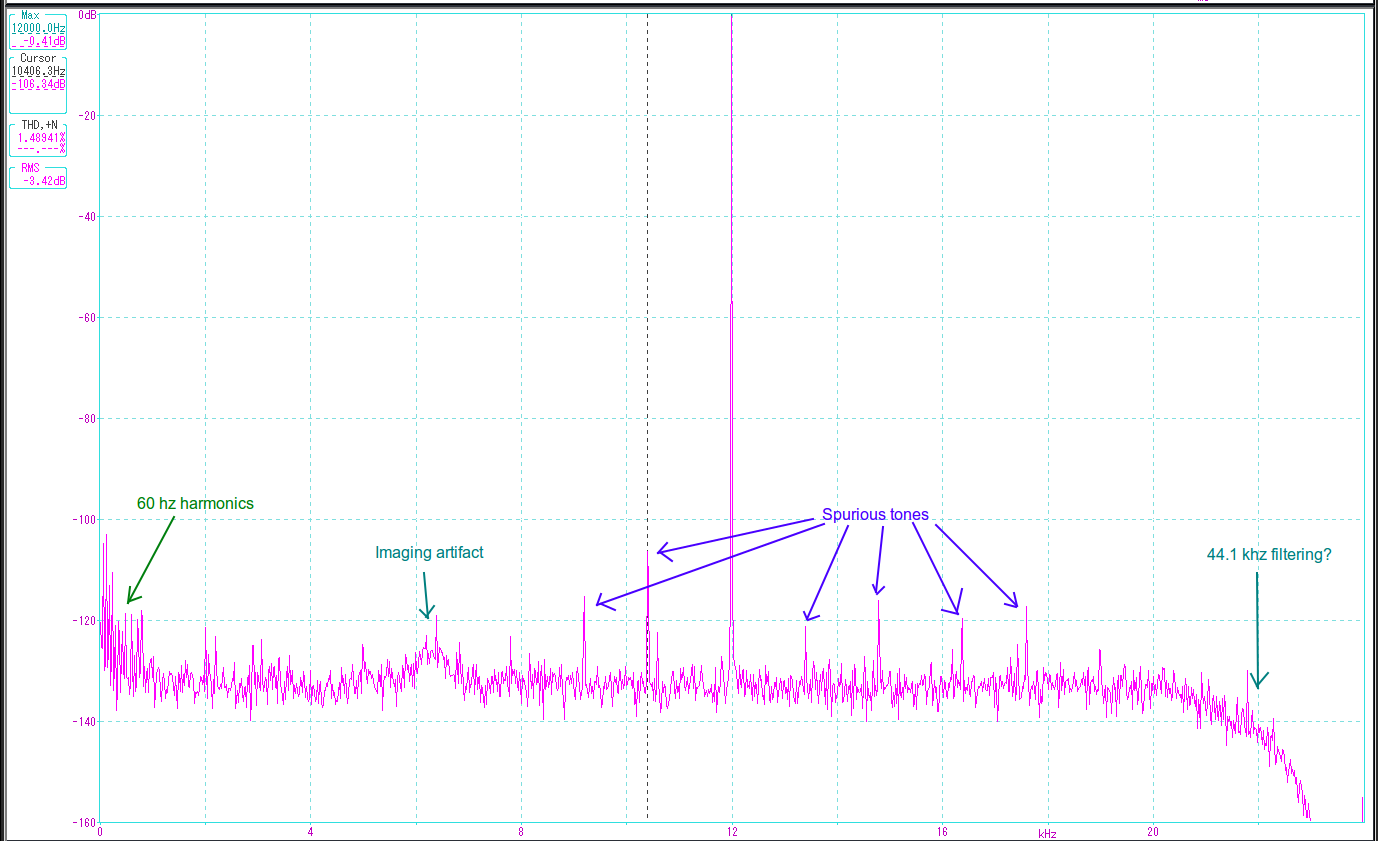 The central 12 khz tone is nice and tight with little spread in the base. So little random jitter around the central tone. But there are several spurious signals here. These are caused by periodic jitter. Unusually there appears little relationship between the spacing. However the spacing is consistent around any high level tone as will be seen in sweeps. The worst is at a level of - 106 dbFS with the others -115 dbFS or lower. So I doubt they'll be heard.
There are a string of power supply harmonics from 60 hz to nearly 1 khz. The highest is -103 db at 120 hz with all the others several decibels lower. So probably not an audible problem.
The noise floor looks to be somewhere near -100 db and tested out at 103 db for SNR and 107 db dynamic range. So somewhere at or above 17 bits worth.
Finally there is a wrinkle in the noise floor I've shown as an imaging artifact. The output filter reacts to the signal and reflects higher frequencies back into the audio band. This one is related to another curiosity. It appears the signal is filtered with a roll off at 22,050 hz as if this were a 44.1 khz sample rate instead of 48 khz. And the position of the imaging artifacts also fit that idea. Is one digital filter implemented for cost savings? Was it a mistake? I need to test at some other sample rates and see what happens.
Channel separation (not shown) was more than 95 db at and below 1 khz, but gradually rises until it is only 65 db at 20 khz. It is about 75 db at 5 khz.
Here is the 1 khz tone for reference. Several harmonics the highest being the 2nd at -94 db or .002 %.
The 18+19 khz IMD results are also good with the 1khz difference being - 106 db and everything else is lower. There are plenty of spurious tones for that grassy look in the noise floor, but all very low in level.
Other things worth discussing:
These measures were taken with Direct mode. All processing and surround formats are bypassed. Only direct digital input and this should tell you the capabilities of the DAC and basic analog circuitry. However, Marantz included the PURE DIRECT MODE. Pure Direct turns off front panel displays and all video circuitry so only audio parts are active and powered. Touted as giving maximum sound quality with quieter noise floors and lower jitter. I tried it, and all the measurements are exactly the same. So much for Pure Direct and pollution by those video circuits.
With 0 dbFS input and volume set to 0 db the output is a touch over 3 volts where these measurements were taken. You can turn the volume up to +18 db. With max level digital input the distortion begins to rise, but not very much. It is still .005% at 4.5 volts. Distortion has risen to 1 or 2% by +12 db and 6 volts out. It puts out 16 volts at max volume, and above +12 db the increase in voltage is less than it should be. Also it appears to be an analog amplification. If you feed it some lower level digital signals and turn the volume up distortions stays very low until you pass 4.5 volts output even if volume controls are +18 db. So useful for unusually low sound levels. Will not be harmful if all you are doing is turning it up to hear at normal levels.
Here are a couple of spectrograms. In this case the background goes to gray at -100 dbFS. Anything above -100 dbFS will leave a trace. Left is single tone sweep and right is twin tone IMD sweep. You see 2nd harmonic at -94 dbFS and not much else.
Next are the same sweeps with the floor of the spectrogram lowered to -120 dbFS.
You see more of the harmonic distortion that lies below -100 dbFS and some of the imaging artifacts as well as spurious tones apparently caused by some periodic jitter corrupting the clock.
Finally a spectrogram of the low level linearity. Here the background goes to dark gray at -150 dbFS. The upper is the Marantz 7701 and for reference is the test file below it. The vertical green bars are just markers. The first marker is after the 16th bit, the second after the 20th bit and the third is after the 24th bit. The first signal is the 10th bit or -60.2 dbFS. Ignore the line at 16 khz as that is present in the ADC when connected to my Macbook Pro.
Using my convention of calling it when the level is 1 db off from the correct level this unit manages the 20th bit where it is .2 db off. It is 3 db too high for the 21st bit. Using Amir's .1 db error limits the 16th bit is where this happens. But the following 4 bits are all close with less than .5 db error until the 21st bit.
So just as a DAC, this isn't up to some of the better DACs around though it is hardly terrible. This also gives us a point of comparison for any future multi-channel gear that gets measured. It should be very good quality for video, and likely wouldn't harm any music listened to over that system.