Addicted to Fun and Learning
Joined

May 28, 2020
Messages

726
Likes

1,467
Location
As I read through the reviews of 2 way MTM center channel speakers and contemplate their dismal horizontal directivity in context with the application of the Revel C25 in my media room, I cannot help but wonder how much it matters and whether we are making too much of it. I love audio science, but I love practical application perhaps a bit more.
In this thread, I will throw out a bunch of measurements of my real-world application of such a speaker (
Revel Concerta2 C25 reviewed here
) for contemplation and discussion.
Starting with the room... It is absolutely terrible, but it is what I have to work with. It is nearly a cube at nearly 13' x 13' x 10.5'. I did the best I could with it in terms of layout, and I treated it with tasteful broadband absorption to make up for some of its deficiencies. This is how it is laid out, although the sofa ended up ~1' back from where depicted due to WAF opinion:
Here is the AMROC for the room:
Here are standard and wide angle photos (with dog butt where appropriate):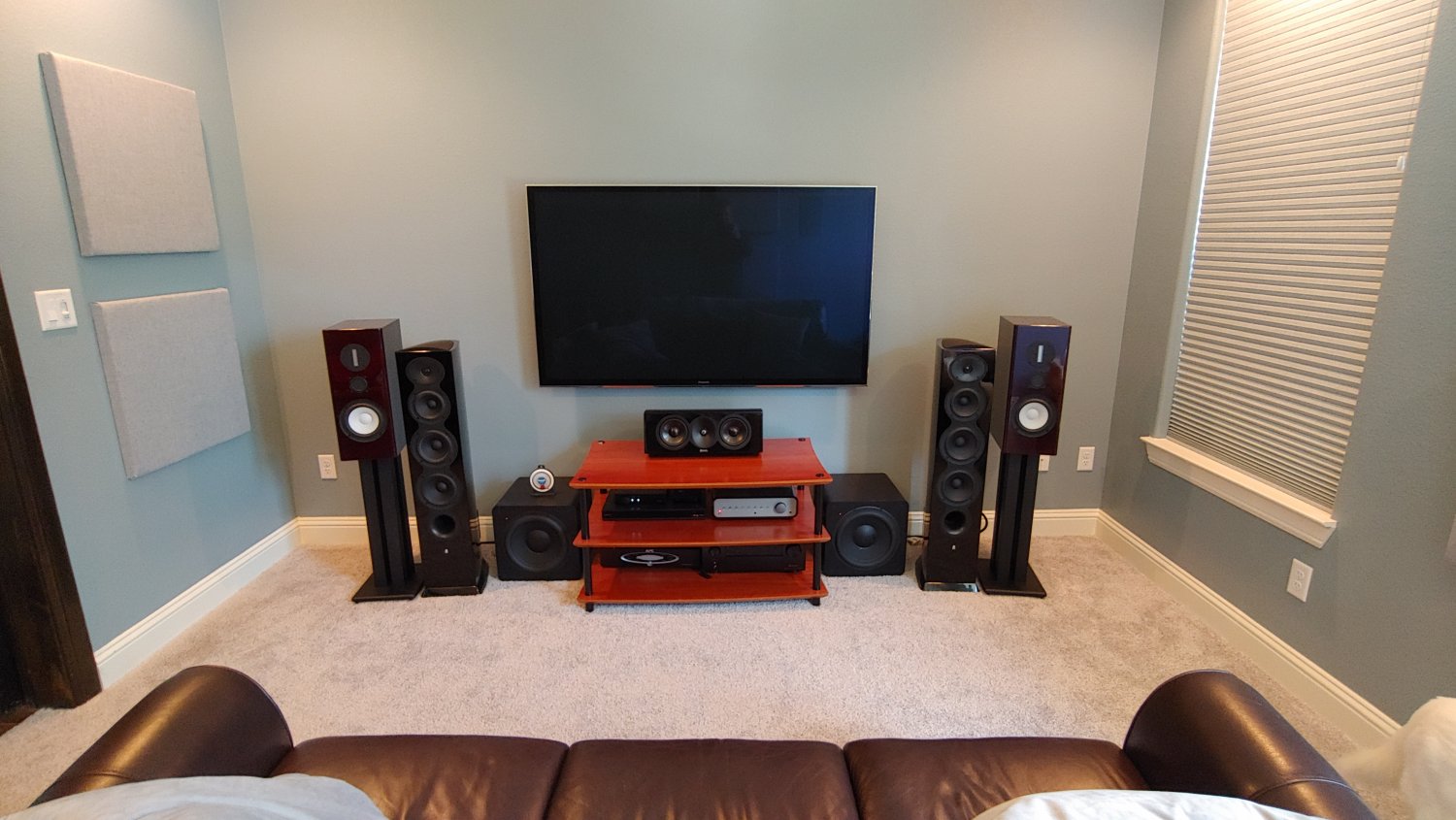 If we invert the listener triangle shown in the first diagram and apply measurements, we have 84" to the center listener's center headspace, 87" to each side listener's headspace, 48" between the centers of the side listeners' headspaces, and
a
dispersion angle of ~32 degrees
.
To measure the response of the center channel speaker, I plugged the left channel speaker lead into the center speaker, then plugged my laptop into the Peachtree Nova 300 via USB. I used REW to take sweeps of the left channel only, followed by RTA measurements using the MMM with unfiltered pink noise.
Let's start by looking at the center position sweep and what it tells us about the speaker and the room:
My goal in treating this room was to achieve fairly even decay averaging around 300ms, and I missed that by about 50ms, which is something I can adjust, but it otherwise looks decent for what it is.
The center seating position sweep is less than ideal to be sure. Here it is again compared to the left and right seating positions:
That looks terrible--especially against my Harman-ish target. Judging by the sweeps, a listener definitely wants to be in the center seat.
Much of the over-brightness is explained by table bounce, which has to be there due to having children and dogs in the house. Fortunately, there is not usually much useful content up there in film and television content. The rest... Well... No wonder we hate MTM horizontal designs! Maybe...
There is some good news, however. A crossover frequency of 80-100Hz is appropriate with this speaker, which is what we expect in a normal home theater. Human vocal fundamentals range from ~150 to ~1000Hz, and that range is clearly room-influenced here, although the center seating position does fare better at the dip centered at 700Hz. Above 1KHz... Who am I kidding? This is mostly bad. OK, terribly, horribly bad.
The better news is, we do not listen to sweeps at a fixed location. We listen to an excited room with many frequencies playing and reflecting and cancelling at the same time, and we move around a bit. Perhaps things get better with pink noise and the Moving Mic Method? (To measure this, I used REW's RTA to record unfiltered pink noise for ~30s or ~60 samples while moving the mic around in a ~16" headspace in each position.) (So sorry I was too lazy to make the colors match the sweeps, so you will have to read the legends.)
And with 1/3 octave smoothing for legibility:
Hmmm... This looks somewhat better.
That 700Hz dip is now equally experienced by every position, proving it is room-influenced. (Assume DRC up to at least 1KHz to help clean up the uneven bass.)
Above that, the center seat still experiences the flattest frequency response up to 3KHz, but the largest difference is less than 3dB at 2KHz. At the upper limit of the female human voice fundamental however, we see maybe 1.5dB difference in SPL.
We are now focusing on 1KHz to 3KHz cancellation, where only extreme fundamentals and overtones of vocals exist (except for screaming, which quickly blends across the seating positions). The rest of the human vocal spectrum is subject to the room and potentially DRC if available, which it is in my system.
The largest worrisome discrepancy is centered at 2KHz. What is there, and do the side listeners care? We care from a data POV, but do listeners actually care?
This is how Audyssey XT32 measured this speaker with 8 averages around the seating positions:
Above 3KHz, it is much less accurate, but in the 1KHz to 3KHz region, it is pretty close.
If I let DRC correct this speaker up to 3KHz, do I need to obsess about less than 3dB cancellation in an area not terribly critical for dialog? What if I just let it own the whole FR? Unfortunately, I cannot measure that difference without upgrading my laptop. I very much wish I could.
What if I always get the center seat, and none of my family members care about any of this stuff?
What if my 9 year-old bounces around all over the place, and my wife falls asleep after 30 minutes of whatever we are watching?
The horizontal directivity of this speaker is not so bad in my environment that I feel terribly compelled to care much about it. If I had room, I would use an M105 or M106 in vertical orientation instead, but I do not, and this compromised design is fine for us.
Having said that, I ran the home theater without a center for a few months while waiting for the dealer to get one in stock, and NO ONE MISSED HAVING A CENTER CHANNEL SPEAKER. I had a solid phantom center image, and my family members did not notice anything missing nor care. So there is that also.
It is my opinion this objectively flawed design is perfectly, subjectively workable in my situation, and a very high percentage of people are in the same situation with similarly acceptable results.
Discuss.
Last edited: