Founder/Admin
Staff Member
CFO (Chief Fun Officer)
Joined

Feb 13, 2016
Messages

35,029
Likes

130,724
Location
This is a review and detailed measurements and comparison of SMSL AD18 DAC, Headphone Amplifier, Power amplifier and Bluetooth Receiver. I will be contrasting its performance against the
Topping MX3
. I purchased the AD18 in February of last year through Amazon. Seems like the price has gone down to $140 and it now includes Prime shipping. Topping MX3 is still cheaper at $130 from Amazon.
The look of the front panel is not bad:
I left the screen protector on so that if I sell it, the next owner can have the satisfaction of taking it off.
I wish the volume indicator was displayed in large font instead of the small values in top corner.
The rotary encoder for the volume control feels wobbly and cheap. And it has very sharp burr around that machined silver ring. The Topping MX3 one is worlds better in this regard. Another bit of annoyance is that if you rotate the control quickly, sometimes it goes backward a single digit! Seems like it needs a bit more debouncing control.
The menus were logical and surprisingly usable as far as navigation using just the clickable rotary control so I had no need to play with the remote.
Overall not bad.
Here is the business end of the AD18:
Starting with the power supply, it is a massive brick capable of producing 120 watts. This is much more powerful than the 3.5 amp supply that came with Topping MX3. Likely this will benefit the power amplifier.
Not a fan of the micro USB socket, or 3.5 mm jack for inputs but they do the job.
As with Topping MX3, I will be running a subset of my tests. If you want to see something else, just ask.
DAC Measurements
Since there is no line out, I tested with the headphone output jack. I was surprised that I could not get to 2 volt output so this would not make a good DAC regardless of performance. Here it is anyway:
Despite anemic output, distortion is quite high putting the AD18 in fourth quarter of all DACs tested regardless of type and price:
Topping MX3 was just a couple of dBs higher so they are really similar. Topping however could deliver the full 2 volts output.
Since there was interest in jitter performance of MX3, here it is for AD18:
This is a step down from MX3 with clearly visible jitter spikes and odd noise floor rise around 12 kHz. Not a worry though as you would hear the harmonic distortions at 20 dB higher levels before you would these.
Headphone Amplifier Measurements
Given the low output level of the headphone jack, you would expect the AD18 to do poorly in power measurement with high impedance loads and that is exactly what we have:
We are talking $9 dongle amount of power here at just 5.5 milliwatts. A desktop product like this with massive, high voltage external power supply could do massively better.
Results were not that much better with lower load of 33 ohm which emphasizes current delivery:
Topping MX3 is way, way ahead of SMSL AD18.
Fortunately output impedance was very low:
And a match for Topping MX3.
Power Amplifier Measurements
As usual, let's start with our dashboard view at 5 watts into 4 ohm load:
Ouch, this is very high levels of distortion and noise. SINAD (signal over noise and distortion) sinks to lowest I have measured in this test of power amplifiers:
The AD18 is even worse than some of the tube amplifiers we have tested!
This is the frequency response:
There is good bit of mismatch between channels. I think there is balance control in AD18 and if so, you can compensate there. You won't be able to fix the asymmetrical ringing in one channel (blue) since it is not the same in both channels.
Ultrasonic spectrum shows the typical noise shaping but it is too close to the audible band for my taste:
The noise shaping caused all kinds of grief when I tried to measure harmonic distortion with higher bandwidths than 22 kHz. Topping's version had the noise at higher frequencies so made this less of an issue.
Switching frequency is at 380 kHz or so. Its level is likely a lot higher as I forgot to remove my high frequency filter I use with class D amps for this measurement.
Most important here is the power versus distortion into our 4 ohm load:
We start off with lower noise level than Topping MX3 but as soon as we get to 1 to 2 watts, distortion sets in and makes the performance especially in one channel worse than MX3.
Power output is higher and in analog input mode (not shown) I could push the AD18 to much higher power levels. In this digital input mode though, best was 40 watts, both channels driven which is higher than MX3. Allowing MX3 to climb its slight clipping part, gives 34 watts.
With music power (i.e. short dynamic bursts) I expect the AD18 to do better as far as amount of power available.
Signal to noise ratio was OK and similar to MX3:
As noted, I could not get reasonable measurements of distortion versus frequency and level due to high levels of ultrasonic noise. So I dialed down the bandwidth some to get this: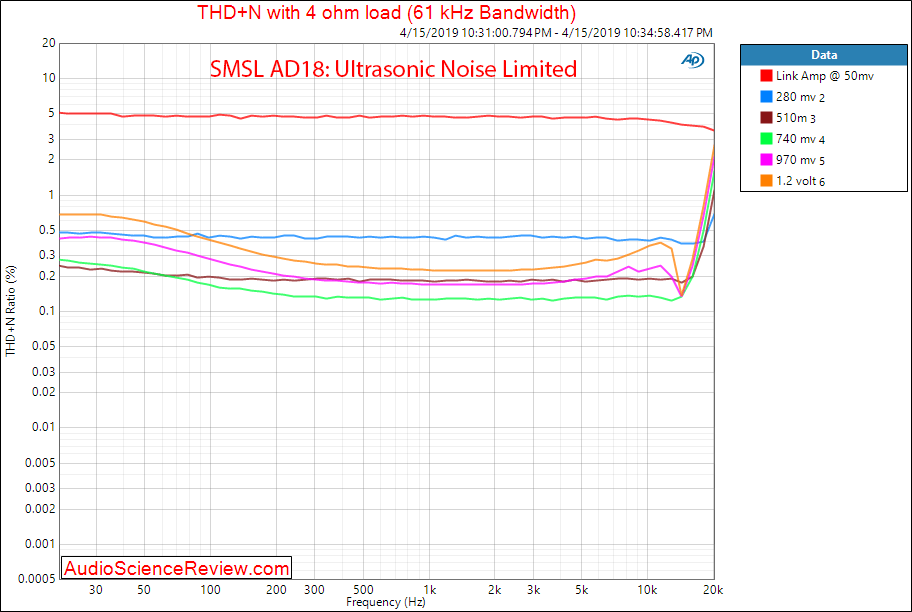 We see the same issue with rising distortion relative to frequency. It would look a lot worse if the noise level was lower so that we could see the steep rise earlier in frequency. I may switch to intermodulation distortion in the future to avoid this bandwidth and ultrasonic issue.
Headphone Listening Tests
The power graphs for headphone amplifier is a direct predictor of what you get with voltage or current hungry headphones that I use for testing. WIth Sennheiser HD-650, there was just adequate power for background listening. Bass response was muted and overall, the experience was not that great. The "good" news is that as the graph shows, there is no clipping so you can listen at max volume and get the same performance so dial volume up if you need.
Testing with Hifiman HE-400i was a bit better. I had enough volume to maybe dial down the level a few dB most of the time. Otherwise performance was just "good."
Conclusions
When I tested the Topping MX3, I was pretty disappointed to see some of the lowest performance numbers I had seen in all of my testing. In some sense I should have tested the SMSL AD18 to get a better perspective of how low one could go in that department.
While the headphone amplifier was a highlight of the Topping MX3, it is not so at all with SMSL AD18. As such, I don't recommend getting the AD18 for its combination of DAC and headphone amplifier.
Where the AD18 pulls ahead is in power delivery for speakers. I expect its real life performance to be good bit better than Topping MX3 due to its heftier power supply. I think both use the same 24 volt input so I might test the MX3 with the AD18 power supply to see if I can get more juice out of it.
Neither one of these products are my idea of excellence in audio. But if you are replacing a soundbar and such, they may work for you. So no recommendation from me.
------------
As always, questions, comments, recommendations, etc. are welcome.
My wife is out for the next 24 hours so I am thinking about throwing an audio party tonight. Plan is to have a barn fire outside with all the audio gear that doesn't perform. I need money though for food and drink so please donate generously using:
Patreon
:
https://www.patreon.com/audiosciencereview
), or
upgrading your membership here though Paypal
(
https://audiosciencereview.com/foru...eview-and-measurements.2164/page-3#post-59054
).