Founder/Admin
Staff Member
CFO (Chief Fun Officer)
Joined

Feb 13, 2016
Messages

26,732
Likes

62,464
Location
This is a review and detailed measurements of the Audioengine D3 portable DAC and headphone amplifier. I bought this refurbished from the company direct a year ago. I think I paid USD $99 for it but now see it new for the same price from Amazon including shipping. A member wrote to me asking if my version was 2 or the original. His has v2 after it, mine does not. I contacted the company and just heard back that the new versions have lower output impedance than what I measured. They do not note any other changes.
The D3 is one of the more substantial thumb drive DACs with chunky and solid metal enclosure:
On the back side there is full set of regulatory certifications including CE and FCC which I was pleased to see. And yes, the CE logo conforms with the EU graphics standard.
Audioengine is big enough company that likely did go through proper testing. The metal enclosure definitely helps with any radiated emissions standards.
As soon as you plug the D3 into the USB port, it starts to warm up and stays warm during operation. I will post power measurements later in the review.
The D3 operates without drivers in Windows as it should. It sets whatever flag there is to connect Windows hardware volume to it which by default was 33 out of 100. There are no volume controls on the unit itself.
For my testing, I need ASIO drivers so I resorted to ASIO4ALL wrapper after searching and not finding any drivers for the D3. This mostly worked but every 5 seconds or so, it would glitch. No amount of messing with ASIO buffers helped this. So if you are going to use the D3 with audio workstation software, you may likely have problems. I had no issues using the D3 with my Roon Audio player using WASAPI interface.
Audio Measurements
As usual, I like to start with DAC-style testing, setting the unit up to output 2 volt output. The D3 severely clipped at 0 dBFS which resulted in such output. I had to dial down the input to it by 2 dBFS to get non-clipping output:
Distortion products are around -108 dB. With addition of noise, that gets our SINAD (signal over noise and distortion) to 97 dB or so which is pretty decent for this class device. It beats it specification at 0.002% which is also nice. Here is how the D3 ranks among all DACs tested regardless of type:
Dynamic Range is rated at 110 dB but we fall short of that by 4 dB or so:
The more critical measurement for a portable DAC+Amp is how noisy it is at very low output levels. The measurement on the right shows that to be 75 dB. Here how that rates (I have just started to measure this so not that much comparison data):
Intermodulation distortion curve is also good for the class, sans severe clipping at full input level:
Most important measurement for any headphone amplifier is the amount of power relative to distortion. Let's look at that for 300 ohm load:
We essentially have the same amount of power than the desktop Topping DX3 Pro has in low gain.
Here are the results for the other extreme at 33 ohm, checking the performance for high current delivery: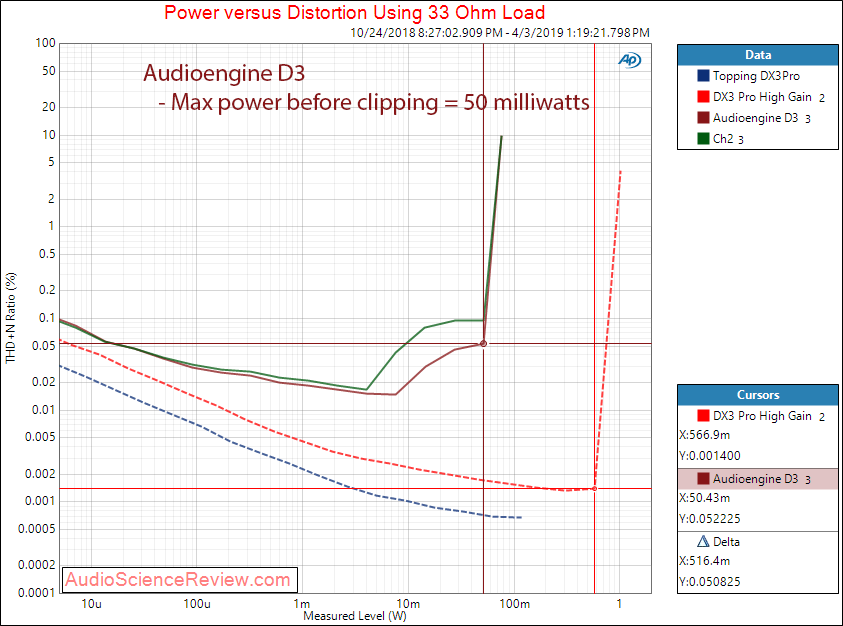 Would have wanted to see a bit more power but we have what we have. The gap in distortion and noise is fairly large now relative to desktop products.
Here is how the Audioengine D3 ranks against some of its peers in power department:
As I mentioned, the unit runs warm and that shows up in idle power usage:
Output impedance in my version was 11.5 ohm:
As explained in the review, this has now been revised to 2 ohm in specification. This change should also up the amount of power available at 33 ohm.
I could not run my jitter test due to ASIO4ALL issue.
Listening Tests
My listening test results usually pretty much track the measurements when it comes to headphone amplifiers. This was kind of an exception. While I had no physical sensation of bass around my ears, the sound with the Sennheiser HD-650 headphones had very solid bass and dynamic range. I could only detect some distortion at 100% volume. Even then what was there was slight.
Switching to Hifiman HE-400i improved the situation even more. I was comfortable listening at -7 to -11 dB in Roon software volume control. The resolution, overall fidelity, etc. was all there.
I was surprised enough that I went back and remeasured the D3 again in both 300 and 33 ohm. In both cases the results were the same other than noise went down some in the former case (which may have been due to the unit being cold).
I suspect the small power supply capacitors in these dongle can handle momentary peaks better than their continuous performance indicates in testing. Or, I have lost my calibration in my hearing.
Conclusions
The Audioengine D3 seems very well built physically. While not a match for desktop products in power and general performance, it is not suffering from any design issues. My subjective results showed that this is a very capable device for everyday portable use with my two rather difficult to drive headphones. The results therefore should translate to many other headphones.
At current price of $99 including shipping, the value is also there in my view.
I am happy to recommend the Audioengine D3.
------------
As always, questions, comments, recommendations, etc. are welcome.
Every day I look at the list of richest people in the Forbes magazine but don't see my name. Please help me get there by donating using:
Patreon
:
https://www.patreon.com/audiosciencereview
), or
upgrading your membership here though Paypal
(
https://audiosciencereview.com/foru...eview-and-measurements.2164/page-3#post-59054
).