Most recent update is
here
.
I have been posting about benefits of acoustic treatment of a room, especially in larger rooms. I believe that if done right it is a better, and if you have basic carpentry skills, a much cheaper option then using multiple subwoofer setups. I have the degree to do it right and thankfully the means to hire a carpenter. Here on I will present you my Home Theatre (HT) system where I applied my knowledge (and money!). As you may guess from the layout the room it is not visually a purpose built HT. it is our main living place that combines, sitting & dining rooms and the kitchen! It is light and bright as it use an HDR TV.
Acoustics​
Other than the specifically designed shape and layout of the room I only use five Helmholtz resonators to tame the major room modes (standing waves). Three are in the ceiling and two are on the ends of the false wall where the TV, and in-wall LCR and main subwoofers located. The resonators are inside the false ceiling. They are made of 5m long 25cm diameter plastic water pipes. Ends are blocked and there are variable area opening on one end to tune the resonator. Each one cancels one room mode. The remaining two are at the sides of the false wall and use the otherwise unused volume.
The first image is the room response to pink noise measured at three sitting location separated by colour. Measuring locations are shown on the room layout image that follows as 1-3. Individual position FRs are also provided. Chart resolutions are 1/6 octave.
No EQ is used.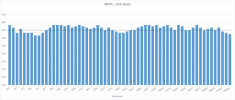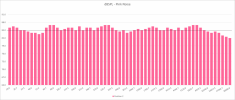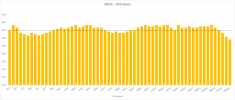 Note: I could have adjusted the resonators so that they don't over-compensate in the 30-60Hz octave but it required a change to the front resonators in the false wall, which was already build twice! However, as the dip is within 3dB I decided Trinnov to supply a small lift.
Layout​
​
Speakers​
LCR: 3x KEF
Ci5160REF-TH
as Left, Centre & Right speakers, in-wall
SB: 2x JBL Synthesis
SSW-3
as main subwoofers, in-wall
SS & SR: 4x JBL
CBT70J-1
as side & rear surrounds, on custom stands
SP: 2x KEF
Ci200RS-THX
as spatial speakers on the ceiling
LFE: JBL Synthesis
SSW-2
as unmanaged LFE channel
Not shown: 2x KEF
Ci200RS-THX
as height speakers above the L&R flush to the ceiling, in-wall
Equipment​
Apple TV
Sky Q
Fire TV
Trinnov Altitude 16
JBL Synthesis 2x
SDA-4600
& 1x
SDA 8300
Connection diagram​
Please feel free to ask questions or let me hear your comments. However, due to personal reasons I am not willing to post photographs.
Last edited: