More than a month ago, an old friend asked me, would you measure a Gustard P26 preamp?In fact, I didn't know Gustard was going to launch this product until he asked me.I then contacted Gustard, who said at the time that P26 had not been officially completed. After the official release, I will send me a retail version for measurement.
Just a few days ago
@Max
Also ask me if I will measure this unit?In fact P26 was on the road the next day.
Today I got the P26, and the measurement took me a lot of time. Because the preamplifier is very different from the DAC, there is basically no SOP at all. If there are any shortcomings in the following measurements, if you want to know something else, please let me know.
Look at things first:
Actually I always wanted a decent preamp
In fact, I always wanted a decent preamp, but the tragic fact is that it is almost full of garbage (maybe I didn't find it) under $ 1,000. It is not just a defect in the measurement data, but a question of completion.
What I mean by completeness refers to the appearance, function (input and output interface), operation friendliness, function implementation results (such as noise when switching volume), and even the ability to clearly show what you want What you know (input, output, volume, etc.)
This even forced me to do a preamp to achieve what I wanted.But although I realized most of what I wanted, it still couldn't satisfy me. Because the interior is composed of various small modules, and some modules are purchased (such as input and output switching and display), it cannot be said to be a "finished product" at all, but only a "usable" thing
And the cost of making it is close to $ 1,000 (not including the time I spent!!)
And Gustard's long-term adherence to the discrete voltage amplifier circuit has made me have a little more expectations for the sound of this preamp.
Well, don't talk nonsense. Measure it!
Update: Left channel PS Noise issue has been fixed and the manufacturer has been notified of the fix. Since repairs do not require costs, manufacturers will immediately produce to new standards. :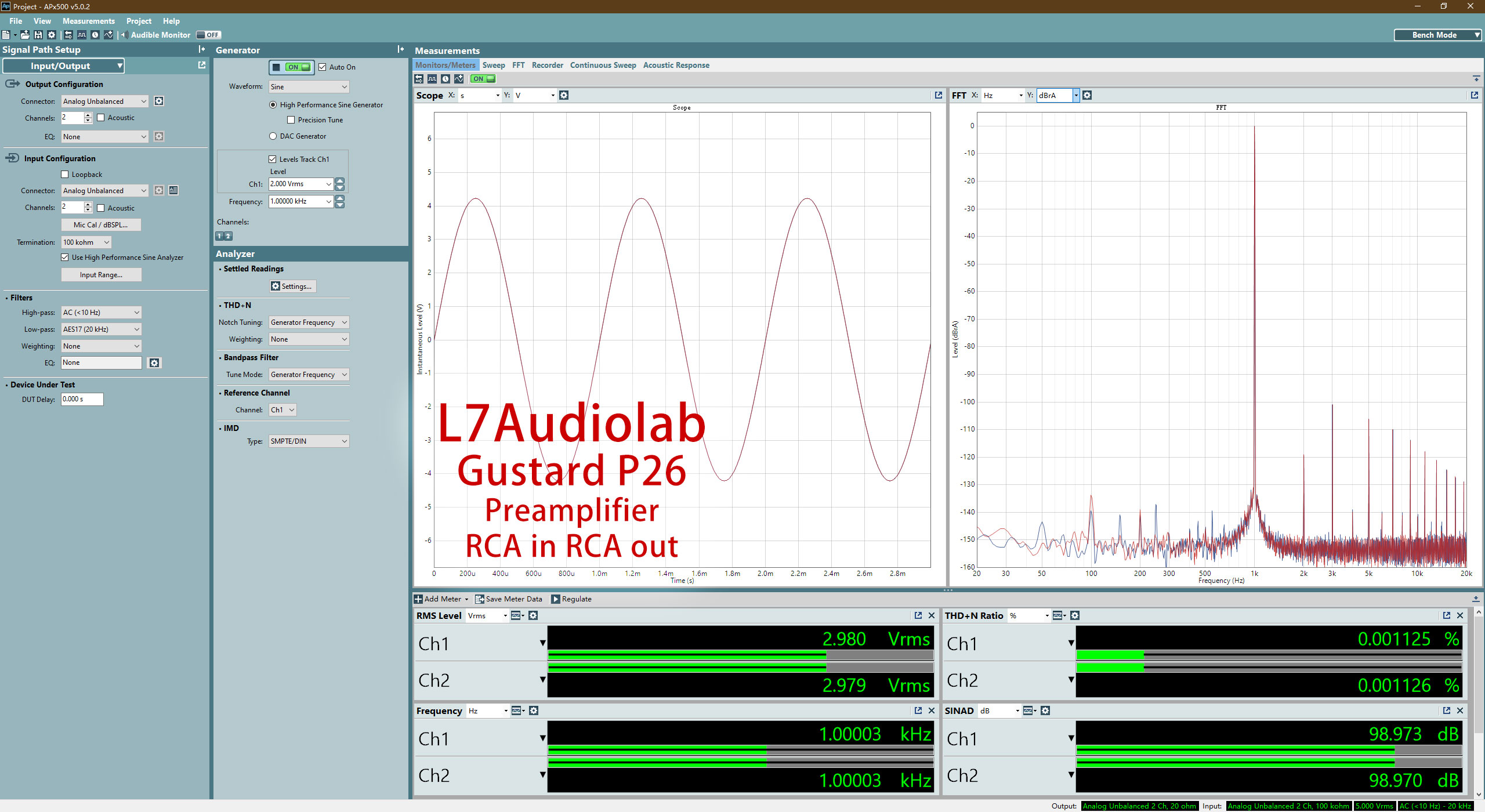 We can see that there seem to be two sets of very different input stages. One is responsible for the input of the balanced signal, and the other is responsible for the input of the unbalanced signal.
In fact, I also got this information from the developer, and the circuit of unbalanced input will also be used for "input gain + 6db setting". This means that the input gain +6 will also affect some basic measurement results in the same way as above.
Fortunately, we generally do not need a large input gain. And if you really feel that the sound is too low (this preamp is actually close to 0db gain by default) you can start "output gain +6" Settings ---- This function does not affect the basic measurement results.
The following measurements were made at XLRin XLROut 4VRMS:
First and foremost: volume control:
You can see that the volume control is very linear and the channel balance (green line) is very good. At the same time, the effect of volume adjustment on SINAD is minimal. The disadvantage is that the limit value of the volume control (-60db)may not be low enough in some cases.
Output impedance:
THD+N Vs Freq:
All of the above, I think for a preamp of less than $ 700, it is very, very, very good.
I've measured DACs from Gustard before, and to be honest, I'm a little disappointed-let's say the A22 finally achieved the result with double 4499.
I also said that Gustard's insistence on discrete output stages may be the main reason that affects the measurement results of their products.
But on this product today, I really have nothing to say.
A low-cost, high-performance, good-looking preamp. Sorry I have never met before.
What's past is prologue. The future can be expected.
Last edited: