Founder/Admin
Staff Member
CFO (Chief Fun Officer)
Joined

Feb 13, 2016
Messages

25,072
Likes

51,941
Location
This hardware teardown is a follow up to my review of the
Pro-Ject Pre Box S2 DAC
. The DAC performed well in objective measurements. Let's see how it does from overall design point of view.
Here is the high level diagram/major integrated circuits: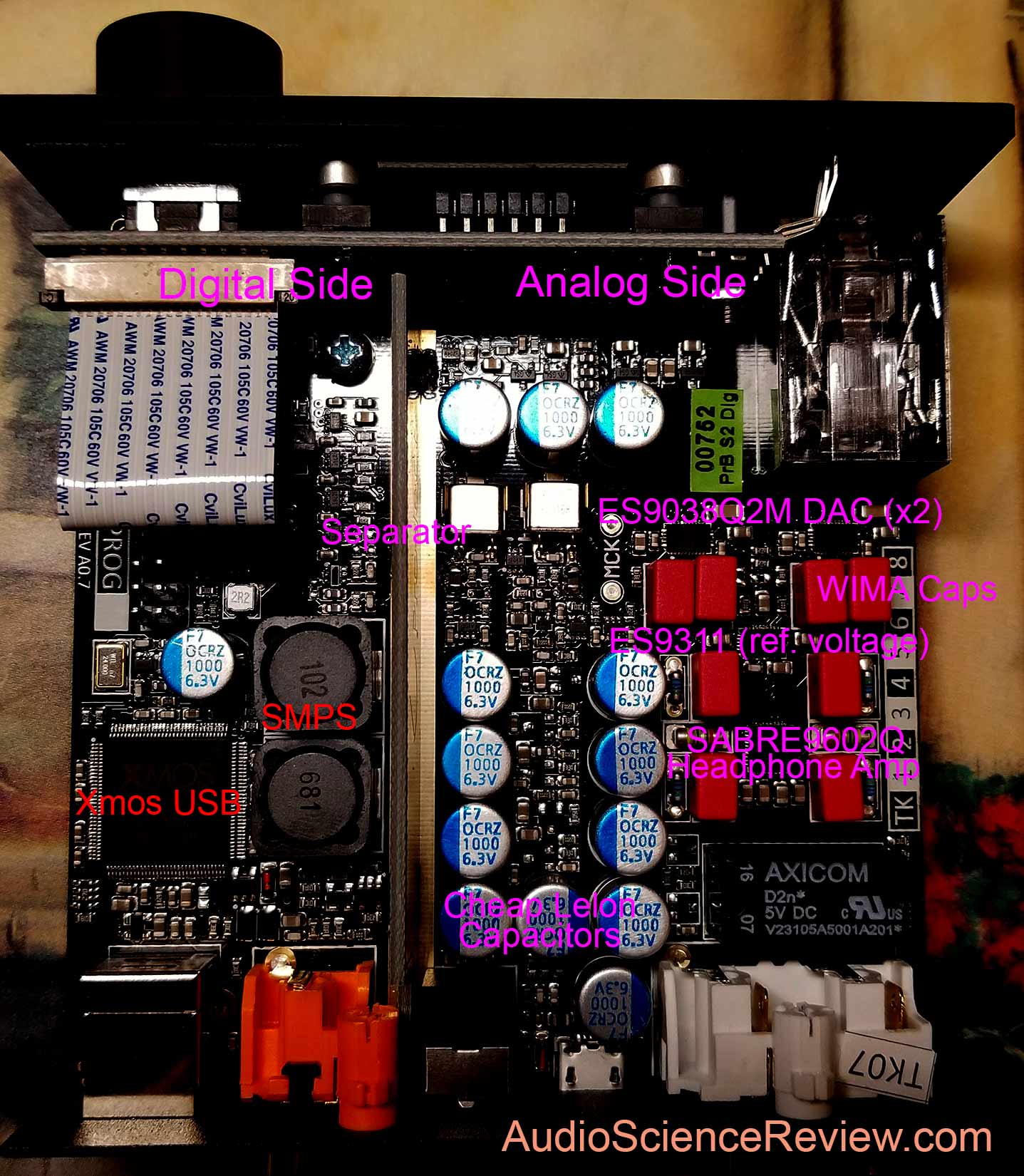 We see one of the nicest layouts given the small box constraints. Digital side is fully isolated on the left with a moat between it, and the right side analog/mixed signal. The asynchronous interface is implemented using ubiquitous Xmos.
Extracted digital audio samples from USB or other inputs is then routed on top across an isolation moat and board to a pair of ESS Sabre ES9038Q2M parts. ESS is secretive with its specs so I don't have a link to provide for it or the rest of the ESS parts used here.
Precision reference voltage for the DACs is provided by ES9311.
http://www.marketwired.com/press-re...h-to-simplify-audio-system-design-2085996.htm
Measurements showed absence of typical power supply noise so seems like ESS has done a good job here as has the designer by selecting this part.
Headphone output is provided by Sabre 9802Q:
https://www.businesswire.com/news/home/20150108005016/en/ESS-Technology-Introduces-SABRE9602-CES-2015-World's
Alas with no heatsink and no higher than 5 volt supply, it does not provide much drive capability as noted in my review of Pro-Ject S2 Pre DAC.
Another not so good news is use of Lelon electrolytic capacitors indicated by the "OCRZ" notation on top of them. Lelon is a fourth grade brand of capacitors and is known to fail in power supply circuits. Fortunately the analog side of this board runs cool and parts are not under stress so that choice to save money is probably OK. Not so good is the same choice for the switchmode power supply on the digital side to drive the XMOS. Keep this unit cool and away from other hot running products for better longevity.
Interestingly they did use much higher quality WIMA caps elsewhere.
Here are the "clean" pictures of digital and analog sections:
Notice the nice board providing isolation between the two sides:
Mechanical design is quite sturdy for such a small unit. Notice the hefty bolt here to hold the PCB with the front panel switch:
There is no flex as a result and the switch feels solid when pushed in and out.
Same routine is followed in the back with connectors feeling very sturdy:
The external power supply is a typical switchmode unit:
Summary
The Pro-Ject Pre S2 Digital is a well-built, and well-thought out DAC. Excellent attention is paid to isolation of digital and analog. Layout is very good for such a small unit. Mechanical construction is also quite solid and overbuilt compared to much lessor designs (I am looking at you Schiit).
The only thing that raises the eyebrow is use of cheap electrolytic caps from Lelon. For this price range, spending another $10 on better caps would have been nice to see.
So this is a competently designed DAC both in measurements and electrical/mechanical design.
Note: I should say that this tear down was very difficult due to very tiny footprint of the surface mount parts, and lack of documentation from ESS. I think I got all the part numbers right but I am open to being corrected.
Much thanks to forum member who loaned me this unit for measurement and allowing me to get my sticky fingers inside for this teardown.
Last edited: