Below is a review of this high-end '90s preamp from a (lucky) friend.
BUILD
The Mono Preamplifier has an excellent build quality, perfectly in line with the philosophy of this prestigious Danish brand. It is worth mentioning that all Gryphon products are designed and manufactured in Denmark. Electronic components meet military or medical grade specifications. The assembly is entrusted to subcontractors who offer the most advanced techniques. And each unit is tested individually; After a 48-hour burn-in, each product is again subjected to both electronically and audio performance tests.
Returning to the Mono Preamplifier, this one has a completely dual mono configuration: electronics, containers and controls are separate for each channel. The only part they share is the black perspex front plate and a pair of golden spacers between the containers. The look is minimalist and elegant, with the controls consisting solely of the input selector and volume control, crafted from large gold discs with rosewood centers. At the base four black ceramic tips.
On the back there are the golden WBT connectors for inputs and outputs, and the screw connectors for the power supplies (not shown in the photo) separated for each channel and duplicated for the line and phono part (optional).
The power supplies are equipped with noise filters. Gryphon recommends leaving the preamp on all the time, given the long warm-up times.
​
I was unable to retrieve much technical information. The volume control is made with 24 passive resistors, assembled by hand. The electronics are completely discrete, the shortest possible signal path with internal wiring. The preamps work in pure Class X 100 with C-core transformers equipped with noise filters. The phono MC offers the possibility of being able to change the impedance by inserting resistors on the Load input.
In the '90s, the price was almost $5000: today on the second-hand market it has prices around $4000.
MEASUREMENTS
All following measurements have been made with RME ADI2 Pro FS, only for the line stage, where:
- Input/Output: RCA; from DAC/ADC with resolution 24/192
- Load: 9 KOhm
For the electrical aspects we have:
- Gain: 21dB max
- Output impedance: 51Ohm (measured in all audio band)
FREQUENCY RESPONSE
Input: 2.5V

rms

Tone sweep; Gain: 0dB – LR Module
The Mono Preamp preamp has an ultra-wide, flat bandwidth well beyond the audible band, with the two channels perfectly balanced, after 30 years of work… Wow!
Input: 2.5V

rms

Tone sweep; Gain: 0dB – LR Phase
Also in the phase shift we see the same excellence: distortion is 0 also at 10Hz, despite the low load, 9KOhm. This means a coherence for bass. An analogous situation is the high frequencies 20KHz, with a shift near to 0. Another Wow!
Input: 2.5V

rms

Tone sweep; Gain: 0dB – R Channel and Loopback Step Response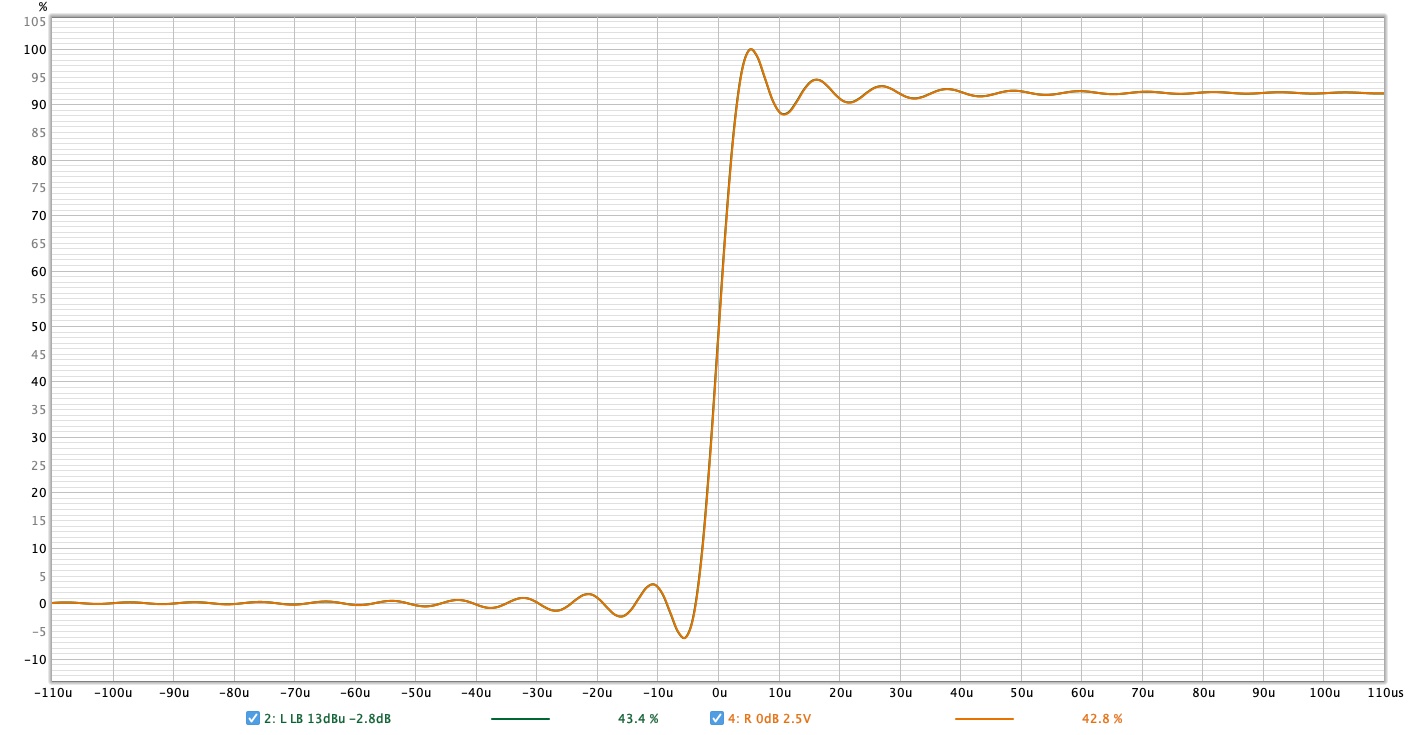 ​
The excellence of the module/phase frequency response can be seen also in the step response, where the measurement device loopback curve and the preamp curve are perfectly overlapped.
CROSSTALK
Input: 2.5V

rms

Tone sweep; Gain: 0dB – LR/RL Crosstalk

​
Thanks to the complete dual mono construction, there is no doubt about channel separation, beyond 110dB, the accuracy of the measuring device.
SINGLE TONE DISTORTION
Input: 2.5V

rms

@ 1KHz; Gain: 0dB – R Spectrum
At 2.5V
rms
input, 0dB Gain we have: THD = -77.5dB; THD+N = -77.0 dB (not weighted)
The distortion is practically due to second (-78dB) and third harmonic (-85dB); higher harmonics are not measurable, because they are at the same level of the measurement device, below -130dB. Excellent also the level of noise due to 50Hz power supply, practically absent, below -130dB.
Input: 0.625V

rms

@ 1KHz (-12dB); Gain: 0dB – R Spectrum
With a smaller signal of -12dB the second and third harmonics go down, more in the third and less in the second one, as expected.
HARMONIC DISTORTION PER FREQUENCY/LEVEL
Input: 2.5V

rms

Sine @ 10Hz-90KHz; Gain: 0dB – HD per Frequency
At 2.5V
rms
the THD is 0.012%, practically constant for all frequencies and due mainly to the second harmonic. The third one is around 0.005%. All others higher harmonics overlaps with that of measurement device (so, no measurable).
Input: 1.0V

rms

Sine @ 10Hz-90KHz; Gain: 0dB – HD per Frequency
At 1.0V
rms
the THD goes to 0.005%, still practically constant for all frequencies, due to the second harmonic. The third one is around 0.0007%. Negligible the difference for the other channel (not shown).
Input: 2.5 – 0.15V

rms

Sine @ 10Hz-90KHz; Gain: 0dB – THD per Frequency and Level (3dB steps)
The THD shape, decreasing input level from 2.5 to 0.15V
rms
in step of 3dB, shows a substantial independence from signal level (deviations on high frequencies of lower ones are affected by resolution and noise).
Input: Step level 0dB = 2.5V

rms

; Tone @ 997Hz; Gain: 0dB – HD per Level

​
The distortion is dominated always by the second harmonic, already present at low levels (-26dB). The third one starts to raise from noise at -16dB; other ones are practically absent. This means limited dependance of signal characteristics from the listening level.
INTERMODULATION
Input: 2.5V

rms

Dual Sine @ 19 + 20KHz; Gain 0dB – Spectrum R
Good also the CCIF test: IMD is -76dB. Symmetrical non-linearities (here only of third order), near input signals, are about -83dB; asymmetrical, even-order distortion (here only of second order) at 1KHz is -76dB; TD+N is -73.5dB. No difference (not shown) between channels.
Input: Multi Sine @ 1/3 Octave; Gain 0dB – Spectrum R
The distortion floor is below -90dB, that means about 15bit of signal without artefacts.
LISTENING TEST
The measurements above suggest that the Gryphon Mono Preamplifier is fast, silent, and should behave transparently, given the characteristics of the non-linear distortions: constant in frequency, and similar for the different signal levels; moreover, even if not very small, they are still "benign" for our ear if not for improvement. These aspects, combined with the extension and precision of the frequency response, in module and phase, and the non-existent crosstalk, should contribute to the construction of a good soundstage.
And in fact, in the listening test, it is like this: it is silent and non-intrusive; detailed but not tiring; it combines the analytical properties of reference devices with musicality. Its sound staging capabilities is also remarkable: it offers a wide and deep soundstage, with clearly distinguishable images of sound objects. To better qualify these qualities, a direct comparison with two other high level preamps that I was able to test in the same days can help: the
Threshold FET10/e
and the
Mark Levinson N.26
, both known for being considered very transparent. All preamps are inserted in my reference chain consisting of: Esoteric D05X DAC; Krell KMA160 power amp; Wilson Sasha II loudspeaker. The room is acoustically treated.
Well, compared to the FET10/e, with controlled listening level (however not blinded, for obvious reasons), the Mono Preamplifier resulted with more body, with a better soundstage and with a slightly (and pleasantly) "smooth" sound. Even compared to the N.26 it was a little less transparent, but the N.26 manages to return a wider and more precise soundstage. On other aspects, I did not notice any relevant differences.
In conclusion, the Gryphon Mono Preamplifier is still a current, highly desirable device with out-of-class performance, probably one of the best preamps I have ever tested in my system.
Last edited: