Addicted to Fun and Learning
Joined

Nov 6, 2016
Messages

523
Likes

430
Location
I've just put this cheapish system together for my 10 year-old, who's really getting into music (grade 5 piano, synth player with band at his school... loves Michael Jackson!):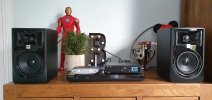 - iFi Zen Stream (to stream lossless from Roon, or directly from Qobuz)
- SMSL DO200 DAC (volume control and source selector)
- old Sony Blu-ray player (he wants to start a physical CD collection to impress his friends... not looking forward to when he decides a vinyl collection would be even more impressive!)
- JBL 305P mkII speakers
I have to say that the SQ really is very good for the money (just a tad over UKP 1000, not including the old Blu-ray player).
Downsides:
- getting wifi to work on the iFi was a pig to set up (for a long time, the iFi app on my phone just wouldn't recognise our home wifi network)
- switching between sources on the SMSL isn't great (maybe better using the remote, which I haven't tried yet)
- there is a resonable amount of hiss emanating from the JBL tweeters - not really audible a couple of metres away from speakers
There's some stonkingly good gear out there that sounds great and doesn't cost the earth. A massive thanks to
@amirm
and all at ASR for bringing a lot of this gear to wider attention.
Mani.