Founder/Admin
Staff Member
CFO (Chief Fun Officer)
Joined

Feb 13, 2016
Messages

41,253
Likes

200,052
Location
This is a review and detailed measurements of the Behringer Ultra-Drive Pro DCX2496 digital EQ and speaker crossover. It was kindly sent to me by a member and costs US $359.
The main purpose of the unit is for professional sound reinforcement allowing crossovers for up to 3-way speakers in stereo. You can see this from the back connectors:
You configure the three input channels and their routing to output with many configuration parameters. Inputs are normally analog but Input A can be configured as digital AES/EBU (balanced) digital input. The coarse/old fashioned LCD is kind of hard to read (but better than image above) but gets the job done. Documentation is bare minimum with little explanation of some of the terms. Took me a good two hours to figure out how to set it up for my testing. But for someone using it everyday for their job, it should not be hard.
I wish there was Ethernet support with an app to remotely configure the box but there isn't. The RJ-45s are used for serial communication/linking of multiple boxes.
Behringer DCX2496 DAC Measurements
I configured the input to be AES/EBU and drove the unit digitally. At 0 dBFS input, the output shoots up above 9 volts so for fairness, I lowered the input by 7 dB to get nominal 4 volts out:
Distortion dominates SINAD placing it slightly lower than 16 bits of distortion-free range. Dynamic range thankfully is better:
Here is the SINAD vs output level:
So stay below 8 volts or so.
I could not find a way to defeat the crossovers so I set them to lowest/highest possible to get this response:
That is fair bit of droop at low end but unless someone knows otherwise, it is the best I could get it.
There is pronounced data dependent jitter but thankfully levels are not high enough to be an audible concern:
Linearity is good enough for this type of box:
Here is our filter response:
The nice attenuation gives a decent response in our wide band THD+N vs frequency:
The peaking in low frequency is partially due to lowering output although one would think distortion proportionally reduces as well.
Behringer DCX2496 Analog In/Out Measurements
I set the input to analog treating the unit as a smart pre-amp. Here is the frequency response:
Never mind the comment on the graph. I thought the sample rate was causing the sharp cut off at 20 kHz but it is caused by the crossover filter.
Here is our dashboard:
Performance actually improves a bit over our digital dashboard due to internal ADC driving the unit at lower level. I was hoping the gain would be 0 dB but it is slightly negative. There is gain compensation in the unit so not a practical issue.
Sweeping the input we get:
The lower noise performance helps the DCX2496 here.
Noise performance is good enough for the application:
We once again have a low frequency rise in distortion: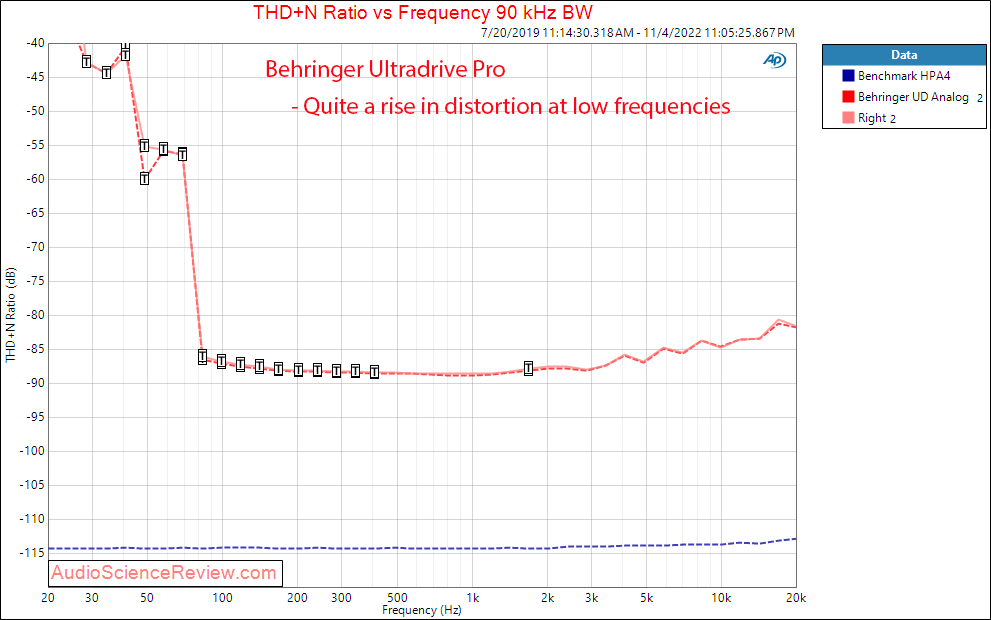 That may be the reason for highly elevated IMD distortion test as the low frequency tone there is 60 Hz:
Conclusions
In absolute terms, the DCX2496 fails to deliver across the board as we have cheap dongle DACs that produce far lower distortion. But taking into account that you are getting DAC+ADC+DSP at this price point, performance is decent. Would love to see a networked unit with much better display/remote UI and better performance for say, $500.
Grading on a curve, I am going to put the Behringer UltraDrive Pro DCX2496 on my recommended list.
----------
As always, questions, comments, recommendations, etc. are welcome.
Any
donations
are much appreciated using
:
https://www.audiosciencereview.com/forum/index.php?threads/how-to-support-audio-science-review.8150/