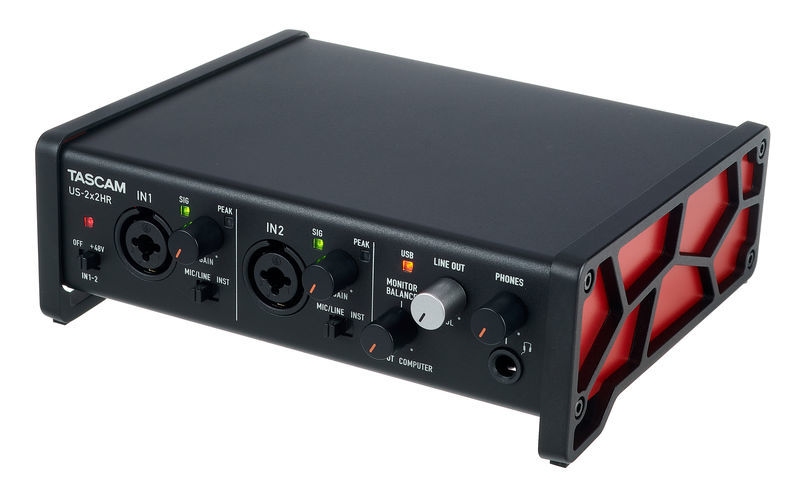 I recently purchased this interface its a two input two output interface with decent
specs
. Interesting things I have found so far:
1) Gain on TRS input is lower than XLR so if using this interface with line level signals rather than microphones you need to use TRS to XLR adaptors on the inputs.
2) 'Peak' red light is hard clipping the THD goes up way before this. For Line level signals (+4dBu) this gain control should be set to minimum.
3) outputs are true differential unlike my previous interface
Output tests:
0dBFs, output gain maximum, sine wave 1kHz amplitude: 8.5Vrms = 20.8 dBu:
visibly clipped. Rated maximum output level is 20dBu which is met but probobly high distortion at this level.
-3dBFs sine wave 1kHz amplitude: 6.25Vrms =18.1dBu (attenuated digital domain):
No clipping visable. I don't have any equipment to measure distortion apart from this interface (unless very bad where the scope FFT will show it or visualy distorted).
Loop-back tests:
For these tests output 1 was connected to input 1 with a TRS -> TRS cable.
4Vrms output with 0dBfs sine wave (input gain set to minimum – Mic/line mode):
Noise shaping visable beyond 20kHz.
4V rms output with -3dB digital attenuation (input gain set to minimum – Mic/line mode):
No improvement visible, harmonic distortion originates not in DAC but in amplifiers or ADC. THD+N is very similar until 6.7Vrms output whereupon further increases cause harmonic distortion to increase. This is close to the earlier found DAC clip point, we can assume the ADC will not clip with 18dBu input.