Founder/Admin
Staff Member
CFO (Chief Fun Officer)
Joined

Feb 13, 2016
Messages

33,083
Likes

112,269
Location
This is a review and detailed measurements of the Creative Las Sound BlasterX AE-5 internal PCI sound card/interface. It is on kind loan from a member. The AE-5 costs US $149 including Prime shipping on Amazon. Given the 6 channel output, line/microphone in, and headphone out, that is quite a functionality.
I am not a fan of blinky lights inside my computer despite owing a motherboard with it (Gigabyte G6). But I thought the AE-5 looked cool inside my machine and thought to take a picture of it that way:
As implied above, this is my everyday desktop workstation where I run all the tests. It was built by me so may or may not be representative of the system you have.
In addition to getting power from PCI bus, the AE-5 also requires the 12 volt power connector. Doesn't make sense to me why because it shouldn't need that much power.
I had recently removed all the Creative crapware from my machine and was dreading to have to install them again. Upon looking, I noticed that it had left its ASIO driver in there. To my happy surprise, that driver worked fine for most of the tests I needed to run. Alas, I got caught at the end because I could not change the input from Mic to Line In. Nor enable the headphone output. For those, I had to once again install a 145 megabyte package.
Overall, this is the most reliable experience I have had with a Creative product on my system.
The bit battle is whether an internal sound card can match the performance of an external product that is free of PC interference. Let's find out.
DAC Audio Measurements
Here is our standard dashboard, testing the left and right front channels:
Hey, this is pretty good! We have our nominal 2 volt out. And a SINAD (signal over noise and distortion) that is pretty good given our prior experiences with Creative products. The AE-5 therefore firmly sits in the green buckets of all DACs tested:
Intermodulation distortion and noise likewise was quite good rivaling my reference, Topping DX3 Pro:
Noise is what we worry about inside the computer. AE-5 does quite well here:
Jitter shows data-dependent spurious tones in the source test signal (j-test):
Fortunately the levels are way too low to be audible.
The AE-5 performs very well on the linearity test:
Headphone Output Audio Measurements
Let's start with power into 300 ohm:
This is once again competent performance with respect to noise and distortion. There is good bit of power too, matching Topping DX30 Pro.
There is also a lot of power at 33 ohm but one channel degrades a fair bit:
Output impedance was comfortably low:
ADC Audio Measurements
For the first time with a creative product, I managed to capture audio from it, allowing me to test its ADC. Here is our dashboard view:
Ah, this is not good for any kind of serious music recording:
On mic (not shown), I was able to get a SINAD of 76 so for that application (voice input), it should be fine.
Frequency response was quite flat and good: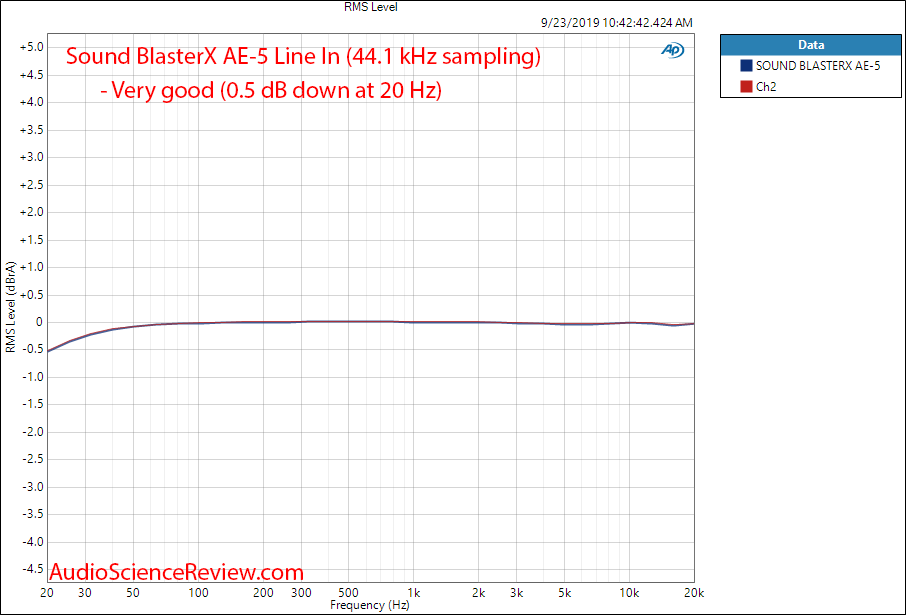 Linearity shows that the input gets swamped with noise at low input levels:
Surround Channel Performance
Another first with Creative products for me was being able to test the surround channels. They nicely showed up as channels I could drive using ASIO driver. Here is our dashboard:
That is a sharp rise in distortion levels relative to front channel. Still, for its intended application of driving rear channels, it should be fine. And it may even beat some of the AVRs we have tested!!! Come to think of it, the front channels certainly outperform all AVRs I have tested so far. What a sad statement to make regarding home theater AVRs. Here is that data by the way:
Conclusions
The Sound BlasterX AE-5 is competently designed, producing very good performance across the board on the DAC front. The headphone output is quite powerful (should be good for majority of users though). ADC is OK for casual use.
Overall, at $149, this is a great value and you would have no need to apologize for its performance. As such, I am fine with putting the Creative Sound BlasterX AE-5 on my recommended list for internal sound interfaces.
------------
As always, questions, comments, recommendations, etc. are welcome.
Been driving back and forth a lot these days picking up gear for testing (AVRs, DACs, etc.). So could use some more money to pay for gas, maintenance, valet service, car wash, shoe shine, etc. So please
donate
using:
https://www.audiosciencereview.com/forum/index.php?threads/how-to-support-audio-science-review.8150/
Last edited: