Senior Member
Forum Donor
Joined

Jul 19, 2021
Messages

302
Likes

473
Location
What music genre is he producing as this is more critical to the final question then the best set of headphones with the best response characteristics.
it's kind of like how comedians have to know Their audience before they perform. if you're making music for audiophiles or people who happen to know about telarc or any of the major audiophile labels that are out there and of course you want to use the best headphones for the job.
if you are mixing music for the regular crowd of folks out there that are for example listen to Top 40 or popular music I wouldn't go very much Beyond something like RP-HTX7.
there's a large difference between an artist making music for him or herself and then sharing it with others and making music for the enjoyment of other people to be listened by the end-user.
The RP-HTX7 is one of those cans that no matter what? The final mix going to sound amazing to 99.9% of the population who are going to playback the audio that he mixes.
since this set of cans is somewhat uncomfortable to be used during long sessions it encourages you to get up get some fresh air / soda or just take them off for a little bit and hear the mix on a set of monitors.
the one thing they excel at is reliability and they work every single time even the cord is well-built and has no problems even after years of abuse. it's also detailed enough to reveal any nasties that are on the recording or mix without being over detailed as of the end user will not be able to hear some of the things that you may be able to distinguish on a higher tier set of headphones.
I made lots of videos with these headphones, and the one thing they always do is give solid real world repeatable results. If something is to hot or too forward, these will let you know about it just as a person listening to it on the other end of the mix would be able to tell.
they retail for around 50 to $80 depending. if you're able to get the ones that are actually Bonafide made in Japan that is the set you want to get. there are different manufacturing runs from what I can gather so if you're able to get in early set in box brand new you are now holding one of the best headphones to do your hair and mix with that I can think of.
it's not reference by any means but what it does is produce a Final Mix that is going to be enjoyable by your end users. It will playback on their systems in a way that the headphone mimics what they are typically using for playback equipment.
in summary, if you make the mix on a set of these headphones? your Final Mix is going to sound fantastic regardless of the playback hardware or setups. better systems will of course see more detail in the recording but you're not going to have any problems with harshness you would get on some very detailed headphones.
you also won't get a superflat recording. anywhere where the mix is too hot , the headphones will tell you this right away. I believe this would be referred to as its dynamic range.
I'm not saying I'm a mixing engineer, but I can tell that Nashville has a certain sound compared to something that was produced in an independent Studio on the West Coast. (summed up results of course)
I have had good luck with these, and so has another fellow who makes mixes for EDM Music.
The model number you want to look for is this:
Part Number
RP-HTX7-K1
Also:
RP-HTX7AE-K (UK model, made in Japan from what I have heard)
The new model is fine, and has some improvements to the ear pads, but it just does not seem to sound the same as the model I purchased way back in 2012.
The only downside is that the Earcups will last all of a month before they will need to be replaced. Everything else is SOLID.
Not recommended at all for those with larger ears.
VERY UNCOMFORTABLE otherwise for long sessions as is. Also those with BIG American size Heads, NO BUENO!
But hands down, a true money maker. With proven use by not only me, but others who mix professionally for retail consumer end use.
You would be lucky to find a Brand new in box pair, but here is a sample of what they look like albeit a USED pair.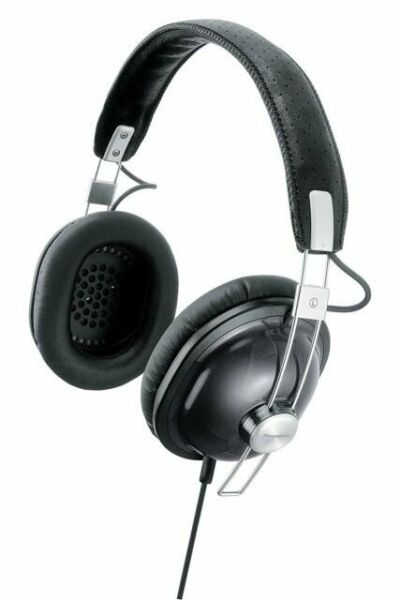 Find many great new & used options and get the best deals for Panasonic Stereo Headphones Black Rp-htx7-k 27175 Japan IMPORT at the best online prices at eBay! Free shipping for many products!
You can tell them apart from the earcups.
They degrade quickly. They don't have the tougher but inferior vinyl like earpads on some of the new models.
Also, the metal Headband is from what I can tell HY-80 steel or its equivalent. (Think Eibach springs that don't ever sag) They just don't give a damn about losing their grip on your head. so they don't become loose over time.
they also have more of a satin finish and seem to use some kind of sealer or some kind of clear coat on the metal outside where it has the printing of the Panasonic logo and of course the model number.
Panasonic seems to be out of stock of them as of today but seems to be able to get some within about 9 days or so
My son STOLE my headphones every chance he got until I got him a pair of his own. Still to this day, this is his own reference standard. But he likes an open back design, so I'm also trying to have him try out higher quality headphones, and so far? All I have been able to set it down on is the topping Headphone/Bluetooth DAC.
I'm going to have him choose a few pairs to purchase and try out tomorrow.
Kids like good stuff. You just have to show them the ropes on why audio quality is important. One particular problem that I ran into is people breaking or outright theft of his items at PULIK-school AKA Indoctrination centers.
I wanted to get him a pair of B&O headphones, but he smirked at the idea of $300 headphones.
Whatever headphones he settles on? The artist needs to be comfortable and relaxed in the environment first before they can make great works of art. Its often not the tools, but how the artist makes them sing.
In recording and producing on a DAW? It gets a little tricky. But going for the ultra high uber reference of finiky gear just gets in the way of often what you are trying to accomplish. So let him create, and see where he goes with it.
The HD600 and its variants are a solid choice. sooner or later just about everyone ends up owning a pair at some point. and boy are they comfortable to wear hours and hours into anything.
personally if he's just doing it at home and just for enjoyment just get him something that's really comfortable that fits him really well that he likes and that's probably the most important aspect of creating truly good sounding recordings.
Just my $3.50 cents.