Founder/Admin
Staff Member
CFO (Chief Fun Officer)
Joined

Feb 13, 2016
Messages

28,432
Likes

74,805
Location
I managed to get a bonus visit on at the Pacific Northwest Society's Bob Carver meeting to hear a new server from Sound Galleries (
http://soundgalleries.com/
) at Mike Lavigne's home. I had been to Mike's home a few years ago but not recently so this was a good opportunity to kill two birds with one stone.
Sound Galleries Media Server is a purpose built Windows 10 PC with every software and hardware tweak you can think of. It runs HQPlayer internally and to do that it has the latest Intel i7-7700K CPUs (as of this writing). They overclock it to 4.6 Ghz which pushes it beyond the nominal 91 watt maximum dissipation rating of the CPU. Custom passive cooling is used through a machined solid copper heatsink (painted black).
HQPlayer resamples everything to high-rate DSD. This drove an Aqua Formula DAC (
http://www.aquahifi.com/formula.html
).
Software stack is Roon and the server runs "headless." Boot time was fast and of course the machine was silent. Boot drive is SSD with custom power supply for it. There is also a custom linear (!) power supply for the computer.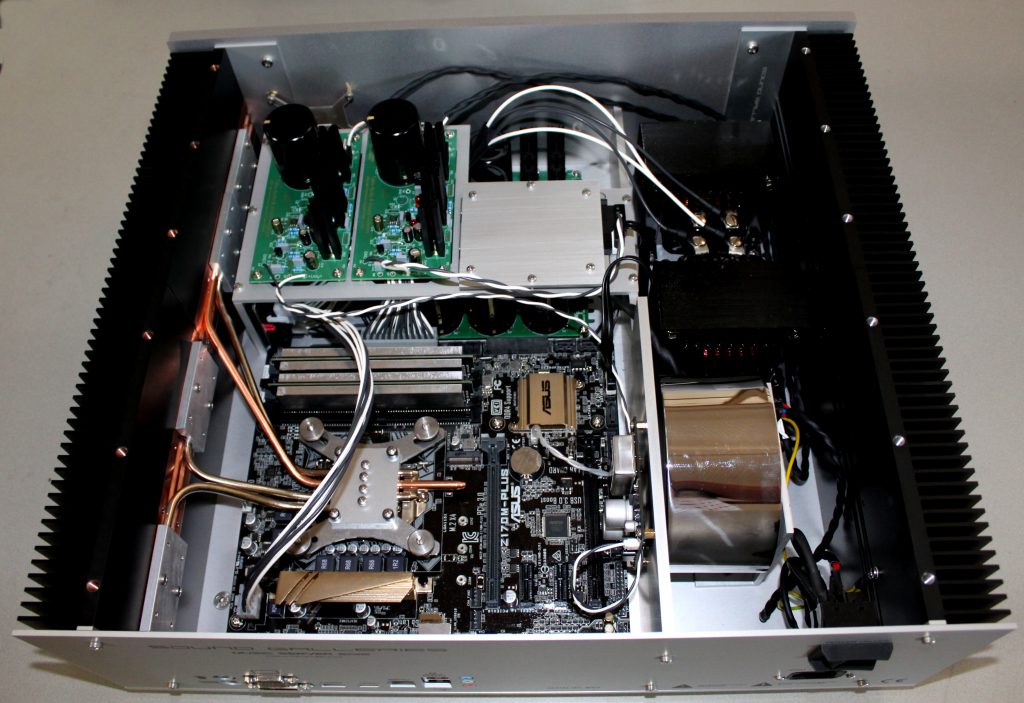 Custom CPU clock with low jitter is also used.
The case work is beautiful and I am sure quite expensive.
Lots of software tweaks in place including a tool that performs static partitioning of Roon by giving it two dedicated cores and the rest of the cores to HQPlayer. Smart as that allows the CPU cache to stay "warm" in running the same application as opposed to constantly switching between Roon and HQPlayer. The tool shows the thread counts for each and I was surprised to see so many (60+?) threads for Roon.
The base motherboard is ASUS. DD4 memory is used by they have tested many brands to arrive at the ones they picked. And some aluminum provides additional shielding for better sound.
The company owner is Edward Hsu (EuroDriver on forums) whom I found super friendly, delightful to talk to, and very interested in learning and experimenting.
He lives in Monaco but development is done through distributed team with the core in Holland (Netherlands).
Retail price is $16,000. Settle down! Yes it is expensive but for such a low-volume machine with so much customization, I think the price is fine. It would take a ton of effort to duplicate the same machine.
Last edited: