As
promised
, here is a little guide on how to update first generation
SMSL M8
units to get the screensaver functionality and prevent the fragile OLED screen from wearing out. It replaces the auto standby functionality. When turned on, the screensaver shuts the screen down after around 15 seconds of inactivity.
A
big
thanks to
@SMSL-Mandy
and the SMSL team for providing the software and support!
If you already have the screensaver functionality then obviously you don't need this update. Same goes if you prefer to keep the auto standby functionality of course.
To check for this you need to push the left button while the unit is on, and keep it pushed until the functionality toggles (either "auto standby on/off" or "screensaver on/off").
The operation consists in connecting some internal pins of the unit to a USB to serial converter and run a program to update the firmware.
Simple!
Of course the usual disclaimer applies here: do all this at your own risk.
Here are the tools you will need:
a USB to serial port converter with apparent wires
a soldering iron
a phillips screw driver

a windows computer
the M8 update program, courtesy of SMSL
First things first, you need to check if the
program
is running on your computer, and if the USB/serial adapter is recognized.
Obviously I don't have the correct character set installed on my computer, but the important parts are in english.
Once the USB/serial adapter plugged in select its port in the drop menu.
Now is time to remove the back of the unit.
There are 4 phillips screws under the rubber feets.
Once unscrewed you will need to remove the back panel, which is not an easy task because of the way it is inset.
Using two small flat screwdrivers was the easiest way I found to operate, YMMV.
Here is are the relevant pins on the PCB.
You will need to solder the GND/RX/TX cables of your adapter to the first three pins.
I simply tinned the wires and then gently pushed them upon the pins with the solder iron to make them soak a bit of solder and fix the wire.
I must confess I am not very handy with a soldering iron, so feel free to use a better method as you see fit. Of course the quality of the connection does not matter too much here, as long as it works and is easy to remove afterward.
Leaving the unit unplugged from its DC adapter, press the "Download/Program" button (with the USB adapter plugged in and the correct COM port chosen in the drop list).
You should see a "Checking target MCU..." message on the console.
Plug the DC adapter.
The unit will automatically turn on and the update software will do its job.
After a few seconds here is what you should see.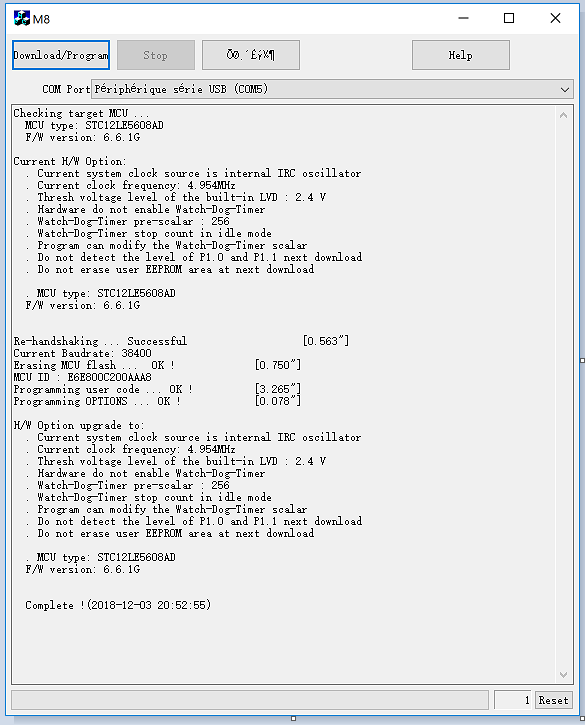 Complete!
You can check it worked by holding the power button
Now just unsolder or cut the wires, put the cover/screws/feet back, and enjoy a unit that will not slowly self destruct while being used
Last edited: