Joined

Sep 10, 2023
Messages

2
Likes

0
Location
I would like to humbly request some advice on speaker and tv placement. Apologies if this is way too much information. I am hoping for more help on placement rather than specific equipment if that makes sense. I am at the point where I have tested a few speaker combinations and know that without treatment and positioning, demoing any more equipment isn't going to change much.
I am in the process of converting my garden level, partial basement/below grade "master bedroom" to a hi fi and home theater room. Up until recently, this room has been my woodworking shop and sometime art studio. Many of the walls are currently covered in French cleat baltic birch plywood panels I made to store my tools.
You will see from the attachments that the room is really oddly shaped, 1890's construction, renovated in the 1980's, the angles, dimensions and features are a bit all over the place. This room may have been originally a dirt floor basement room.
I am open to acoustically treating the room, either making my own panels, or going with an OEM solution like Vicoustic.
First, I would like to get some feedback on where things should be placed in this rather odd shaped room.
HiFi
: I have a Lyngdorf TDAI 1120, that has been running a demo pair of KEF R3 Meta's and two KC62 Subs. I have been positioned them along the front wall. (shown in the final photo) I am wondering if the shape of the features of the front wall will make for an acoustic nightmare? I like to day dream and look out the windows while listening to some great tracks.
Home Theater
: The TV is currently on the short side of the right wall, a 65 inch LG tv with a Denon 5.1 setup. I would like to upgrade the amp and speakers in the future, but my current priority is trying to get my hi fi set up in the best place. (Speakers Pioneer Adam Jones for the L/C/R and Surrounds and a Speedwoofer Mk2 for the sub)
My arm chair is on wheels, so I just swivel the position when I go from TV to music. Eventually the chair will be replaced with a loveseat so I can share this all with my Mrs.
All options are on the table as far as placement. I would describe the the current placement as cozy, but I am guessing not acoustically optimal. I would prefer to not block the windows with the TV, as this is a 'basement' room and I live in New England and need all the light I can get.
Floor is a concrete foundation, with and engineered wood floor over it. The current carpet will eventually be thrown out as it has a lot of paint stains from my vigorous painting methods.
Other notes:
I would give more weight to having my hi-fi system sound the best over the tv. I may move my lyngdorf amp upstairs if I can determine a good AV receiver that will have great music sound as well.
I plan to keep the work bench in the room for now. The few tools left on the walls may be moved to my back storage area. I may also get a small acoustic drum kit next year. I am unsure about keeping the French cleat panels up, they are handy for all sorts of things, but if they are blowing up my audio, I can remove some/all and maybe hang accoustic panels on the French cleat walls
Am I missing any information that would be helpful? Thanks for reading this far, I think I better stop here for now. And thanks in advance for any help.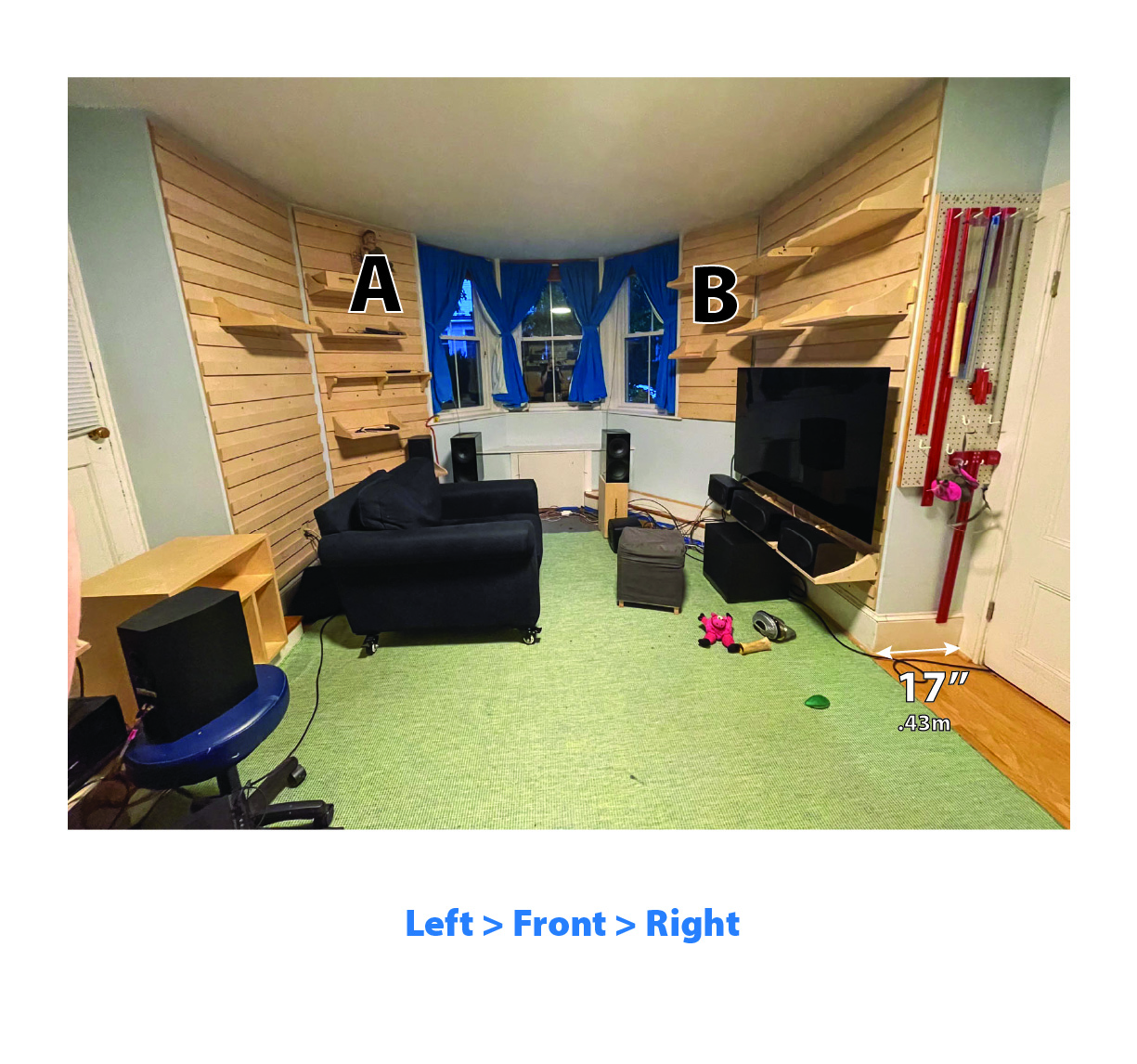 In case you wanted a simplified floor plan to play with.