Hi all! Been a while since I posted new measurements. Unfortunately, it's likely I won't be measuring speakers very often anymore due to some changes at work and life stuff. Plus most of my time devoted to audio these days are going towards me learning the piano and music theory. My current apartment also makes measurement setups much harder than my old one, and indeed, it took me
months
just to find the time to get to these speakers (kudos to Buchardt for being patient). But I'm glad to have contributed a small bit to the current revolution in speaker measurement availability. You'll see me here and there for sure, just a bit less than before.
Anyway, Buchardt S400 MKII. I'll keep it short. Here's the quasi-anechoic spin. The reference axis is between the woofer trim ring and waveguide edge.
Some of the squiggles are likely from my measurement setup, but I tried my best!
I did not create a full spinorama for the original (plus my measurements were of an early batch with a slightly different crossover), but here was Amir's, scaled to match mine
I could not find any evidence of the sharp resonance at 500Hz, but of course, quasi-anechoic measurements just don't have the same resolution. Still, even with a 9ms gate and nearfield measurements at various distances, I could not see a resonance there. Will have to wait for an NFS or anechoic measurement to be sure. That said, there's a broader hump, but as it doesn't rise much above the overall response it doesn't strike me as highly audible.
My impression of the measurements is that Buchardt made a slightly worse direct sound and vertical directivity for a better in-room response. Subjectively, prior to the measurements, the main difference I picked up on was less recession in the mids. But I'm in a different apartment without the original to compare, and I do not trust my audio memory nearly enough. But overall timbral presentation strikes me as great.
0-90 Horizontal:
Horizontal ER:
Horizontal Polar unormalized: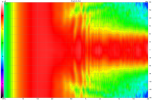 Normalized: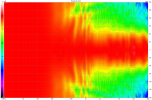 Vertical ER Data:
Pretty well controlled for a non-coaxial, and the lobing happens right where there is a bump on the on-axis. So it should balance out a bit.
That said, as before, the speaker is very sensitive to vertical height within the listening window. It's not something I notice from my listening position. This is not a speaker for the nearfield, although it's better to be above than below.
0-15 degrees above reference axis:
Below:
Vertical Polar Unnormalized: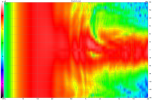 Normalized: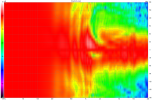 That's it for now =]
Last edited: