Founder/Admin
Staff Member
CFO (Chief Fun Officer)
Joined

Feb 13, 2016
Messages

40,003
Likes

185,860
Location
This is a review and detailed measurements of the Yamaha RX-V6A "8K" Audio/Video Receiver (AVR). They only announced two such 8K AVRs and this is the upper model. Our company (Madrona Digital) is a dealer for Yamaha so I was able to purchase this at a discount for testing. Retail cost is US $600.
I was pleasantly surprised to see Yamaha break the boring mold of AVR front panel which has greeted us for 10 to 20 years;
The curve plastic is cheap stuff but if you don't try to touch it, it looks like glass, giving the unit a high-end feel.
The display has also been revamped to be a proper LCD panel now with good resolution (looks better in person than in the above picture).
What continues to be a miserable fail is the large volume control. It is stiff, and somewhat scratchy feeling just like these have been for years. Why put such a large knob there to invite touching and have the touch feel so bad? Please get rid of the friction material and just give me a loose rotary control.
A loose rotary control is what we have on the right but alas, that was is so loose that it feels cheap.
A frustrating aspect of the RX-VA is choice of words/abbreviations. By default it would show that "Straight" indicator. What does that mean? Straight what? Video? Audio? I thought it was audio only to find the Pure Direct button and indicator as well.
Hit the setup button and after a few second delay (why oh why?), it puts on an understandable list. But then select speaker config and you are given these cryptic words and abbreviations:
EXTRA SP1? What extra speaker? If it means the binding post in the back, just say it for heaven's sake. Now, what does F.PRNS mean? I have been in home theater for as long as there has been home theater and I have never seen F.PRNS abbreviation. What is wrong with spelling these things out? There is plenty of room to the right.
Power Amp Assign is set to Basic. What is basic? Was there a class I missed on this lingo?
And Select Automatically Extra SP1 to Extra SP2? I don't want to go and read a manual just to understand what the unit is telling me. There is no point to the menu if it can't properly explain what it is indicating. A single scrub of all the menus will make the unit a lot easier to understand and no doubt reduce support calls.
Anyway, it is a one-tome pain so let's not kill ourselves over it.
Here is the back panel by the way:
Yamaha RX-V6A DAC Measurements
Only a subset of channels are provided as pre-out and fortunately the Front Left and Right are two of them. So let's see how they perform using HDMI input:
As is our procedure, I attempt to adjust the volume until I get to 2 volts out which is what we get out of any desktop or hi-fi DAC. This usually results in volume being above max as indicated (2.5 dB). If you reduce volume down to 0 dB, then output drops to 1.5 volts which is higher than normal and hence good. What is not good is the distortion+noise at full 2 volt output of just 71 dB: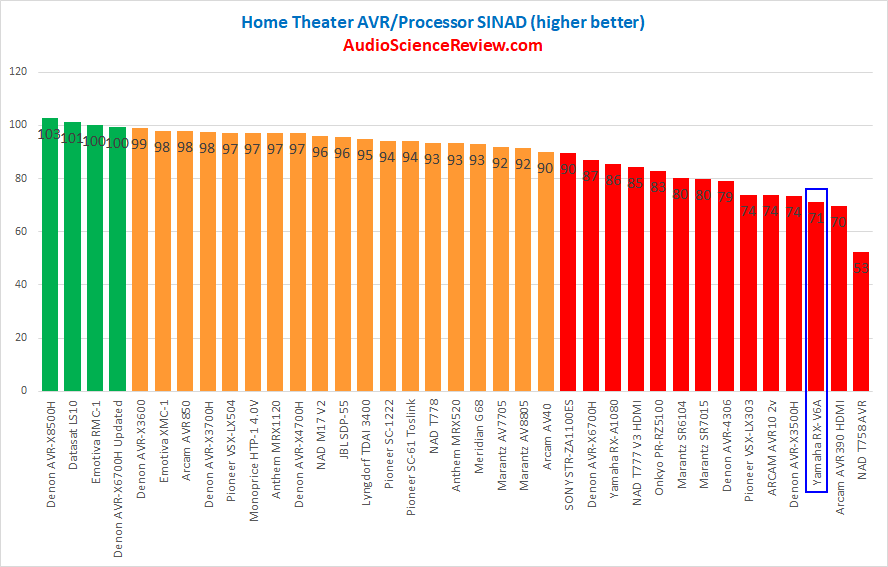 Let's sweep the digital input and see what the optimal output voltage is:
Gosh, that is pretty low. Optimal output is just 0.46 volts which corresponds to volume setting on the unit of -10.5 dB. If you go above that, the amplifiers start to suffer and translate into screwing up the DAC performance as well. Even at optimal output level, SINAD is only 90 to 93 dB so way short of best AVRs at their 2 volt out.
This early saturation shows up just as well in intermodulation distortion versus level:
Not only do we have higher noise floor than desktop DACs but early onset of distortion at just -17.5 dB (on the volume indicator).
The high noise floor hides a lot sins when it comes to jitter and unwanted spurious tones, but not on Coax input:
Multitone shows high levels of distortion:
We can't clear the 16-bit dynamic range of the CD without adding distortion to its floor.
Linearity is not bad for an AVR:
Given the high levels of distortion, noise actually looks good in contrast:
Filter performance is poor:
This causes problems in THD+N versus frequency:
Running the above test at 192 kHz (green) removes the effect of the poor filtering. Performance remains poor. I did not dig into why but it may have been due to noise shaping or something like that.
Yamaha RX-V6A Amplifier Measurements
Let's start with analog input using Pure Direct mode that bypasses all DSP (crossover, room eq, etc.):
The sum of distortion is literally the median of every amplifier ever tested (just many products worse than it than better):
Not that good of a showing among AVRs:
You might ask if digital input is better so let's test that:
See? You shouldn't have asked me that! Performance is worse because the noise and distortion of the DAC is getting added to the amp. This is why you want a very clean DAC so that it has zero impact on the amplifier that is already suffering to produce good performance.
You have to run the AVR at full power to get same dynamic range as 16 bit CD:
Crosstalk is OK:
Analog frequency response is good if you don't let the unit digitize it:
As you see, as soon as I set the front speakers to small, forcing the digital crossover to become active, the ADC used actually screws up the response at the top end! Seems like 96 kHz sampling is used which is good but why on earth can't it get transparent/flat response to 20 kHz if not beyond? I have to think there are some processing errors there to cause such wiggles.
The receiver is not rated into 4 ohm but as the rest of them, it functions fine:
And here is the 8 ohm performance which actually exceeds spec a bit:
Typical of class AB AVR amps, there is good headroom:
I expected little frequency dependency but found more:
Still, compared to cheap class D amps, this is very clean.
Happy to also report that the AVR had no trouble with the above test. It never shut down as some cheap AVRs do.
Conclusions
The 8K indicator in the title of RX-V6A makes you think you are buying a high-end AVR. But you are not. Audio performance is mostly close to the bottom tier of high-fi and AVRs. Still, it brings a fresh look and nothing in it seems completely broken. This made me withhold my lowest ratings for it considering the price. Yes, I am getting too soft in my older age....
I personally like to aspire for higher performance so can't recommend the Yamaha RX-V6A. You are welcome to decide otherwise.
And oh, this unit is available for sale. Make me an offer in private.
------------
As always, questions, comments, recommendations, etc. are welcome.
Appreciate in advance any
donations using
:
https://www.audiosciencereview.com/forum/index.php?threads/how-to-support-audio-science-review.8150/
Last edited: