Major Contributor
Forum Donor
Joined

Jun 16, 2020
Messages

2,018
Likes

3,112
Location
I recently looked for some solution to have music at my workbench (super tiny space where i fiddle with electronics). I have some spare speakers around, all i needed was an amplifier:
should be inexpensive
should be small
should have a hardware volume knob
While browsing Amazon, i noticed the Wuzhi ZK-502H, which is sold under many different brand names.
Very small:

30 year old CD for scale:

I'll describe the operations of this device together with some manufacturer specs.
@amirm
has ordered one as well, for measurements. I suspect he has same backlog, so his proper review will take some time.
Where to get one:
I bought mine from Amazon Germany for 17,99€, it is also available on Amazon USA for USD 17.99. I could have ordered it for about
12€ from Aliexpress
, shipping to Germany included. Amazon offered fastest shipping, so that is what i used. Search word is "ZK-502H".
Assembly:
The amp comes as a kit, no soldering is required, a tiny screwdriver is included. No instructions where needed. It took about 5 minutes to assemble, hardest part was peeling the paper from the laser cut acrylic underside. A self adhesive heat sink is glued to the TPA3116D2 chip. The construction is cheap, but solid, if the price is taken into consideration. The PCB itself is the case. To make sure you don't short anything, the bottom is protected by an acrylic plate.

Power:
You need to bring your own power supply, specs say it should be 5 to 24 volts, where 24 volts, 4 amperes and 4 ohm speakers are supposed to give the highest power output of 2x50W. I used an old 12v/1a switching power supply. A power connector with screw terminals is provided, but wasn't needed in my case:

Input:


3.5mm low level AUX in (feeding it line level causes distortion)
USB-A: 32GB, Fat32 flashdrive, reads mp3 (untested by me)
USB-A: PC (you need a USB-A-to-USB-A cable)
Bluetooth 5 (appears as "Wuzhi Audio", no auth mechanism)
Source selection is automatic, if none of 1, 2 or 3 are used, Bluetooth connections are accepted. Fast LED blinking means no source is connected, slow means connected. Cable wins over wireless. Aux wins over USB.
The sound card in Linux looks like this:
Bash:
[email protected]:~$ pactl list short sinks
0       alsa_output.pci-0000_00_1f.3.analog-stereo      module-alsa-card.c      s16le 2ch 44100Hz       SUSPENDED
1       alsa_output.usb-ZhuHai_JieLi_Technology_JieLi_BR21_20180105-01.analog-stereo    module-alsa-card.c      s16le 2ch 48000Hz       RUNNING
This is what it looks like via Bluetooth in Android: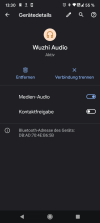 Output:

3.5mm headphone jack (mutes the speakers when headphones are inserted)
left and right speaker screw terminals, for 4 to 8 ohm speakers, max 1.5mm² (AWG15) i would say
Controls:
On top there is a power button and the volume control, which feels firm and smooth. The chromed plastic knob looks nice enough.
My experience:
I used the amplifier with a pair of ATC SCM19v2 (86dB, 6R) and Focal Chorus 826V (91dB, 3.2R). I could set the amplifier to a higher volume i normally listen to.
I also used the headphone output, which was weak with a pair of Sennheiser HD-650 (300R) and acceptable with a pair of Beyerdynamic DT-990 (32R).
The amplifier didn't get warm.
The spec sheet for the main attraction is attached.
I think a 24v power supply would make a difference in clean power, but i have none at hand.
12€!
Last edited: