Hi there,
I would like to ask you some advices for a buy choice.
I'm looking for a nice pair of little speakers (living in a one person flat) at a reasonable cost (around 500 €).
To guide you it's mostly to listen to and enjoy music. I could use them as monitor when I do some piano recordings at home but it is rare (the last one is more than one year old).
Next to headphones experience I'm fan of the Harman curve and I care the most about linearity and BW extension. The K371 are the perfect budget heaphones for me except the 4 kHz dip.
My first aim was to go for a pair of Elac DBR62, I didn't want active speakers for durability in case of electronic failure.
But next to my experience with headphones where I choosed to keep AKG K371 and sell HD58X jubilee because bass (and treble too actually) extension, I realized how mids linearity is important but how both ends of the bandwith are too.
So I'm taking a look at the second wave of Kali LP6 / LP8.
The JBL 308p mkii was an option but there is the pretty ugly distortion problem.
As a reminder here is the DBR62 thanks to Amir review :
JBL 308p mkii distortion problem :
Thanks to Erin's Audio Corner we have the CEA2034 of the Kali LP6 2nd wave :
and the one of LP8 2nd wave :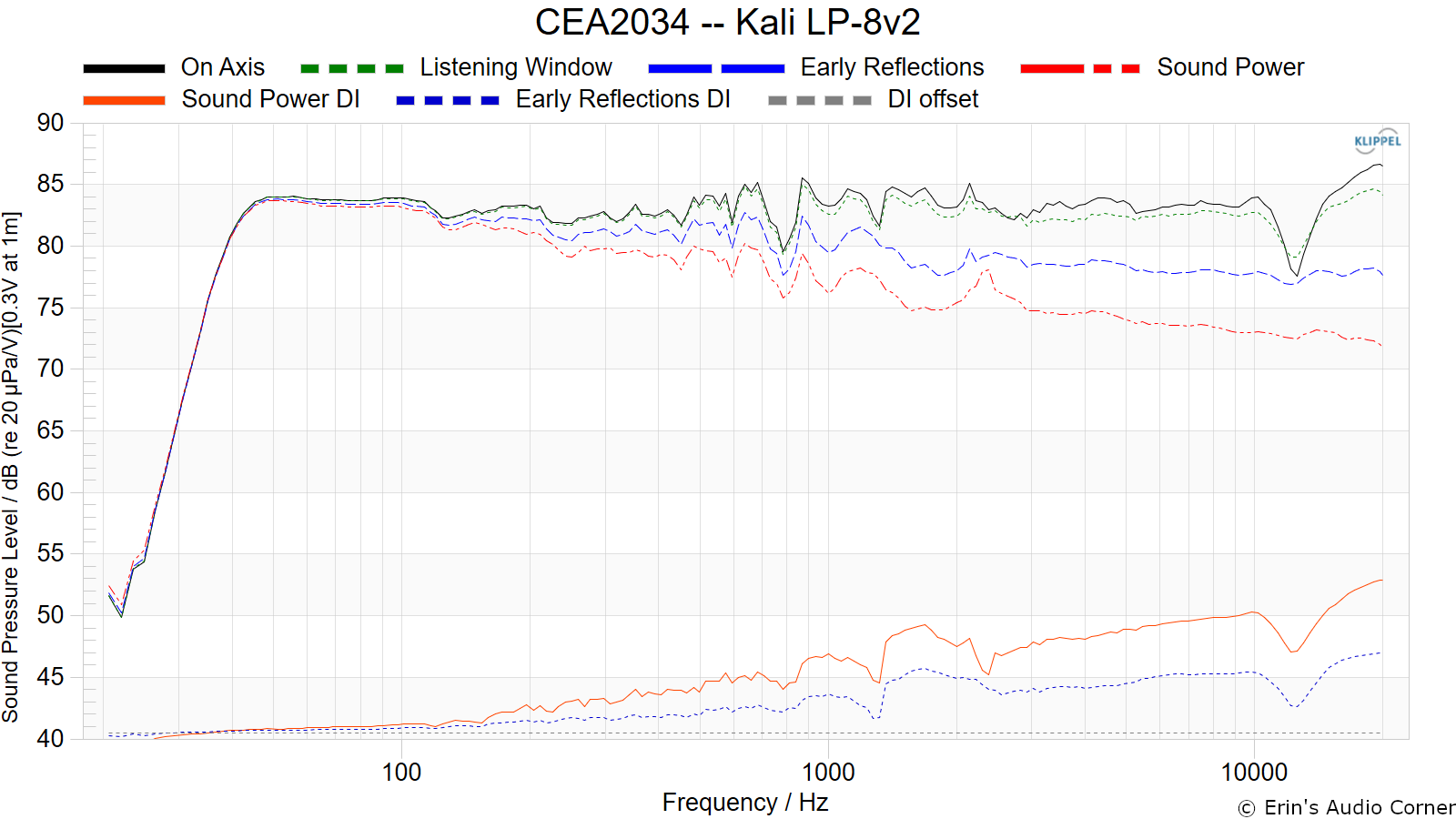 F3 and F10 of LP8 is 39 Hz and 34 Hz
F3 and F10 of LP6 is 43 Hz and 38 Hz
for comparison
F3 and F10 of Elac DBR62 is 55 Hz and 41 Hz
The F3 around 40 Hz for both Kali is good to me when the bass extension of the Elac is a bit short as their F10 is equal to the F3 of Kali...
The Elac has also a kind of elevated bass level around 150 Hz which should sounds like "fake upper bass" rather than "real deep extension". Please note it is purely a guess here as I never heard these speakers (and maybe I should...), this is only how I read the frequency plot.
My question is choosing between LP6 or LP8.
For what I see with my knowledge, mainly the directivity of the LP6 is better around the crossover frequency ?
At the end of the test Erin note these are quite similar except 1-3dB more dynamic range below 100Hz for the LP8 :
https://www.erinsaudiocorner.com/loudspeakers/kali_lp-8v2/
Has anybody tried both and could give more input ?
Thank you a lot
P.S. : I don't know if I'm authorized to post Erin's data here, I can delete if not.
Last edited: