Joined

May 3, 2022
Messages

42
Likes

24
Short answer is yes...long answer led me here to your thread...
I really liked the PA5 and with the E50 they gave me my 1st class D and balanced combo (had some nasty ground loop issues on my home theater equipment that was very time consuming to resolve so liked the idea of balanced, especially interfacing to a computer).
The PA5 & E50 are small, cool running, dead silent, and sound great. The only challenge was a few users were starting to have issues with the PA5 & noise after it goes out of its 30-day return window and then had to deal with overseas warranty issues (time and shipping).
I then looked at the Topping LA90 but it was $800 (2X more) was class AB, low power (50w) and a few people were starting to have issues with it also, so it appeared Topping needed some time to perfect their amp making capabilities.
To be proactive, I started my quest to find a substitute class D balance amp. Looked at building my own, but getting the parts for Hypex Ncore was more money & time to get the parts than buying an pre-assembled unit.
Then decided to look for a pre-built unit and came across
TBE's Great Thread
which led me to US suppliers Buckeye and VTV. But the more I studied Bruno Putzeys' work (the designer of UcD, Ncore & Purifi amps along with Kii 3 speakers) the more I liked his product evolution, and was also concerned about the stock Hyperx input buffer board.
That led me to the Eigentakt 1ET400A module, I then learned of Bruno Putzeys' latest & greatest creation the 1ET7040SA module, but after a little research and posts like
BoXem's Great Post
I decided for my usecase there was no advantage and only much higher costs.
Further research also showed that Bruno was stating for the next couple of years there was going to be minor tweaks but the only major change to Purifi modules would be more or less powerful units, and them making their own PSUs to power the modules sometime down the road.
So I put together my own spreadsheet for suppliers of Purifi Eigentakt 1ET400A pre-built amps and again US suppliers Buckeye & VTV had the best price and delivery times. The Eigentakt was going to be 3X more than the PA5 but had more power and seemed like it had years of great reliability.
The issue was Buckeye quoted a August '22 delivery date and VTV had some documented build issues. Though the research showed that the major build issues seemed resolved and the other ones seemed very minor & easy for me to implement with measured improvements per
Rick's Great Thread
and that overall, VTV had great measurement out of the box compared to anything near the price.
The only issue was there were no recent posts of the VTV Eigentakt 1ET400A amp with internal pics so I could see if the build issues were improved, worse, or stayed the same, until I came across this great thread!
I saw all the major issues were cleared up and the minor issues were easily and cheaply remedied so I ordered from VTV. My amped shipped in 24 hrs, arrived in 72 hrs and I've been enjoying it ever since. The only issue was I missed the physical volume control so after researching I upgraded my E50 DAC to the D30 Pro which gave me a better pre-amp, built-in psu, lower jitter on the S/PDIF inputs, along with remote & physical volume control.
Next, this weekend is to open up the VTV and see the build quality of my amp, post some pics, make sure it's a keeper, and then do the updates/upgrades.
So I went from the PA5/E50 class D balanced combo to the VTV/D30p class D balance combo at 2x the cost but got a more powerful and highly reliable/respected design, coupled with overall higher specs/features on the DAC.
Will never know if the 50% increase from the Hyperx with their standard input buffer board was worth it over the newer designed Eigentakt 1ET400A with their standard input board, but quite happy with the choice so far (see attached pic of VTV & D30 Pro together but not in their normal operating locations).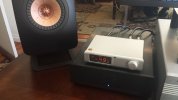 Last edited: