Founder/Admin
Staff Member
CFO (Chief Fun Officer)
Joined

Feb 13, 2016
Messages

25,990
Likes

58,082
Location
This is a performance test of the Schiit Saga pre-amplifier using two different tubes. The unit and extra tubes are on loan from kind member. See the
review of Schiit Saga
in parallel thread.
As I mentioned in the review of Saga, the stock tube is a Russian made clone of 6NS7 which goes by label of 68HC. The extra tube provided is from Raytheon and was made in USA. You can see them side-by-side here: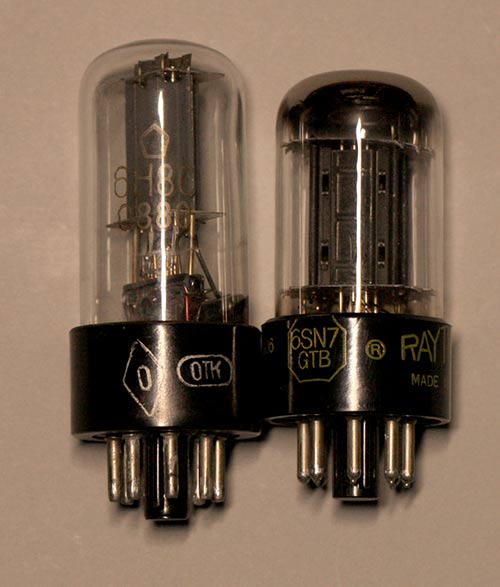 The 68HC is on the left and the Raytheon 6SN7 is on the right.
The pins on the 68HC had some oxidation on them. In contrast the pins on the Raytheon 6SN7 were pretty clean.
I did not repeat the measurements of 68HC. I just ran a few of the tests on 6SN7. So there be some variation in performance of the unit overall but hopefully that is lost in the noise, pun intended.
Let's get into measurements and see if our western, genuine 6SN7 delivers on its promise.
Measurements
As with the review, I started my testing by measuring warm-up performance stability:
The top two lines are from Raytheon 6SN and the bottom two with 68HC. We see that the Raytheon tube actually has higher distortion! We will quantify that shortly.
On the positive side performance seems to be more stable with less deviation in the graph. Not that this matters much given the tiny variations at macro level.
During the measurement I realized my LED light was on. It was about a foot above the Schiit Saga. I usually turn it off during measurements but have not noticed it making a difference before. Here it did, causing one channel to get a bit worse but the other a bit better! Again, these are very tiny variations of no impact but shows how good our instrumentation is, and the fact that some interference is getting into the unit, perhaps coupling to the tube itself.
Before getting into the dashboard, here is how the stock 68HC did:
SINAD (signal over distortion and noise) is about 97.5 dB. Here is how the Raytheon tube did:
We lost almost 4 dB in one channel, and 2 dB in the other. This is visible in the second harmonic which peaks higher with the Raytheon 6SN7.
Conclusions
They say don't judge a book by its cover and that is true here. The so called "clone" tube did better than the brand name Raytheon. Of course hard to tell how much this correlates with a much larger sample of tubes. For now though, the measurements show a step backward so my recommendation to the owner is to keep the Russian tube and sell the Raytheon.
------------
As always, questions, comments, recommendations, etc. are welcome.
They say you should save money for a rainy day. It rains for about 6 months here so I need plenty of money!!!
Please consider
donating
funds using:
Patreon
:
https://www.patreon.com/audiosciencereview
), or
upgrading your membership here though Paypal
(
https://audiosciencereview.com/foru...eview-and-measurements.2164/page-3#post-59054
).