Hello everyone, my first post here!
Just as a short preface to how i got here, but you can skip it if you're short on time
I bought the RP-600m, i supposed based on the hype and on the premise i could eq away the crossover dip at 1.8khz and have a "tehnically good" and "visually sexy" speaker which would allow me to really push the DACs i design and amps i build, to really hear them sing so to speak.
However, when i got them I felt like i was just playing back music files, not really listening to the music. Immediately the soundstage struck me as being shallow, the speakers did not dissapear, im just not really vibing with these, you know. They're ok i guess, not bad, not broken. Just....eeh..i dont want to just "get used to them".
The speakers i've owned prior (1972 braun/ads l710) sounded better in most respects, fair enough only after i did a lot of measurements and room correction, but it didnt help with the RP600m's much. And i paid 520€ for them on amazon.de, kind of a lot of dough to not be satisfied.
So seeing as im in amazon.de's (okay, its from a private seller on there, i hope returns with the prepaid label still work) return policy ill probably return them, but then i gotta get something else so...
So i want to do it right this time and not just go by raves, and think a bit more about it. I already feel bad about having to return this pair so i'd like to avoid returns.
Imaging and soundstage, immersion into the music is what im lacking with the RP600's so just around this price bracket i was looking at ub52 (unifi 2.0) , and dbr62 (debut reference), even willing to go up to ubr62 (unifi reference). Im not sure else what's available on amazon.de or my local ****** country other than these sort of choices.
Here are the individual reviews on this site for quick review:
UB52
https://www.audiosciencereview.com/...ac-uni-fi-2-0-review-bookshelf-speaker.19216/
UBR62
https://www.audiosciencereview.com/forum/index.php?threads/elac-ubr62-speaker-review.24585/
DBR62
https://www.audiosciencereview.com/...-debut-reference-dbr-62-speaker-review.12232/
RP-600M
https://www.audiosciencereview.com/forum/index.php?threads/klipsch-rp-600m-speaker-review.12138/
I was looking at Amir's measurements on the rp-600m (currently own), and UB52's klippel frequency response, specifically the bass response.
I matched them by roll-off tails, and the rest of the output seems to line up as well.
Conundrum 1: The Rp600 is a substantially larger box with a 6.5in, the ub52 is tiny with a small 5.5in, yet the UB seems to have almost the same knee point, and if anything a bit more bass relative to the rest of its output (not absolute per watt, since i didnt match the outputs by db, i listen only nearfield and at 5W output).
Now i have the rp-600m right next to me, and i can tell you they go to about 37hz in my room (albeit EQ'd) and then fall off a cliff, but just by looking at them i cant even imagine the ub52's doing the same. Ok, one is rear and the other front ported, but i would be more than happy if i could get even a similar level of extension (also EQ'd). That's why the knee is important to me, as it presents a hint to how low i could even take these.
I think im a pretty tough customer because one of the things im pretty stiff on is i really cant enjoy sound unless i have at least 40hz -3db point, and i tried to compromise on this and it failed every time. Unfortunately since i move a lot and have limited space subs is something i dont want to need to have. Usually i just eq it to heck and bear with the bloat, i listen to a lot of ambience vaporwave where you're just sort of enveloped in a wall of sound, whatever. I know, please dont cringe at me, it works for me. Sorry if im stupid.
Conundrum 2: UBR62 has a 6.5in driver, yet from where i've seen it measured, very anemic bass response. Even compared to the little 5.5in ub52 (with smaller boxes to boot). Granted one is Amir's and the other Erin's, but a klippel is a klippel?
What's up with that? Presumably a larger driver diameter would also have more mass and a lower f3, and i think these 6.5's from elac have pretty big magnets IIRC.
I guess it's just the box tuning then. Also the scaling is subtly off, here i db matched at 75, and by 40 the numbers are off.
Can anyone who owned the ubr62 comment on its extension, especially relative to ub52 or rp600? I guess its a small subset of people here, sorry if im asking a lot..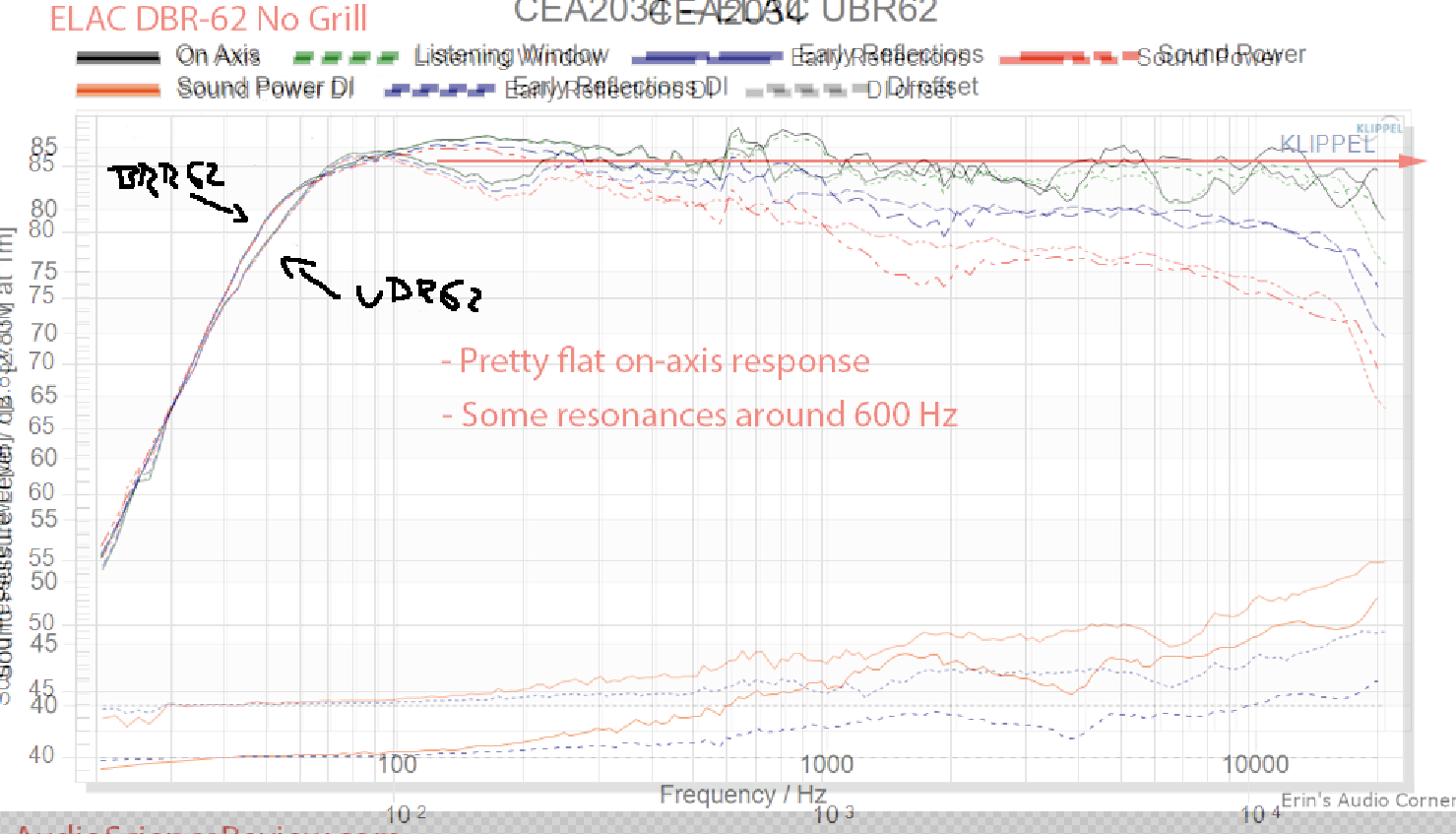 For completeness UBR62 vs DBR62, similar.
I'd still like to hear any speaker recommendations based on this, or any thoughts, or where i messed up, or if you feel disgusted by me, or something else.
Last edited: