Founder/Admin
Staff Member
CFO (Chief Fun Officer)
Joined

Feb 13, 2016
Messages

40,350
Likes

191,169
Location
This is a review and detailed measurements of the TAD Evolution 2 tower 2.5 way speaker. It was sent to me by the company and costs US $20,000.
Sorry for the cellphone shot of the speaker on Klippel NFS. I have not had the time to test it in the house.
The fit and finish is impeccable. The binding posts is likely representative of the quality inside:
It is full custom with a level of precision that makes it a pleasure to tighten the screw on the terminal. The fit is so perfect against the threads that make you feel there is fluid/oil in the thread but there is not! An example of very high precision machining.
Measurements that you are about to see were performed using the Klippel Near-field Scanner (NFS). This is a robotic measurement system that analyzes the speaker all around and is able (using advanced mathematics and dual scan) to subtract room reflections (so where I measure it doesn't matter). It also measures the speaker at close distance ("near-field") which sharply reduces the impact of room noise. Both of these factors enable testing in ordinary rooms yet results that can be more accurate than an anechoic chamber. In a nutshell, the measurements show the actual sound coming out of the speaker independent of the room.
Reference axis for the measurement was the center of the tweeter. No grill was used. Measurement axis is parallel to ground plan. 1500 measurements were performed in 3-D space (50% higher than my normal standard) generating 1.2 gigabytes of data.
I have shared my results with the company representative. Alas, I have not heard anything back despite checking a couple of times.
Here are the company specs:
TAD Evolution 2 Speaker Measurements
As usual we start with our CEA-2034 frequency response measurements:
Great to have good bass extension. Alas, the rest of the response is somewhat variable which is likely due to interference from multiple sound sources. Here is the near-field response:
Nice to see port/cabinet resonances being suppressed well. Company specs the first crossover point at 90 Hz. I am not seeing that effect so perhaps the near-field measurements are polluted by the other woofer?
Anyway, here is our early window reflections:
Nothing to add other than the comment on the graph. Here is our predicted in-room response:
Horizontal directivity is good so we should have good luck with EQ:
Here is the vertical:
Benefit of 2.5-way design kicks in lower distortion, at least at 86 dBSPL:
At 4.5 ohm minimum, lowest impedance point is slightly better than average which is appreciated: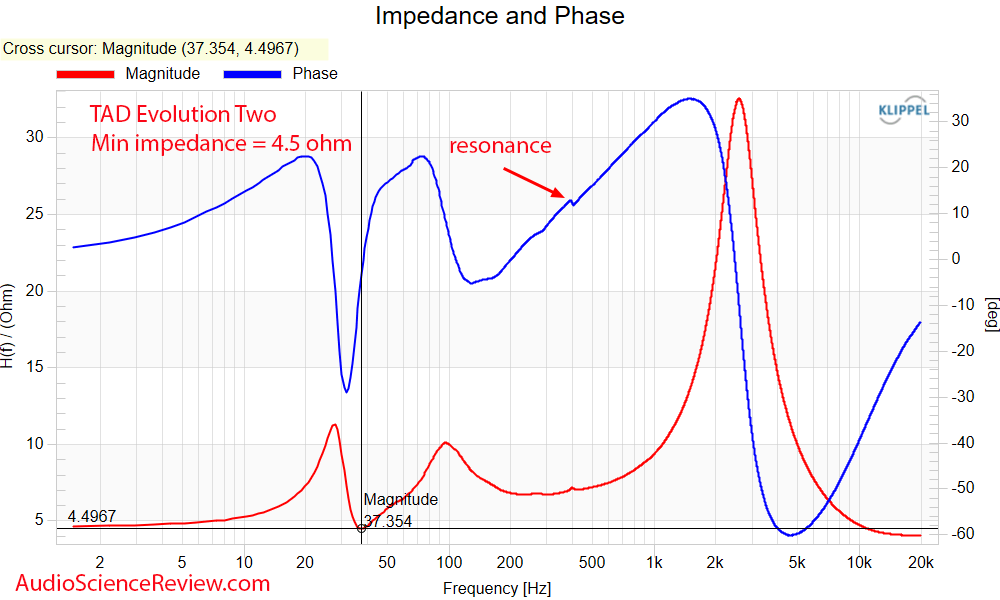 Here is our waterfall and step responses:
As I noted, due to lack of time, I do not have listening impressions for you.
Conclusions
I guess I can state the obvious that given TAD's stellar reputation in speaker designs, I walked in expecting perfection. We did not get that. I let you all vote with what you think of the measured performance. I am delighted about the quality of the speaker though.
I should also mention the incredible support and generosity of the company to work with me and send me these samples for testing. No other company has offered such expensive speakers for testing.
-----------
As always, questions, comments, recommendations, etc. are welcome.
Any
donations
are much appreciated using
:
https://www.audiosciencereview.com/forum/index.php?threads/how-to-support-audio-science-review.8150/
Last edited: