Founder/Admin
Staff Member
CFO (Chief Fun Officer)
Joined

Feb 13, 2016
Messages

42,673
Likes

214,917
Location
This is a review and detailed measurements of the Sutherland KC Vibe MK2 phono preamplifier. It is on kind loan from a member and costs US $999:
The box is quite substantial and deep despite the fact that power supply is switching and external:
Where do you think the power supply plugs in? You would never guess. It is through a hole underneath! I suspect that optimized the circuit layout together with disjointed inputs and outputs.
The power supply is rated at 48 volts so hopefully that translates into good bit of headroom.
Gain and loading is programmable but sadly through jumpers inside the box:
I went with the recommended 45 dB gain for the measurements.
Sutherland KC Vibe MK2 Measurements
Let's start with our usual dashboard:
Very nice to see no distortion spikes which is my target. Noise is controlled enough to almost land it at the top of our chart: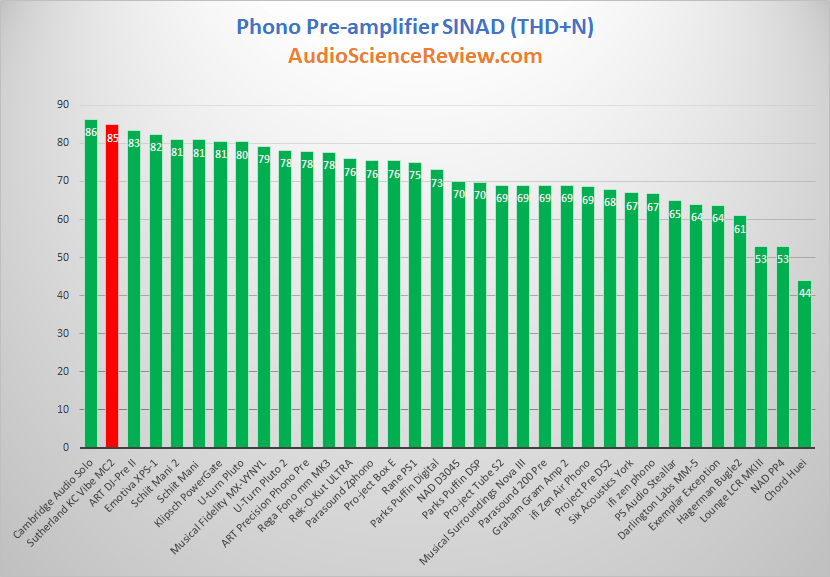 Most important measurement in a phono stage is frequency response and the Sutherland essentially nails it:
My hopes however for good headroom were dashed:
Not only do we have a low input level saturation at 1 kHz of just 26 millivolts, it keeps getting worse with increasing frequency (this aspect is typical). Here is what it corresponds to on the output side:
So we can't even get to 5 volts out. Why?
Back to distortion (ignore noise), it is very low:
Conclusions
I like the nice RIAA implementation and exceedingly low distortion and noise for a phone stage. What I don't like is the low clipping point which means ticks and pops will be more audible. If this had not been the case, the Sutherland would be almost perfect.
Given the good performance in a few areas, I am going to put the Sutherland on my recommended list. It is pricey though and similar performance can be had for much less money.
-----------
As always, questions, comments, recommendations, etc. are welcome.
Any
donations
are much appreciated using
:
https://www.audiosciencereview.com/forum/index.php?threads/how-to-support-audio-science-review.8150/