I think the thread is about having woofers on opposites sides of the enclosure, pushing/pulling at the same time.
Just to be clear, Dual Opposed and Push/Pull are two different concepts. Push/Pull is also Dual Opposed in a manner of speaking, but Dual Opposed is not Push/Pull.
The clearest definition in a modern Sub of Push Pull is the Perlisten and M&K models where one driver is facing outward as normally seen, and the other is magnet out. These drivers will be wired out of phase two each other but in phase for the purpose of how the motor moves in relation to the cabinet itself.
Dual Opposed on the other hand is two drivers mounted specifically directly opposite each other, either both magnets inside the cabinet or both outside, with no closed space between them other than the cabinet (with the cabinet being either vented or sealed). Specifically, in this latter arrangement, the cones simply play in phase opposite each other.
The prior example utilizes the opposing linearity of one driver pushing away from the magnet while the other pushes toeard the magnet, thus cancelling some nonlinear performance/distortion in the resulting output.
The latter example is almost purely about force cancelation as each drive negate the force of the other driver.
Here is the Perlisten Push/Pull: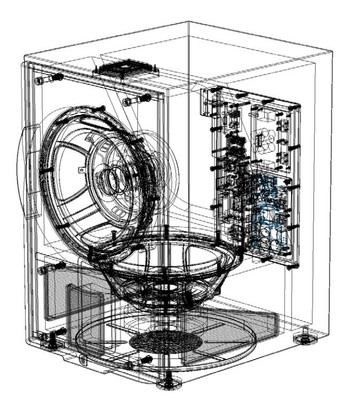 This is the SVS 3000 Micro (dual opposed):
Though similar, the two are fundamentally very different.
Only because this keeps coming up in the thread, an isobaric design will have each driver coupled directly to the other via a small tube or compartment. The drivers can be clamshell (cone-to-cone), facing the same way (cone to magnet), or "reverse clamshell" (magnet to magnet). It is very important to note that in all three examples, the cones must move IN PHASE with outer driver! According to Dickason ans Alden, the Chamber linking the two drivers should be as minimal as possible without allowing parts of either driver to directly touch the other. Thus:
In this example, even "A" should have a smaller chamber directly linking the two drivers more similar to "B" and "C." In the Dickason and Alden books, they almost seem to recommend such as a sonotube as the joining compartment.
Regarding Phase, the "Inner" Driver must move in Phase with the Driver exposed to the outside of the Cabinet. They form a system that supports each other.