Joined

Dec 6, 2021
Messages

17
Likes

10
Now that I have basics down and REW working I did a quick comparison of my current project, a pair of Dayton Audio MK442T 4" 2-Way Transmission Line Tower Speakers. I purchased these on sale and got a coupon, of course. I typically use a pair of KEF R3 speakers in mahogany that I absolutely love, but I also love tinkering. My 4 year old hit one of my KEFs in the woofer and added a small dimple.... I love her. I am considering using cheaper speakers for a few more years until my 2 and 4 year old get older and there is less chance they will destroy my beautiful expensive KEFs.
I have been making some speakers on my own for years now and I have also purchased and sold probably 10 pairs of cheap speakers. I am fascinated with the idea of a set of $100 - $200 speakers that sound good enough, or even better than good.
I built myself 3 different pairs of speakers using a transmission line. I have loved the idea of a transmission line, and the sound, since I heard some Focal Daline 3.1's back in 1997 and wanted to buy them. My fist pair had Seas 6.5" metal woofers with Focal inverted metal dome tweeters. These were my attempt back in the 90s to make a better home made version of the Focal Daline 3.1 speakers. I'd say they were similar in sound and quality, I was happy with them. Those were stolen shortly after. My 2nd pair was using 5.25" Tang Band full range Bamboo drivers, those sounded pretty darn good for a single driver. I took them apart to save space, still have the drivers. My 3rd pair of T-lines was 8" full range Tang Band Bamboo drivers, still have those sitting in the garage annoying my wife. They sound pretty darn good as well for a single full range. I have toyed with adding a full range or tweeter to those using 1st order crossovers. I came up with some decent results (as far as sound) but never measured it.
The concern I had with the Dayton Audio MK442T speakers started before I bought them. I don't like small tweeters. It's a whole discussion and thing with me, size matters. Maybe it's just me but I have a strong opinion on tweeters, I generally dislike 1" and I don't want anything smaller than 1". The Dayton has 3/4"dome tweeters.
I separately purchased two cheap tweeters (really 4) from Parts Express along with the speakers and the measurement mic. I made measurements of the stock speaker and then two other measurements with the 2 different tweeters balanced on top but facing the mic. I did this because none of them are an exact fit and I don't want to cut up the speaker until I have made a decision.
Test setup
So this might be weird...
MAC Mini is sending audio over Airplay to my listening stereo. Old Apple TV to the Schiit Audio Modi Multibit DAC using TOS Link, Marantz AV7701 preamp, Emotiva XPA GEN3 2 channel amp, and a Pioneer Elite SW-E10 subwoofer.
Using REW and the newly purchased and setup Dayton Audio Umm-6 Mic on the MAC mini. Measurements are about 6ft (I was within a few inches each time).
So why did I go with these tweeters? Because they are 4 ohm, relatively close to the physical size of the original tweeters, their SPL is similar to the speaker, and they are not expensive.
Stock speakers with the 3/4" dome tweeter.
Speakers using Peerless XT25SC90-04 1" Dual Ring Radiator Tweeter.
3rd, Dayton Audio Dayton Audio ND25FA-4 1" Soft Dome Neodymium Tweeter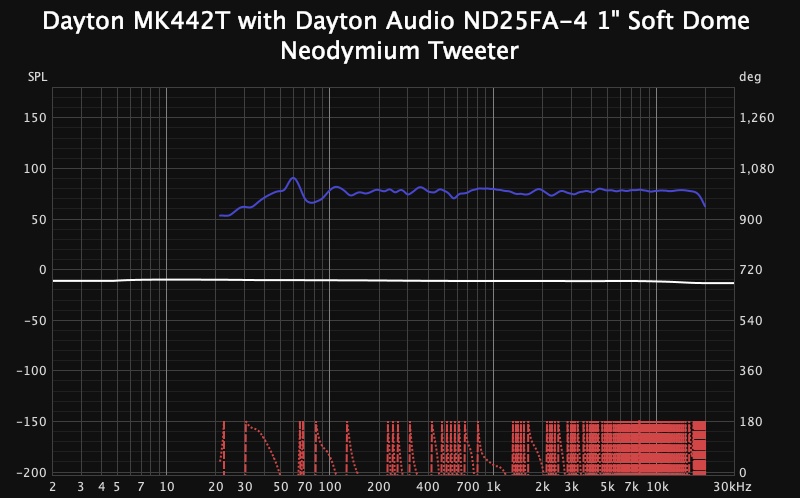 These may not be the best pics or graphs, sorry. What I see, and hear, is that both of the 1" tweeters are a better match than the original 3/4". The stock tweeter is actually quieter than the woofers, you can see it slightly tail off.
Quick note. In general my ear likes the sound of the Peerless best, but the 1" Dayton is close. It's hard to describe the difference when listening to music, but there is some difference.
So I am looking for anyones thoughts on this. Suggestions for other tests to try? Thoughts about the results or test methods? Anything I should consider improving? I am happy to test again and post other results if anyone is interested.
Thanks!
Last edited: