Just dropping a quick self-quote here to alert others to a different method of looking at the spectrogram - on the "burst decay" settings which shows time relative to frequency "periods" (cycles as I've been calling them in this thread). In the image I posted in the quote, which is of the same VBA results as above, it actually does look like another cancellation wave of 34Hz (the "cascade" of waves I mentioned) could cancel the remaining decay noise. Because periods 0 to 3 look the same width as the remaining energy from 4 to 7, which kind of suggests that 1 more greatly delayed wave will clear that up.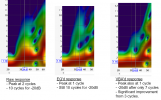 That's a great graph you shared! I hadn't seen it before. Actually the span isn't seconds, it's periods ("cycles" of the frequency as I've been calling them). It basically takes a time based graph and divides it by the frequency. It's actually quite handy for showing delay relative to the frequencies length. It shows

VBA working

quite clearly.

View attachment 305692
PS: I'll get back to ernestcarl's recent post.
Edit: It worked! All I did was duplicate the previous VBA, delay it 4 cycles (1000/34*4), and adjusted its volume (-13dB). I added the 2 VBA's together, so now the main IR has 4 pulses in it, and that gives the following result.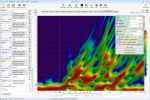 Last edited: