Joined

Jan 13, 2020
Messages

151
Likes

102
I have been into audio for almost 40 years. I have swung up and down on the pendulum but right now for many years I have lacked a nice speaker based system to listen to - I have several more casual systems but nothing is setup to allow me to go somewhere and just listen except for a small nearfield system in my home office.
I have some gear that I want to reuse at least to start and some new gear as well.
Stage 1 of the effort is to put something fairly unobtrusive and simple into our existing Living Room space and test the waters with a new pair of floor standing speakers that actually have some WAF per my wife. The speakers are a used pair of Aliante Linea PF Pinafarina :
https://stereonomono.blogspot.com/2010/02/aliante-linea-pf-aliante-linea-pf.html
These are a 6th order dual bandpass bass design both of the ports for this and the midbass face forward making placement a little less tricky. My plan is to have them against the wall for super casual listening and then move them out when I want to really listen. I realize this complicates room correction - is there a unit that can have switchable profiles that you can swab between?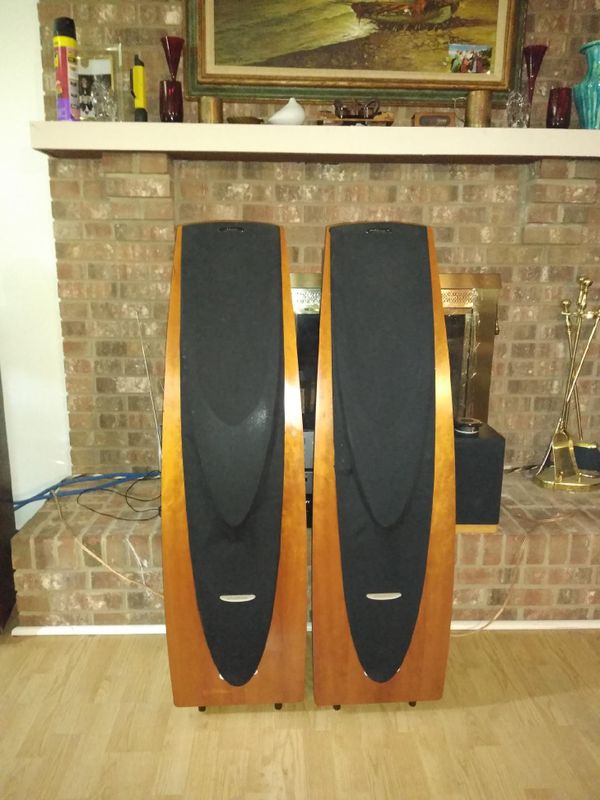 For this stage 1 - I am interested in putting something together with room correction to help with the poor location of the listening position. I purchased a Paradigm PW Link but despite the poor performance characteristics I'm wondering if the PW Amp would have been smarter. I am trying to figure out what to pair with the PW Link. In another stage in a more dedicated room I might pair it with my Adcom GFP-565 and Rotel RB-980bx but at this time I need to stay small.
See attached JPG for room layout. The tiny spot labeled Amp is where the gear needs to fit. It's maybe 12-15" wide and as deep with some wiggle room. The half wide components like the Yamaha WCA-50 and the Klipsch Powergate and even the PW Amp all seem like possible ways to make this work. But the source will need to be either bluetooth or one of the streaming apps and something like Tidal or Qobuz for simplicity for this phase.
I also have a pair of QLN monitors (7' kevlar woofers and 1" domes) that are rear ported. Surprisingly deep playing they supposedly get down into the low 40's. with a -3db. These are stand mounted and I've owned them a long time. They are giant killers. My QLN model was made by another company (same design and designer slightly different parts) and most closely resembles this:
https://qln.se/discontinued-models/one/
but has a different frame around the woofer and a different tweeter mounting. There were no grills ever on this model. The rear porting makes placement a bit wonky and again this is why room correction appeals.
Long term I have a 7 deep, 12 wide by 10 high room that may be my main listening area and new home office. I would have to empty the room from what is there now and that isn't going to be a quick process. That room is challenging to say the least but for now I am focused on the larger room. Ironically the smaller room will have considerably more flexibility in space for gear like amps and preamps and cd players etc. Also WAF will be a non-issue.
Finally I have considered something like the DSPeaker's line of room correction appliances as well. This would be more costly and would require some type of dedicated amp. I saw in the good amps under $1000 thread a parasound half width power amp that didn't look bad and had good measurements but placing a power amp and another bit of equipment like the DSPeaker device would still require something to feed music to it - a bluetooth unit external to it would I suppose work but streaming higher quality would be better if possible.
So any thoughts about stage 1? What would you put in as the amplification and how would you implement room correction?