Founder/Admin
Staff Member
CFO (Chief Fun Officer)
Joined

Feb 13, 2016
Messages

37,954
Likes

162,178
Location
This is a review and detailed measurements of the Rockville RPA16 "Professional" power amplifier. It was kindly purchased new by a member and drop shipped to me. It costs US $390.
The amp has a "peak" spec of 10,000 watts! No, there is no typo in there. It weights 40 pounds/18 KG so it does have some meat to it. You can probably see the bolt that holds the power transformer on top left. So no switching power supply at least. Back panel shows nice sub out option:
The fan is variable speed and is mostly quiet at idle. But even under modest power it spools up as temps climb, making a slightly whining sound:
The front controls are analog actually but notched, making it harder to select an exact value. They are out of sync with each other so one notch is not the same as the other. The displayed amount is also off by a couple of dB (27 dB shown above was actually 29 dB). There is a built-in limiter and clipping light.
Rockville RPA16 Measurements
Let's jump right in with our dashboard:
That is very odd set of spikes in low frequencies. We have the mains 60 Hz noise but also 70 Hz. At this power level though, spray of distortion at -62 dB sets SINAD though, causing it to rank as one of the worse tested:
Its score of 55 dB is so low that it pulled down our overall median by 1 dB to 78!
Signal to noise ratio is poor at 5 watts, likely due to that power supply noise. But there is so much power that when you push it, the ratio is not bad:
Multitone test shows that distortion naturally gets worse at higher frequencies:
Frequency response is nice and load independent indicating a non-switching amplifier:
You have a choice of two roll offs for sub output. Strangely both boost the gain as well: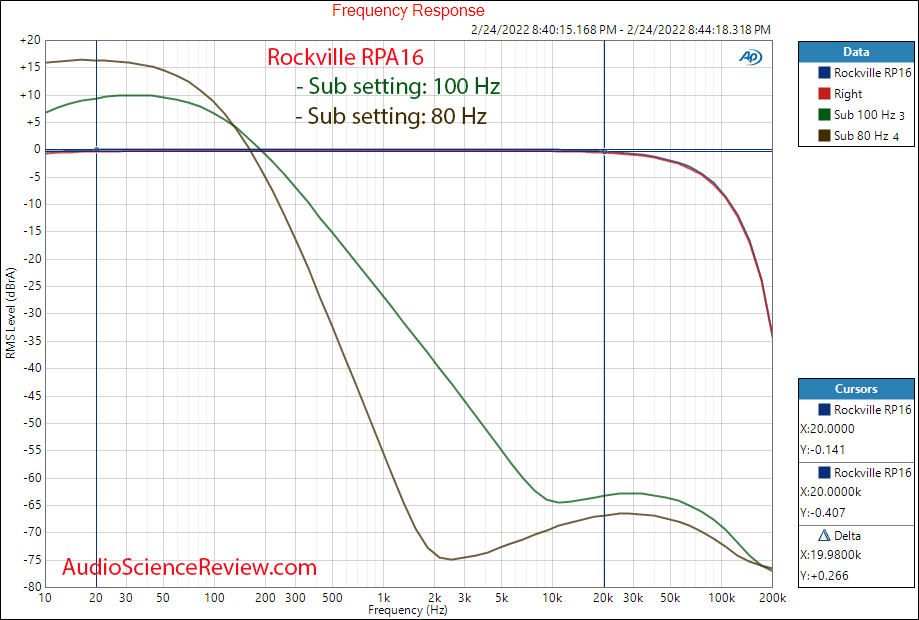 Let's see how accurate the power specs are (2 X 1500 watts at 4 ohm):
Naturally we don't get there but this is one powerful amplifier, generating nearly 1500 watts with both channels combined.
Letting distortion go up and with shorter term signal we get even more of it:
I don't think we have measured this much power before, have we?
Even at 8 ohm you have a ton of power:
As noted though, noise floor is high, again, I think the worst measured. Distortion actually doesn't set in until 100+ watts.
Checking for frequency vs power and distortion we see orderly response:
If you are using it for sub, you want to use the above number, rather than the 1 kHz power tests shown earlier. Fortunately this is still a ton of power considering dual channels are driven.
Finally, I ran a wideband spectrum test to confirm the design is not switching:
And it is not. There is also good filtering to push the noise levels down so low above a few hundred kilohertz.
Conclusions
This is an interesting take on a pro amplifier to go with non-switching design. This makes the amp extremely heavy compared to competition yet, the price is maintained and absurdly low. Copious amount of power is available if you can tolerate some fan noise.
Due to high level of noise I can't recommend the Rockville RPA16. But you are welcome to choose otherwise based on other factors.
-----------
As always, questions, comments, recommendations, etc. are welcome.
Any
donations
are much appreciated using
:
https://www.audiosciencereview.com/forum/index.php?threads/how-to-support-audio-science-review.8150/