Founder/Admin
Staff Member
CFO (Chief Fun Officer)
Joined

Feb 13, 2016
Messages

34,711
Likes

126,879
Location
This is a review and detailed measurements of the Monoprice Hybrid Tube Power and Headphone Amplifier. It is on kind loan from a member who sent it to Monoprice to be fixed twice. It costs US $199 from Monoprice direct. I can't find it on Amazon but there is a "Rockville" amp that looks identical and it goes for even less at US $149.
When I first reached for this amplifier, I thought it was a high-end, $1000 headphone tube amp or something. Imagine by shock that it turned out to only cost $199 or even lower per above. They have nailed all the signature bling of a much more expensive amplifier:
In person it looks even better than it does in above picture (available light late at night). We have a rather heavy unit, with fine feeling volume control, VU meter and those signature rings around the tubes. Heck, it even came with plastic covering the plastic/wood looking sides! I don't understand the economics of these things at all. Do they grow them in dirt and dig them and ship them? Can't imagine anyone building these from scratch yet selling them thousands of miles away for so little money.
The one usability I didn't like is lack of detent for the tone controls at 0 dB. I sort of eyeballed it in the middle.
The power button has a nice sold feel, belying the cost of this unit.
I won't cover the rest of the unit (including its Bluetooth functionality) here and will post a review from Z that explains it all.
Here is the back panel in case you are interested:
Let's get into the measurements and see how it performs.
Audio Measurements
I didn't test the bluetooth functionality leaving me with standard RCA input which is labeled as CD. This is our dashboard with 2 volt input and power adjusted to be 5 watts using 4 ohm load: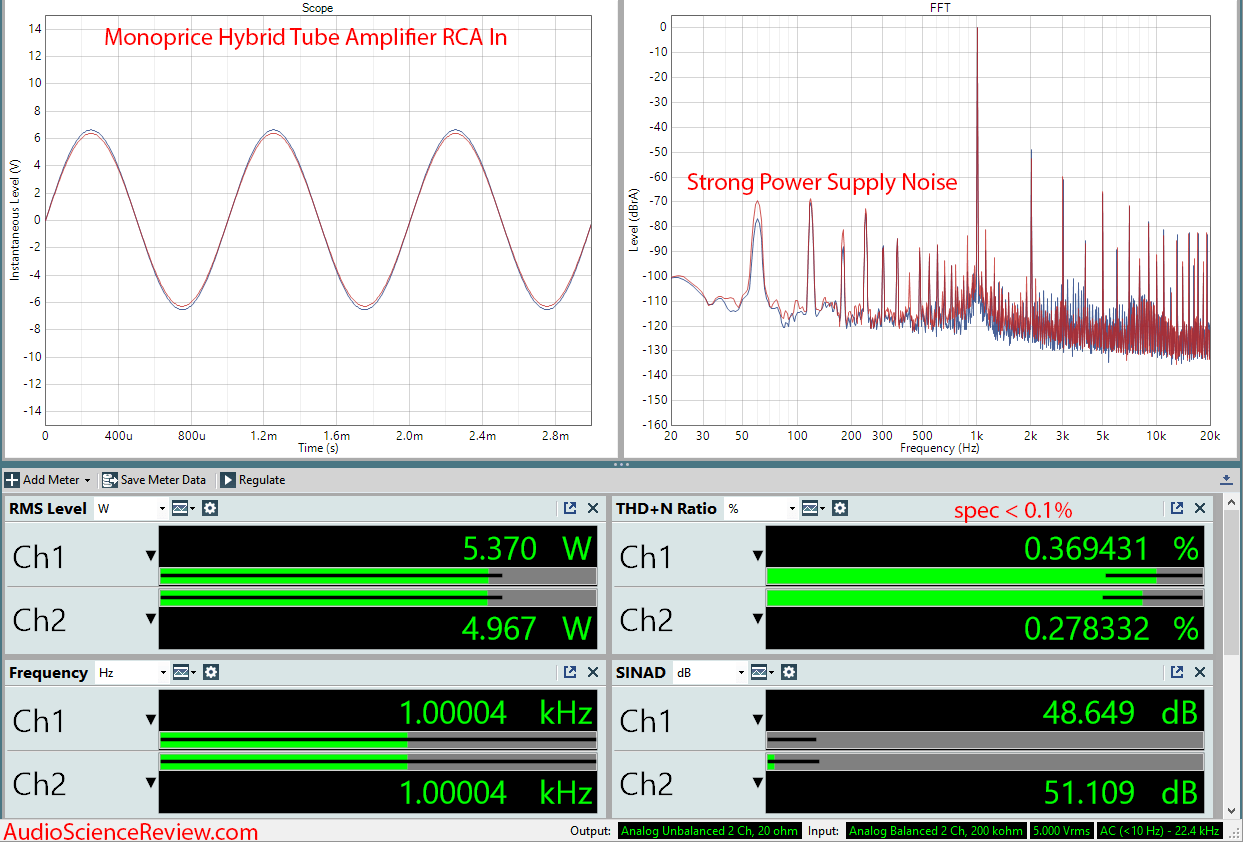 Where to start.... First there is all that hum and power supply noise. I tried grounding the input to it and while that reduced the 60 Hz hum, it made the rest of the spectrum worse so I left it alone. Still, that is not the worst of our problems. That lies in very high levels of harmonic distortion. And no, it is not a "tube distortion of 2nd harmonic." It is distortion at all harmonics! THD+N and hence SINAD puts it in dismal category and at the bottom of the list:
After creating these two slides I went back to my measurement software, only to notice things had gotten worse:
One channel was clipping on and off, bringing the THD+N to whopping 10%. It is asynchronously clipping. I captured and created the above slides and went back to the measurement software only to see this now:
Now both channels are busted! Can you spell garbage? I knew you could....
Humoring ourselves, and bringing every bit of motivation, I continued the testing with frequency response:
Good thing I am not the type to bang his head against the wall or I would have a concussion about now. I get that there is tone control but the channels don't match either.
The owner wanted to know about noise. Z review says the hum is there on power on. This is what I measured it half-way through testing:
And SNR:
The amplifier is advertised as having 50 watts of power. But the owner told me it is 25 watts which is much closer to the truth:
We are getting 1% distortion at 20 watts.
Intermodulation distortion picture is not pretty:
Conclusions
The monoprice hybrid tube amplifier nails the looks and aesthetics. The mechanical engineer and material procurement people deserve an A. The electronics designer know, gets a failing grade if he though this is a hi-fi product. Poor guy though was likely told to build this for nothing.
Congratulations are in order then for Monoprice to have produced probably the most faulty, and poorly measuring audio product I have tested to date. This would be good as a conversation piece on your desk and that is about it.
NOT recommended.
------------
As always, questions, comments, recommendations, etc. are welcome.
Good news: the pink panther strike is over! So my favorite model is back to posing business as you see in the review picture. I like to take the whole gang out for dinner (steak and lobster) to celebrate. Please help fund that by donating generously using:
Patreon
:
https://www.patreon.com/audiosciencereview
), or
upgrading your membership here though Paypal
(
https://audiosciencereview.com/foru...eview-and-measurements.2164/page-3#post-59054
).