Founder/Admin
Staff Member
CFO (Chief Fun Officer)
Joined

Feb 13, 2016
Messages

22,282
Likes

33,002
Location
This is a review and detailed measurements of the new MARCH audio dac1 dac. It is the brainchild of our member
@March Audio
and is on loan to me. It retails for USD $449 but has an introductory price of $380 as of this writing. The company is located in Australia which should be an advantage for people living there with respect to purchasing this unit.
Alan's approach to audio hardware is highly minimalistic from features to design ID. It comes in machined block of aluminum which gives a nice impression of quality:
As you can tell there is only one indicator in the front in the form of a red LED indicating the unit is on. There is no power switch and the unit is powered by the same USB-c cable that feeds it. A pair of high-quality RCA jacks complete the unit. Alan's philosophy is emphasis on computer for control and management so you don't find volume control, etc. on the unit. It does what software cannot do which is convert digital samples to analog and that is it.
Let's get into measurements and see if it delivers.
Measurements
As usual we start with our dashboard of a 1 kHz tone: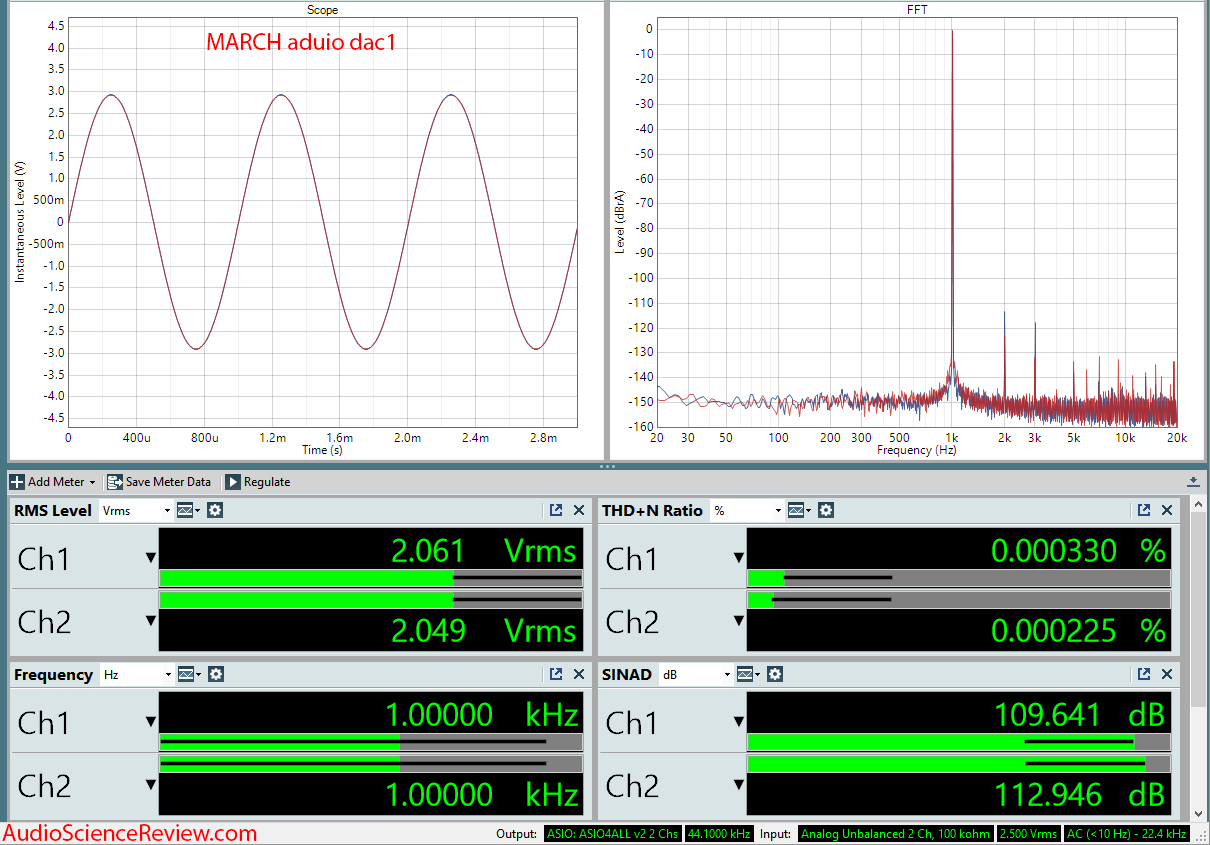 Everything is right on the money. We have our 2 volt RMS output which is what I like to see., Distortion is quite minimal and mostly due to second harmonic with zero hint of power supply noise/mains leakage. SINAD (signal over noise and distortion) is excellent especially in Channel 2, placing the unit in the top tier of DACs tested:
Intermodulation distortion and noise is very good sans the typical rise we see in many ESS DAC chip implementations:
Jitter is excellent with no spurious response above -140 dB:
Linearity is likewise exemplary:
All of this translates into very little garbage at the bottom troughs of our 32-tone test signal simulating music/more complex waveform:
Reconstruction filter shows flat response to 20 kHz as required and then dropping > 75 dB at 22.05 kHz Nyquist limit:
And here is square wave response for you audio measurement nerds out there:
Conclusions
The MARCH audio dac1 delivers solid performance in an attractive packaging that you are not likely to find in more budget priced DACs. Yes, it is more money than many other budget DACs but there is a luxury feel to this product that you won't find there. For those of you in Australia, you can source this product without the excess shipping and import duties.
Given the performance of the unit, I don't have any hesitation to recommend the MARCH audio dac1.
-------------
As always, questions, comments, recommendations, etc. are welcome.
If you like this review, or even if you don't but wish for me to ride first class in my upcoming holiday flight, please consider
donating
using:
Patreon
:
https://www.patreon.com/audiosciencereview
), or
upgrading your membership here though Paypal
(
https://audiosciencereview.com/foru...eview-and-measurements.2164/page-3#post-59054
).