Founder/Admin
Staff Member
CFO (Chief Fun Officer)
Joined

Feb 13, 2016
Messages

32,055
Likes

105,231
Location
This is a review and detailed measurements of the Little Dot MK III Tube Headphone amplifier. It is on kind loan from a member. It costs US $289 including Prime shipping. The unit has been sitting for a while (my apologies to its owner) so please excuse a bit of dust in the pictures below. I tried to dust them off while the unit was on and the right rear tube burned my finger and burned it good!
A few touches in the industrial design sets this amplifier apart, giving it an elegant, higher-end look:
The volume control has a nice feel -- not too lose, not too tight. And large enough to fit in the hand well. And the unit is heavy enough to stay put and not get dragged around by any wires.
The Little Dot MK III is mains powered which further gets rid of clutter on your desk:
The stickers likely don't mean anything as far as safety certification.
I was surprised to see US made tubes in there:
Not sure if these are aftermarket or not. Here is the other pair:
Someone else was going to send me the same unit but when I said I have this one, he offered to send me another set of tubes to test with it. I will do that in the future.
Overall, I find little to complain about regarding the usability and look and feel of this unit. No wonder it is a popular product (209 reviews on Amazon).
Headphone Measurements
I set the Little Dot MK III to unity gain (same output voltage as input) and got this:
There is a bit of channel imbalance even at this higher output level. There was fair amount of mains noise but I could not reduce it using any kind of grounding scheme. Fortunately or unfortunately, the dominant issue harmonic distortion, setting our SINAD (signal over noise and distortion) to roughly 57 dB. Needless to say, this lands the Little Dot at the bottom of our headphone amplifier pile:
Then again, that is the same performance as the
Woo Audio WA7
which costs four times as much.
I was pleasantly surprised by the very flat frequency response:
The channel imbalance is visible here just as well.
Most important measurements for headphone amplifiers is power into different loads. Let's start with 300 Ohm:
Post testing, I realized that at full volume where this test is done, there is audible hum/buzz. It is only there at near max volume though so in actual use, the noise levels will be a lot less than what is shown above. Distortion of course is high as one would expect.
Good news is the ample amount of power. At 160 milliwatts, you should have no trouble driving high impedance headphones to pretty loud levels.
I ran the same test against Woo Audio WA7 as a reference:
Putting aside the momentary spikes in noise, overall performance is remarkably the same as WA 7.
Switching to 33 ohm load emphasizing current delivery, made things much worse:
Here the Woo Audio WA 7 does better, providing more power and at "lower" distortion although lower here is a relative term. We are in the next planet at distortion levels in 5 to 6% versus our reference Drop THX AAA 789 at 0.0002%.
The limited output power points to high output impedance, causing internal losses in the amplifier and indeed we see that in measurements:
I say "horrible" in there but note that the high impedance will act as an EQ together with your headphones. It will vary its output impedance in a way that may be more pleasing.
Signal to noise ratio is important with respect to sensitive headphones:
At full level, this is a pretty quiet amplifier although it is distorting as heck. Dialing it back some only reduced performance a few dBs.
Switching to our much more critical test with just 50 millivolts of output (for sensitive IEMs), gets us much lower score:
So you are going to hear buzz and hum likely.
Channel matching shows issues as expected:
You are OK as long as you listen at elevated levels and/or with inefficient headphones.
Distortion Drill Down
We have had a lot of discussions lately on distortion characteristics of tube amplifiers so I thought I run a few more tests. First, let's run intermodulation distortion test versus output level: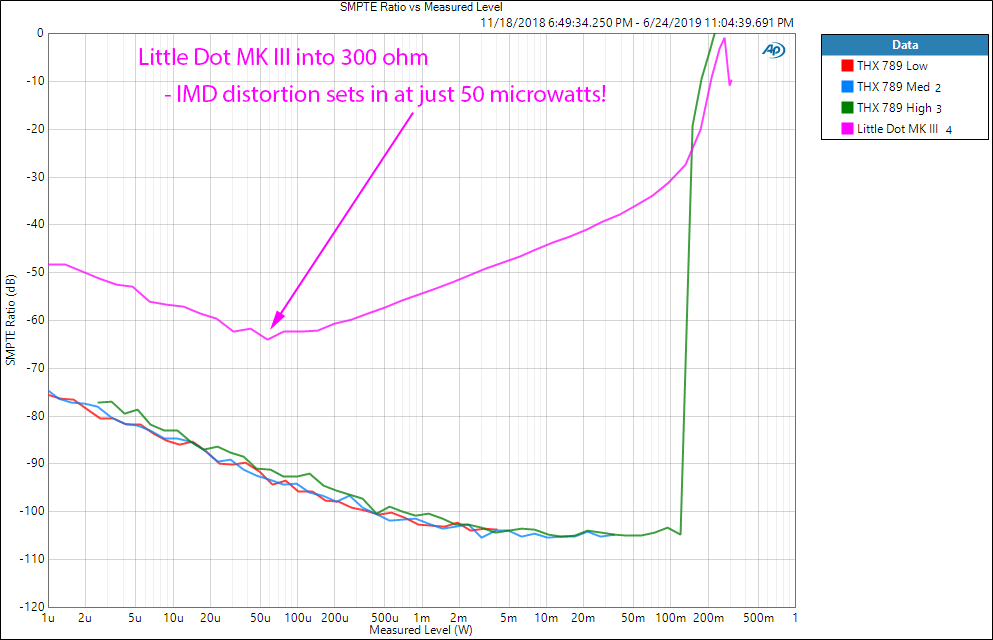 It is often said that harmonic distortion is not very audible because the harmonics can easily land outside of audible band. Intermodulation distortion test measures what falls in band and we can see that it is very high just as well. Anything over 50 microwatts, let me repeat, micro watts, not milliwatts, is distortion limited.
We can see the intermodulation distortion in the extreme with playing 32 tones instead of just two. I adopted my digital DAC test of the same for analog devices and got this:
Distortion products stomp on anything above -70 dB. So detail is clearly lost here. That said, 70 dB is a much better number than the SINAD number we saw in our dashboard.
Here is a more detailed analysis of harmonic distortion (different load condition than the dashboard):
We see that the famous "tubes mostly have 2nd harmonic distortion" is wrong. 3rd harmonic is just as high and we have good bit of H4 and H5.
The thing about soft clipping is also wrong. Here is what the amp does at max volume:
This is as nasty as it gets.
Headphone Listening Tests
For these tests, I took the output of my Topping DX3 Pro and split it to drive the Little Dot MK III and
JDS Labs Atom
concurrently. Electrical volume matching is useless because of high impedance of Little Dot so I tried to match levels with ear which is challenging. Depending on what I played I had to adjust the volume a bit in either direction.
I started the testing with Sennheiser HD-650. Listening to Little Dot MK III by itself, as measurements predicted, there was ample amount of power. I could easily rattle my ear lobes with it for a second or two I took it up to that level.
I thought it would be a walk-in-the-park to hear the distortions against JDS Labs Atom but this was not meant to be. At times, the Atom had slightly cleaner highs and a bit more substantial bass. But these were in quick AB tests. In absolute listening, they would not be noticed.
On the other hand, just like countless other tests I have done with tube amplifiers, there was no "magic" in the sound. If anything, the Atom at times had slightly better channel separation. Both amps conveyed the tonality of the original music.
I then switched to Hifiman HE-400i. Here I noticed that the Little Dot MK III was slightly more harsh in high frequencies but this required a lot of attention. Likewise, bass was a tad light. I am talking tiny differences here.
I noticed the effect of channel matching with slight shift of soundstage at times when I switched between Atom and Little Dot.
So really, I can't tell you with straight face that the horrible measurements reflected easily into listening tests as I have noticed with other tube/high-distortion products.
Conclusions
From overall look and feel, the Little Dot MK III does the job. It looks attractive, and gives you a real conversation piece when friends come over.
From functionality point of view, I found "nothing broken." There was no shut down, one channel going nuts, etc. The unit works as advertised.
Objective measurements paint a pretty ugly picture with very high levels of distortion and rather high noise level at low volumes. So this is not for IEM listening and such.
Subjective testing proved challenging as far as hearing the artifacts. I have to confess that I enjoyed listening to my music library with the Little Dot. If you are coming from no headphone amp, or a weak one, the Little Dot will be a revelation especially for high impedance headphones. Power is almost everything in headphone amps and the Little Dot delivers that into high impedance loads.
The high output impedance will mean that your experience may not match mine or others if you use different headphones with it.
Normally, the objective measurement sins would be enough to give a vote of no confidence to Little Dot. The low price (for proper tube amps), good looks and feel, plus very acceptable subject performance entices me to put the Little Dot on my recommended list! No, it gives you nothing you can't get out of $99 JDS Labs Atom. But if you have an itch for a retro, tube amplifier, the Little Dot MK III is an appropriate way to scratch that itch. It does that for relatively little money so you are not paying for privilege of lots of distortion.
------
Questions, comments, critique, etc. are welcome.
The pink panthers are getting restless and are asking for a vacation to Disneyland. I just spent my spare cash on CanJam so please donate some money using:
Patreon
:
https://www.patreon.com/audiosciencereview
), or
upgrading your membership here though Paypal
(
https://audiosciencereview.com/foru...eview-and-measurements.2164/page-3#post-59054
).