This is a detailed measurement and review of the Holo Audio Spring DAC.I borrowed this unit from a friend who owns this product.I have an instinctive aversion to the discrete R2R DAC products.Usually they will have very bad measurements. For example, high harmonic distortion, ugly IMD and Multitone results.
But there are exceptions, and this is one of them. The measurement results of the Holo Audio Spring DAC are quite acceptable!
I think this is a big and heavy unit. The case is made of 5 mm thick aluminum alloy - I think it is 6061 from the touch.
I like the white dot matrix LED display. However, the color matching of the buttons and side panels should still be reconsidered.Because their colors are too bright and too light. It has an adverse effect on the overall texture. Make the entire seemingly serious unit frivolous.
The button doesn't feel good enough either. Pressed sounds and feedback are not enough to match the price.
The USB and I2S inputs accept PCM data up to 32/768 and DSD512, the S/PDIF inputs up to 24/192 and DSD64. The outputs are balanced (XLR) and single-ended (RCA).
However, let's take a look at the measurement results of this discrete R2R DAC.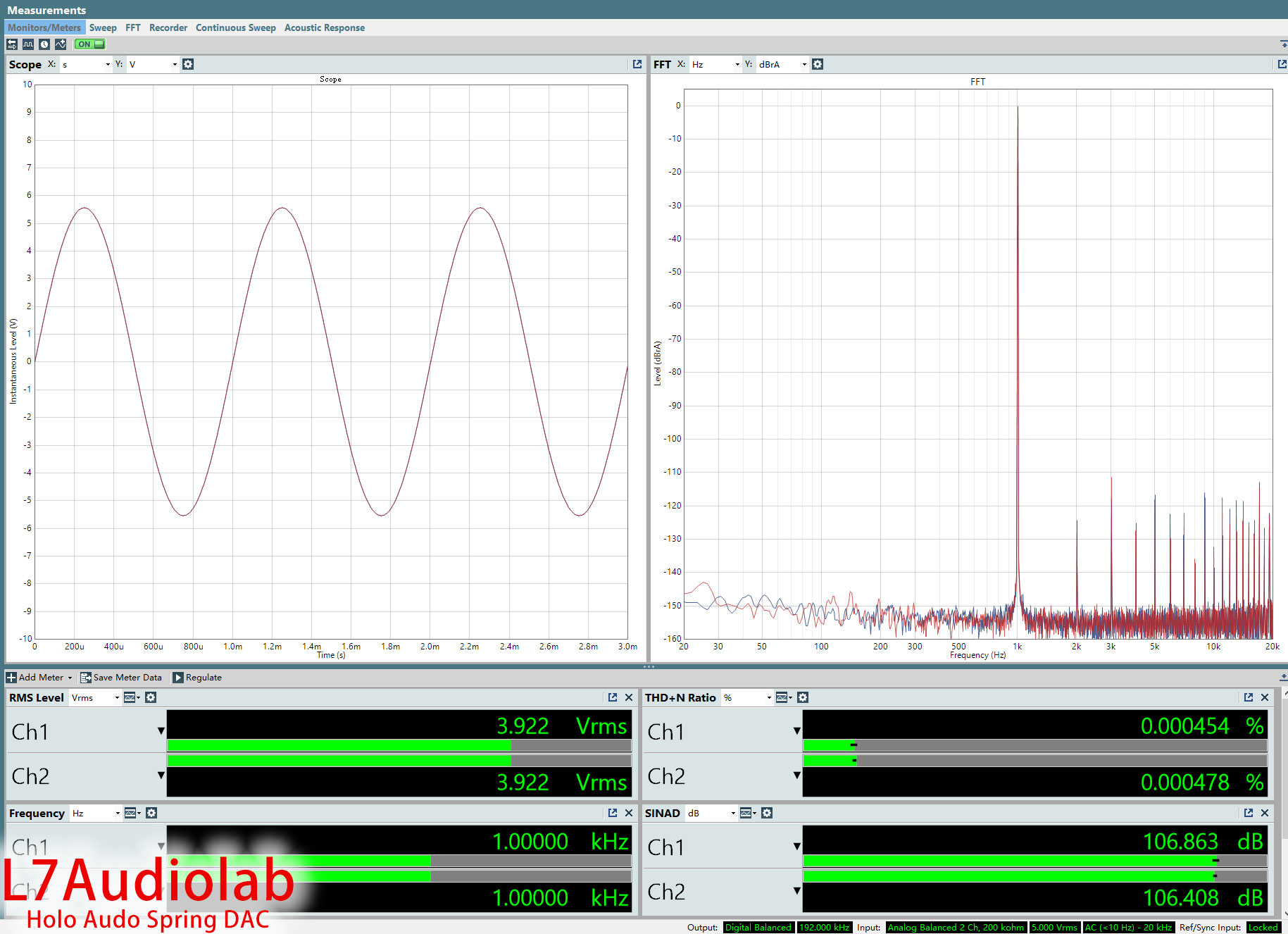 I got a 4V output at -2dbFS. Distortion/SINAD performance is amazing for discrete R2R DACs!
The following are high-order FFTs for observing noise, such as power supply noise. Most of the spike except the harmonics are lower than -140dbrA. Great performance!
Let's look at intermodulation distortion versus level.
I think this is the average.
The J-Test:
Linearity:
Multitone:
THD+N The distortion of the high frequency part is slightly worse. In the measurement, I chose the bandwidth of 90K and 24K respectively.
Here are three different OS settings:
Please forget the label on the right. Yellow is NOS, blue is OS, red is OS DSD.
Last edited: