Founder/Admin
Staff Member
CFO (Chief Fun Officer)
Joined

Feb 13, 2016
Messages

41,243
Likes

199,992
Location
This is a review and detailed measurements of the E1DA 9038S portable balanced DAC and headphone amplifier. It is the brainchild of the member
@IVX
. He kindly sent me a sample for review. The cost is stated as "TBD($70)." He will have to tell us if the price is finalized or not.
The 9038S looks like most "thumb drive" DAC and amps with a USB-c connector at one end. Where it departs is that its output is only balanced 2.5 mm jack:
Given the 2.5 mm, 4 conductor jack, you must use a "balanced" headphone cable with it.
There is a blinking orange LED that shows USB activity that I like. It is not very bright so should not be a bother.
The 9038S weighs essentially nothing. It gets a bit warm but nothing of concern.
There are no volume controls so you have to use the controls in your operating system/player.
@IXV has an audio precision analyzer (series 2) and its claim to fame is very good measurements. BUt let's see how it does using my standardized measurements.
DAC Audio Measurements
Let's start with our dashboard view:
The output voltage is a bit shy of 4 volt I like to see from balanced DACs but given that this is a portable unit, that can be forgiven. The output is certainly higher than a lot of portable DACs of this type.
The star of the show is the THD+N and hence SINAD (signal over noise and distortion). At essentially 110 dB, this is class leading performance with distortion products at astonishingly low, -123 dB! And that is the highest one. The rest are below -130 dB. The SINAD therefore is dominated by baseline noise, not distortion. WIth that noise well below that of 16 bit audio, this DAC produces audible transparent sound in just about any situation.
The 9038S takes its place in our cherished, top tier of DACs regardless of cost and size:
Signal to noise ratio is excellent as well:
Signal to noise ratio at just 50 millivolt to simulate output to a sensitive IEM is likewise quite good:
Frequency response is just a hair off from flat:
Jitter test shows the excellence in engineering, keeping all sources of noise and spurious tones out of the DAC's output: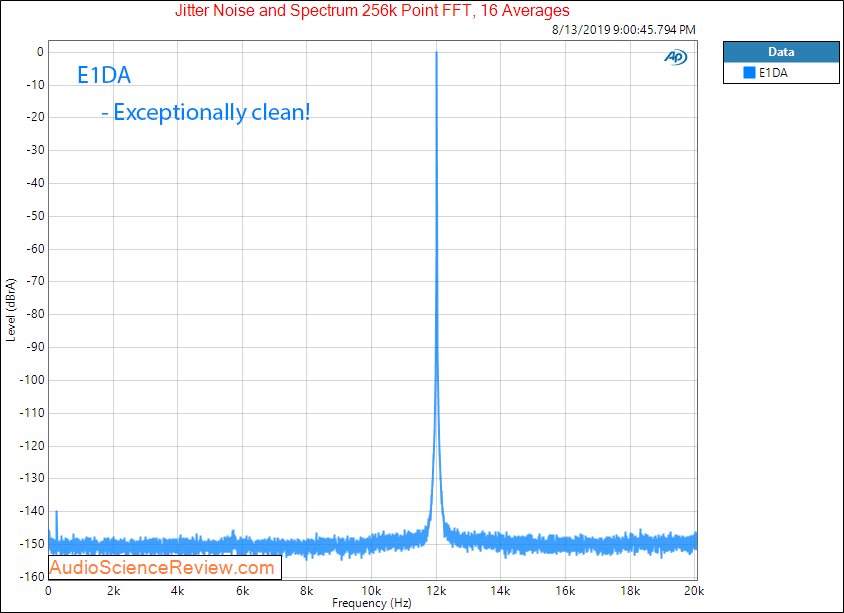 As the name indicates, an ESS ES9038QM DAC is used. Would it have the dreaded ESS IMD Hump???
Seems like we have found our second designer (after Topping) which has figured out how to conquer this aspect of ESS implementation. There is only a hint of the hump visible which is totally inconsequential.
What is not inconsequential is matching the Topping DX3 Pro step by step which vast majority of DACs fail to do in desktop size, let alone in a tiny package.
EDIT
: Linearity is picture perfect:
THD+N versus frequency shows elevated noise/distortion due to wide spectrum of this test:
We can see that the cause is harmonic distortion of high frequencies which are not audible anyway.
Headphone Amplifier Measurements
Let's measure the power versus distortion using 300 ohm load:
At 37 milliwatts, the 9038S blows past anything in its size:
And does this while maintaining exceptionally low noise and distortion.
My only other balanced load is 50 ohm:
As you can see, it actually beats the recently tested
Sabaj D5
desktop product in how clean it is! Of course, it doesn't have nearly the same power output. But compared to other portable DACs, it is in a class by itself. We are talking a quarter of a watt into 50 Ohm load.
Output impedance is the lowest I have measured but this is with a new optimized harness I built to just test this DAC:
Headphone Listening Tests
I am waiting for my balanced headphone cable to come in. Will test and report back when it arrives. For now, the power levels predict very good performance.
Conclusions
This is one DAC that you don't want to read by its cover. It looks as ordinary as you can get. But inside lives a potent, highly optimized DAC and efficient headphone amplifier. It shows excellent command of engineering and proper design verification through measurements. The result is a DAC and headphone amplifier which gives many desktop products a run for their money, let alone in this tiny and low cost package.
The requirement for balanced headphone cable may be a barrier to some people as you need to get such a cable for your headphone if you don't have one already.
Overall, it is my pleasure to give my strongest recommendation for E1DA 9038S DAC and headphone amplifier. That is job well done! It put a huge smile on my face to see such strong performance and attention to getting the best performance possible in such a tiny package.
-----------
As always, questions, comments, recommendations, etc. are welcome.
I transferred the balance of my paypal account to my bank account. As a result, it now shows $0.00. That makes me depressed thinking I have no money left!!! so please help replenish that account by donating using:
https://www.audiosciencereview.com/forum/index.php?threads/how-to-support-audio-science-review.8150/
Last edited: