Founder/Admin
Staff Member
CFO (Chief Fun Officer)
Joined

Feb 13, 2016
Messages

27,626
Likes

68,064
Location
This is a review and detailed measurements of the Breeze Audio ES9018 based DAC and Headphone Amplifier. It is on kind loan from a member. This is a hard product to find online. I only found one reference to it on Aliexpress, selling for US $94. There are many variations there of the same theme.
Due to inclusion of AC mains power supply and hefty chassis, there is a very solid feel to this otherwise budget product:
As you see, there are no switches so just plug in the headphone cable and go. The volume control has a stiff feel which is fine by itself but the knob is too slippery to be able to turn it easily. A textured one should have been used.
The back panel is simplicity in itself:
The RCA have fixed output.
Naturally there is no regulatory certification so cross your fingers that the mains input is properly wired and grounded.
DAC Audio Measurements
With full 0 dBFS digital input, the output was close to 2.4 volts or so which is fine. But for fair comparison, I dialed it down 1 dB to get it closer to 2 volt and got this:
That is very high level of distortion dominated by the third harmonic. SINAD (signal over noise and distortion) as a result falls very close to the bottom of our list of all DACs ever tested (sorry forgot to highlight it):
I think it is tenth from the bottom out of the list of some 140 DACs. Not good.
Surprisingly, jitter performance was not too bad:
That spray to the left is likely power supply related and at any rate, too low level to be of any audible concern.
Linearity test was not so kind to it though:
Still, you have good accuracy well past what we need for CD/16-bit content.
Intermodulation distortion shows that there is plenty of non-linearities:
Headphone Amplifier Audio Measurements
Let's measure signal to noise ratio with just 50 millivolts of output to determine how well it does with sensitive IEMs: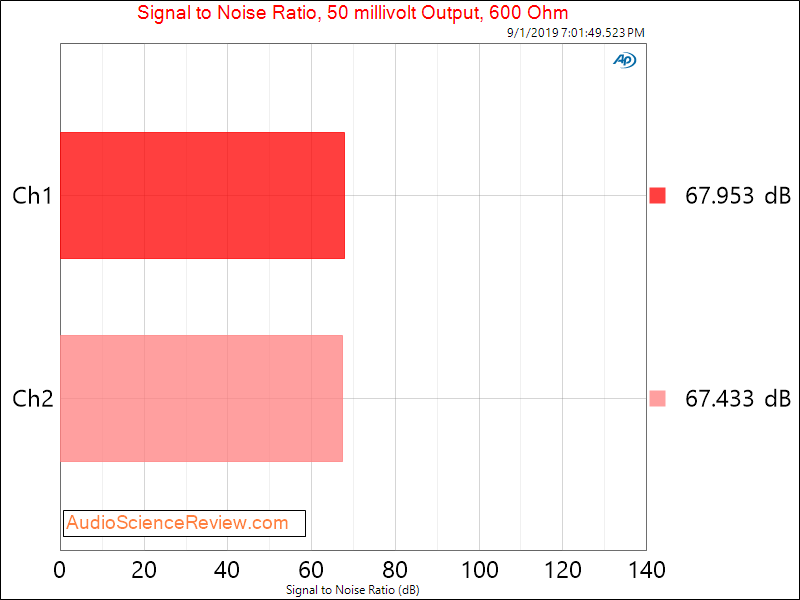 Not the worst we have seen but not good either:
Most important test for a headphone amplifier is power versus distortion and noise. Here it is with 300 ohm load:
That is dismal amount of power for a mains operated unit. My standard is 100 milliwatts of power and we are way short of that at just 27 milliwatts.
Switching to 33 ohm load didn't improve the situation:
There is some severe current limiting going on here.
Channel balance was OK until you got close to minimum level:
Output impedance was comfortably low:
Headphone Listening Test
I started testing with the Sennheiser HD-650 headphones using my bass heavy track as I always do. At first there was reasonable amount of power but the moment the bass notes arrived at somewhat elevated listening level, the sound broke up like I had not heard before. There was clearly, audible crackling and drop outs. The former was so bad that I feared for damage to my headphones.
Measurements predicted the shortfall of power as they typically do.
Conclusions
They say "don't judge a book by its cover" but in this case, you almost could. Without exception, these generic DACs have done poorly in my tests as the Breeze Audio ES9018 based DAC is no exception. Distortion is quite elevated from DAC itself. The headphone amplifier is decent if you keep the power low. But exceed its limits at your own risk as the severe distortion could be damaging to the drivers.
I don't know what options exists at this price point for a DAC and headphone amp. If there is none, and you can find this unit, I guess it would be an OK choice. But otherwise, I like to encourage you to buy something of quality.
------------
As always, questions, comments, recommendations, etc. are welcome.
Fall planting season is upon us and I have decided to go "green" or should I say, pink. I am thinking of getting harnesses for the panthers and see if they can help plow the garden for us rather than using my tractor. Looking online, pink panther harnesses are not available so have to be custom made at high cost. So please
donate generously
using:
https://www.audiosciencereview.com/forum/index.php?threads/how-to-support-audio-science-review.8150/