Founder/Admin
Staff Member
CFO (Chief Fun Officer)
Joined

Feb 13, 2016
Messages

35,004
Likes

130,520
Location
This is a review and measurements of the Apogee Groove portable DAC and headphone amplifier. It is on kind loan from a forum member. As small portable DAC+Amps go, its retail price of $295 is quite high. I see factory refurbished ones at $149 though on Apogee website.
Apogee is best known for their professional audio products so their entry into personal audio is quite a departure for them.
As USB audio "thumb drive" form factors go, the Apogee is quite a bit more substantial:
Volume wise, it is probably double the size of typical thumb drives. The larger size allows rubberized up/down volume buttons with excellent feel. There is no "plastic" feel to the unit either, making you think you can sit on it and nothing bad would happen to it.
The three LEDs roughly show the volume level. During music playback, they change to color to green and are fully analog. Each has individual intensity which once maxed out, lights up the one above it.
Overall, I am very positively impressed with fit, finish and quality of the physical unit.
Let's get into measurements and see if the high price is justified by objective data.
Measurements
Let's start with our usual dashboard at 2 volts to see the fidelity as if it were a DAC: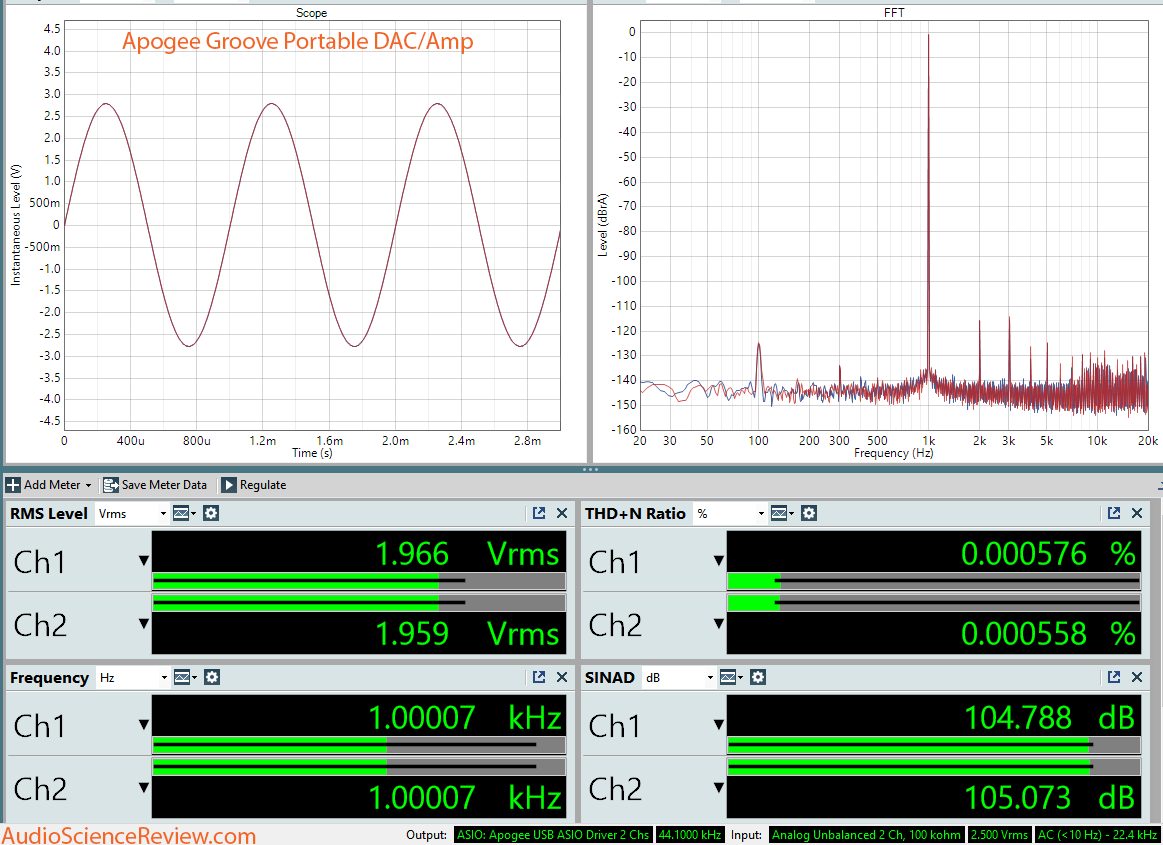 Hey, this is quite good for a portable product! It puts it in the tier 2 of codecs tested as far as distortion and noise:
Let's look at the 2-tone SMPTE intermodulation distortion versus level:
The groove is no match for the Topping DX3 Pro small desktop amp+dac but beats the Chord Mojo at mid to highest levels! The Chord is nearly three times its price with very high claims of objective fidelity so this is quite an accomplishment.
Yes, we see the "ESS hum" which is typical of ESS DACs in most implementations with a rise in mid-level distortion. It is milder here because the noise floor is higher.
Jitter performance is visually disappointing but audibly transparent:
Linearity is also quite good for a portable device, losing accuracy above 18 bits: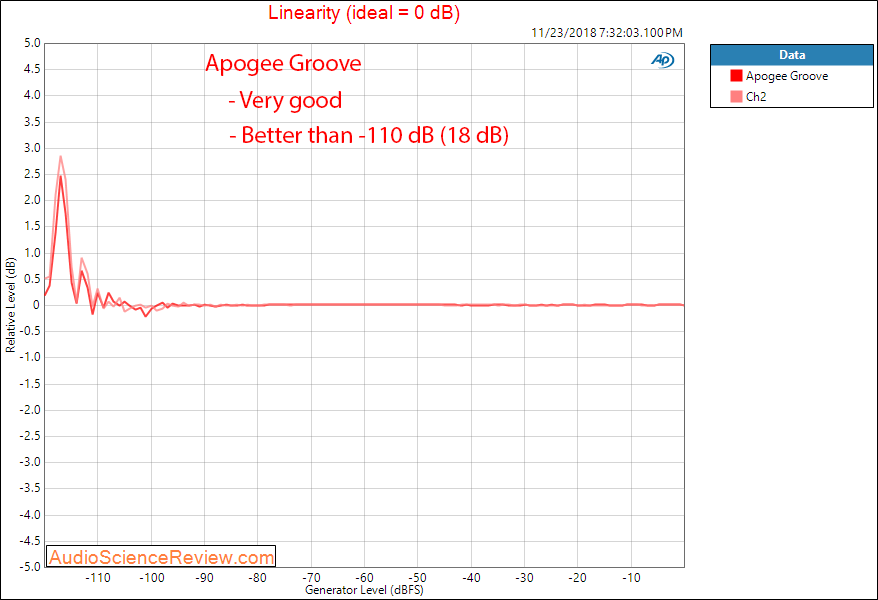 Dynamic range is very good and falls in the middle of pack (max volume):
Let's look at the all important, distortion versus power at 300 ohm:
Once again, the Apogee Grove comes close to performance of Chord Mojo, producing the same 71 milliwatts of power. To put this in perspective, typical
smartphone audio dongle
outputs 1 to 10 miliwatts of power. So this is quite an important jump as it relates to high impedance headphones such as the popular Sennheiser HD-650 and its clones.
Same measurements with 33 ohm though, generated odd results:
At around 1.5 volts of output, the unit would shut down. This produced total power of 78 milliwatts which is way short of specified 225 milliwatts. I even tested one channel with the same results.
Channel balance versus volume position was perfect since these combo DAC+headphone amps are able to perform attenuation using the DAC control:
Unfortunately we have some bad news when it comes to output impedance:
Oh, no. 21 ohms? Why did you do this to us Apogee? You were doing so well.
This means that you should not use low impedance headphones that have variable impedances themselves or else, their frequency response will be modified. This may be a good effect or bad depending on what is exaggerated and your preference for such.
Listening Tests
I started my listening tests with my Sennheiser HD-650. Here, output was clean up to max volume as measurements show. Alas, while comfortable, the bass was not as impactful as I am used with desktop products. Depending on your preference here for volume (I like it loud), you may or may not be satisfied.
Things improved a lot with the Hifiman HE-400i. There was plenty of volume and a very enjoyable time was had listening to a range of music. So maybe with a realistic load and music instead of tones, the Grove is able to produce much more power at lower impedances without shutting down.
Conclusions
The Apogee has the highest quality feel and design of any portable, thumb drive sized, DAC and amplifier I have reviewed. It just feels great in hand and looks good on the table too.
As a DAC, its performance is quite good, nearly a number of desktop products.
As a DAC+headphone product, its performance is variable. Objectively there is something wrong with low load impedances causing it to shut down. But subjectively, it sounded great there. It doesn't have a ton of power for 300 ohm loads but then again, what it has is much, much more than stock headphone amp in your phone.
High output impedance of 20 ohm means you need to be careful about its effect on the sound of some headphones.
All in all, you can tell the Apogee Groove is designed by competent people wanting to produce a premium product in the ultra portable form factor. If they had gotten there without that 20 ohm output, I would give them an A. As it is, I have to take them down a notch and give a guarded recommendation.
------------
As always, questions, comments, recommendations, etc. are welcome.
If you like this review, please
consider donating funds to support these reviews
using Patreon (
https://www.patreon.com/audiosciencereview
), or upgrading your membership here though Paypal (
https://audiosciencereview.com/foru...eview-and-measurements.2164/page-3#post-59054
).