Joined

May 28, 2020
Messages

361
Likes

2,871
Location
This is a review, listening tests and detailed measurements of the RAAL requisite CA-1a "true ribbon" headphone. It is on kind loan from a member and costs US $2,500.

View attachment 235714

While the

RAAL SR1a

required a massive power amplifier, the revised transformer can be driven from a high-power headphone amplifier which is a major improvement. The CA-1a feels more comfortable in hand but looks primitive and more like a prototype than real production. The pad especially gives that feeling as it looks like cheap open cell foam that would fall apart if left in the sun for a few days! Two sets of pads are provided: one provides full seal and the other has slots above and below.

Headband only has two sets of adjustments. While this mostly fit my head, it may not be enough range for everyone. Comfort was good except the pad was a bit rough against my skin.

RAAL CA-1a Measurements

I set up the headphone a few days ago and compared the two pads:

View attachment 235715

Both responses look terrible but at least the closed one has more conformant bass response. I think the company positions this for "gamers" and the open slot one for music.

Tonight I made a few more refinements and got ever so slightly response with closed pad which I use for the rest of the tests:

View attachment 235716

What on earth were they thinking here? That such a large chunk of the response should be taken out from 1 kHz to nearly 5 kHz? What research led them to thinking this is correct? Maybe that is why they thought the open pads sound better as the bass will overwhelm the response in treble region.

Relative response shows the large correction you need with a shape that is not easy to replicate with a parametric EQ by eye:

View attachment 235717

Distortion in bass and even midrange was extremely high:

View attachment 235718

But extremely low in higher frequencies:

View attachment 235719

Feels like a tweeter that is being told to play full range.

Drivers are slanted which may be the reason for the very messy group delay:

View attachment 235720

Given the transformer box, I did not attempt to measure its impedance. But did test for sensitivity:

View attachment 235721

Still a hungry headphone but so much more efficient than SR1a. The Topping A90 had no trouble driving it to 94 dBSPL using low gain so this is good.

Raal CA-1a Listening Tests

I used my RME ADI-2 Pro to drive the Topping A90 which in turn drove the Raal. Lack of high frequency response was so bad that it smacked you in the face! It became even more obvious when I compensated for it with EQ and then turned it off:

View attachment 235722

Without EQ, it sounds like someone stuffed some towels between it and your ear. Fortunately, EQ highly elevates the response even in the simple form I have above. Spatial qualities are excellent and high frequency detail was extremely clean and enjoyable. With the bit of bass boost I added, there was plenty of that region as well. Fidelity was very nice now and I was anxious to experience more of my reference library.

I was worried about distortion and it is indeed there. It comes in the form of ticks and then messiness/grunginess in response. Fortunately you get plenty of volume before that happens and the onset is gradual. You just don't have extra headroom on top of that to blast your ears and shorten their life.

Max usable volume with Topping A90 in high gain was 12:00 o'clock.

Conclusions

The objective measurements show a very faulty response. Given the extra box, one would think that they could put in a passive equalizer in there to compensate but they have not. The sound as such is horrid with somewhat limited dynamic range. Add a bit of EQ though and the CA-1a wakes up to something wonderful. Angled drivers provide very good spatial qualities and lack of distortion in the comfortable range for the driver provides very good fidelity.

As is, I can't recommend the Raal requisite CA-1a. But if you have to have it, use the EQ above and you will transform it to sound excellent. Whether that is the right thing on top of spending so much money is up to you.

-----------

As always, questions, comments, recommendations, etc. are welcome.

Any

donations

are much appreciated using

: https://www.audiosciencereview.com/forum/index.php?threads/how-to-support-audio-science-review.8150/
I think the EQ is missing one biquad when compared to the graph.
Here are some thoughts about the EQ.
Notes about the EQ design:
The average L/R is used to calculate the score.
The resolution is 12 points per octave interpolated from the raw data (provided by @amirm)
A Genetic Algorithm is used to optimize the EQ.
The EQ Score is designed to MAXIMIZE the Score WHILE fitting the Harman target curve (and other constrains) with a fixed complexity.
This will avoid weird results if one only optimizes for the Score.
It will probably flatten the Error regression doing so, the tonal balance should be therefore more neutral.
The EQs are starting point and may require tuning (certainly at LF and maybe at HF).
The range around and above 10kHz is usually not EQed unless smooth enough to do so.
I am using PEQ (PK) as from my experience the definition is more consistent across different DSP/platform implementations than shelves.
With some HP/amp combo, the boosts and preamp gain (loss of Dynamic range) need to be carefully considered to avoid issues with, amongst other things, too low a Max SPL or damaging your device. You have beed warned.
Not all units of the same product are made equal. The EQ is based on the measurements of a single unit. YMMV with regards to the very unit you are trying this EQ on.
I sometimes use variations of the Harman curve for some reasons. See rational here: https://www.audiosciencereview.com/...pro-review-headphone.28244/page-5#post-989169
NOTE: the score then calculated is not comparable to the scores derived from the default Harman target curve if not otherwise noted.
Good L/R match.
I have generated one EQ, the
APO
config file is attached.
Score no EQ: 27.8
Score Amirm: 52.3 missing one Biquad
Score with EQ: 78.0
Code:
Raal requisite EQ [email protected] 96000Hz
October102022-110032

Preamp: -12.7 dB

Filter 1: ON PK Fc 54.96 Hz Gain 3.44 dB Q 0.60
Filter 2: ON PK Fc 144.59 Hz Gain -2.12 dB Q 0.62
Filter 3: ON PK Fc 1057.79 Hz Gain -2.64 dB Q 2.02
Filter 4: ON PK Fc 1750.51 Hz Gain 3.74 dB Q 2.03
Filter 5: ON PK Fc 2869.24 Hz Gain 12.08 dB Q 1.05
EDIT:
FUll EQ: score: 93.5
Code:
Raal requisite EQ Full [email protected] 96000Hz
October102022-115904

Preamp: -11.7 dB

Filter 1: ON PK Fc 52.46 Hz Gain 3.71 dB Q 0.42
Filter 2: ON PK Fc 146.18 Hz Gain -3.25 dB Q 0.51
Filter 3: ON PK Fc 1097.64 Hz Gain -6.44 dB Q 1.02
Filter 4: ON PK Fc 1777.35 Hz Gain 2.06 dB Q 1.81
Filter 5: ON PK Fc 3053.21 Hz Gain 12.94 dB Q 0.40
Filter 6: ON PK Fc 5232.39 Hz Gain -7.52 dB Q 2.73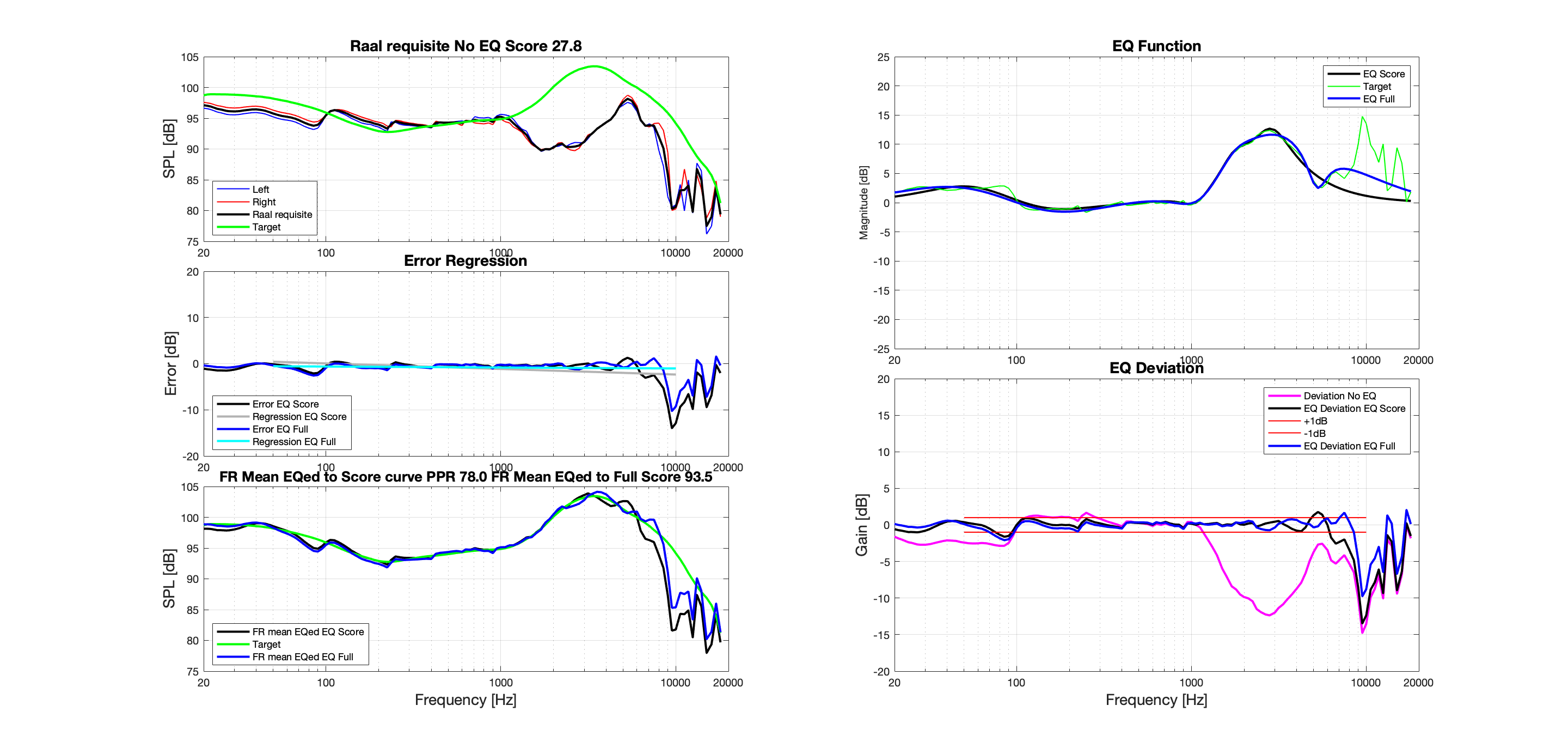 Last edited: