You may have seen the measurements I posted here of the Technics SB-C700, a coaxial 2-way standmount. Despite being an innovative design with superior measurements to the LS50 (especially wrt directivity <7kHz, bass SPL and extension) for not much more cost, its market prospects were torpedoed by a baseless What Hi-Fi review that gave it 2 stars. It has since been discontinued. Several users that I've recommended the SB-C700 to on Reddit, DIYAudio and this forum corroborate that the subjective impression matches the measurements.
In the DIYAudio thread on
the Purifi PTT6.5
, HifiCompass released their own reference design for the midwoofer using a waveguided Bliesma beryllium tweeter. In the documentation for the design, much was written about port resonance suppression to allow a reflex enclosure that lives up to the extraordinary performance of the midwoofer. Ultimately, the builder gave up trying to optimise a port (which included heroic efforts like drilling holes to depressurise the port), and opted for the Purifi passive radiator.
The reason why I mention the Technics is because it has the best port resonance suppression I've ever seen measured, and implementation looks straightforward compared to other approaches. Look at the textbook rolloff of the port (red curve) down to -30dB (credit: Stereophile):
To really underscore how impressive this is, the LS50 has an extremely sophisticated port with semi-permeable walls that had tons of computer modelling behind it and they got this:
Some resonances, but 20dB down, which is still good. To highlight how good the LS50 is, and how extraordinary the Technics is, here are a couple more indicative measurements of what is more typical port performance, even in vastly more expensive standmounters by engineering-focused firms (Q Acoustics Concept 300 and Dynaudio Special 40):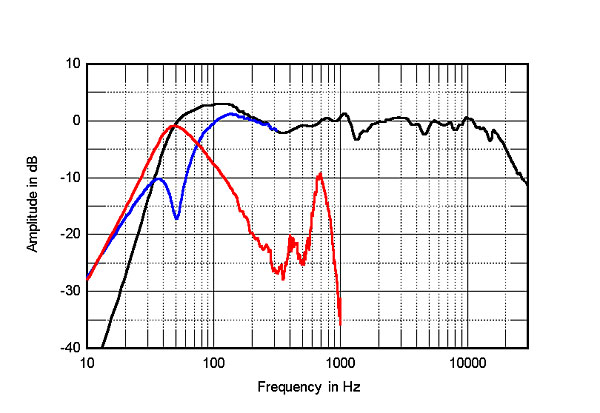 The KEF approach is infeasible for DIY, given the modelling and special design needed. The Technics approach, on the other hand, is a "padded partition" with a more conventional flared port. It looks like this on cutaways: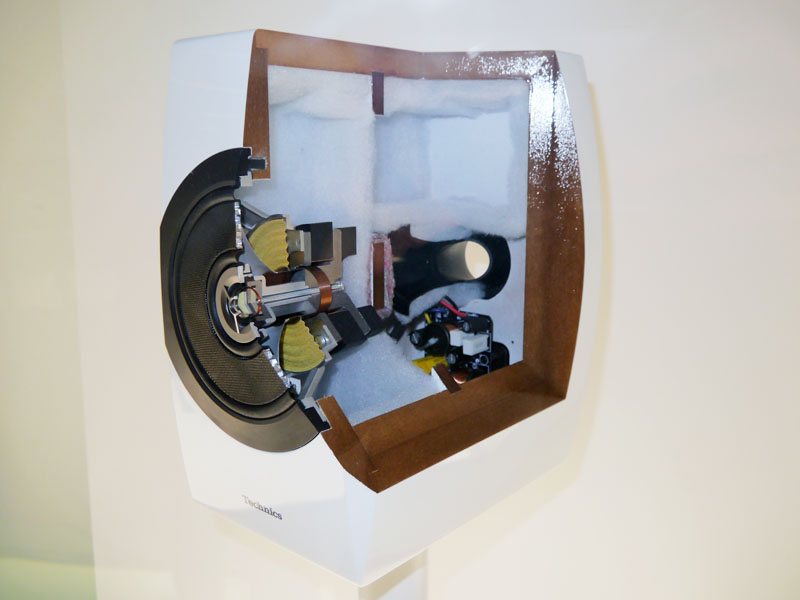 What it seems like is a solid horizontal brace right across the internal opening of a flared port, wrapped thickly with insulation (looks like conventional fibreglass), as well as polyfill wrapped around the port. This might be a relevant approach for compact standmounters with modern high-linear excursion drivers such as the Purifi, which seem particularly susceptible to port resonances. Of course, I don't doubt that much care was taken by Technics to optimise the flare, the brace size, the materials used and their placement, but it provides some guidance toward excellent port suppression in a way that is still achievable in DIY (unlike KEF).