Founder/Admin
Staff Member
CFO (Chief Fun Officer)
Joined

Feb 13, 2016
Messages

35,409
Likes

136,171
Location
This is a review and detailed measurements of the Parasound 4 DAX, 8-channel DAC and crossover. It was kindly purchased by a member and drop shipped to me. Its retail price is US $999 but I see it on sale for $499.
The 4 DAX comes in a nice looking, rack mountable "1RU" chassis:
It is an unusual produce with four independent DACs in one box:
Each has its own digital inputs (Coax and Toslink), low and high pass filters and trigger output. Looking at the marketing video dating back to 2016 introduction, it is aimed at system integrators to manage four centralized SONOS players. It adds crossover and trigger functionality to said players. I think the owner is using it as an 8-channel crossover.
Parasound 4 DAX Measurements
As usual, we start with our dashboard:
As noted, this is the first channel output with levels adjusted for 2 volts out. Max is 3 volts which you can see in the output of the second channel:
Both sadly have a bad channel with 6 dB worse harmonic distortion. At our standard 2 volt output, the 4 DAX would rate "poor" compared to all the other DACs we have tested.
Fortunately signal to noise ratio is decent:
Then again intermodulation distortion is not:
Same repeats with high levels of jitter:
Linearity is not great either: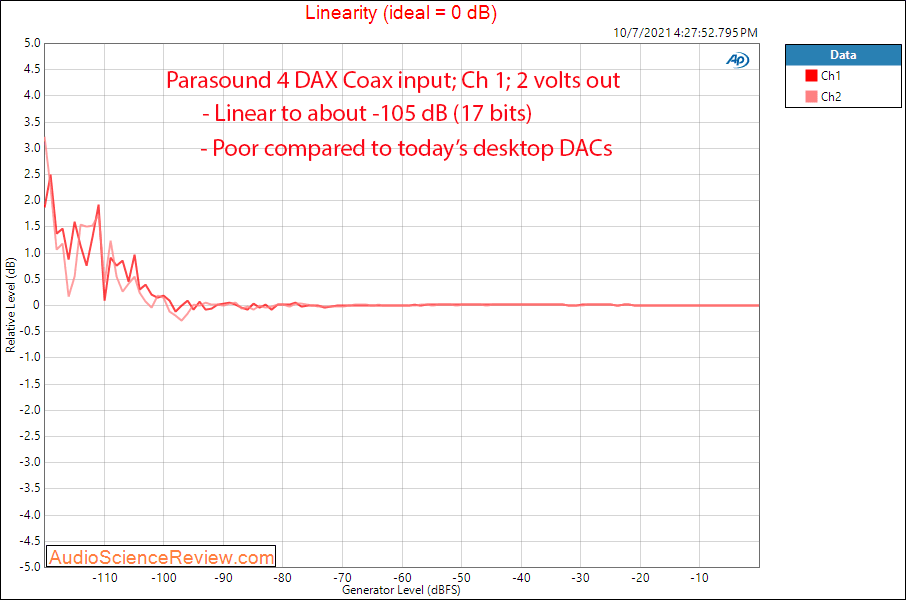 The filter is typical of default one in chip DACs with too slow of a roll off:
THD+N versus frequency is disappointing:
Worst news was the frequency response though when using internal crossovers:
I don't understand why there is such peaking in the high pass one. It is clearly a bug/implementation error that is going to result in brighter sound.
Conclusions
The 4 DAX is clearly not marketed toward us with functionality that is more important than absolute fidelity. Still, it would have been nice if it had performed. Even for its intended market, I think the high-pass filter is bad and should be fixed.
I can't recommend the Parasound 4 DAX unless you badly need its functionality.
-----------
As always, questions, comments, recommendations, etc. are welcome.
Any
donations
are much appreciated using
:
https://www.audiosciencereview.com/forum/index.php?threads/how-to-support-audio-science-review.8150/