Founder/Admin
Staff Member
CFO (Chief Fun Officer)
Joined

Feb 13, 2016
Messages

35,315
Likes

134,774
Location
This is a review and detailed measurements of the Paradigm Prestige 15B bookshelf speaker. It was kindly purchased by a member and drop shipped to me. The retail cost is US $799
each.
Before writing the review I thought that was for a pair. Note that this is sold through dealer channel so actual cost may be lower.
The 15B looks really sharp with fair amount of class:
Same is reflected even on the back with custom port flange and binding posts:
Speaker also feels fairly dense and heavy. I have zero complaints about the look and feel of the 15B.
Measurements that you are about to see were performed using the
Klippel Near-field Scanner (NFS)
. This is a robotic measurement system that analyzes the speaker all around and is able (using advanced mathematics and dual scan) to subtract room reflections (so where I measure it doesn't matter). It also measures the speaker at close distance ("near-field") which sharply reduces the impact of room noise.
Both of these factors enable testing in ordinary rooms yet results that can be more accurate than an anechoic chamber.
In a nutshell, the measurements show the actual sound coming out of the speaker independent of the room.
I performed over 1000 measurement which resulted in error rate of around 1%.
Temperature was 62 degrees F. Measurement location is at sea level so you compute the pressure.
Measurements are compliant with latest speaker research into what can predict the speaker preference and is standardized in CEA/CTA-2034 ANSI specifications. Likewise listening tests are performed per research that shows mono listening is much more revealing of differences between speakers than stereo or multichannel.
Reference axis was the tweeter center.
Paradigm Prestige 15B Measurements
Acoustic measurements can be grouped in a way that can be perceptually analyzed to determine how good a speaker is and how it can be used in a room. This so called spinorama shows us just about everything we need to know about the speaker with respect to tonality and some flaws:
Right away we see that the tweeter level is not the same as the woofer and rises in energy. I am pretty confident this is the classic "showroom tweak" to make the speaker sound more detailed by Paradigm and not some mistake.
We see some peaking around 800 Hz and a number of notches between 2 and 3 kHz, all of which indicate resonances. We can see the evidence of the former in port resonance:
The woofer resonance at 6 kHz also shows up in frequency response measurement. And we have non-even tweeter response. Wonder if that pretty grill is causing this.
As noted though, directivity is very good seeing how the three curves in our spinorama keep their distances from each other. That results in early window reflections which are pretty similar to on-axis response:
So the speaker should be room friendly and lend itself to effective equalization.
Putting everything together, our simulated frequency response in room shows what we already know: this speaker will be bright sounding: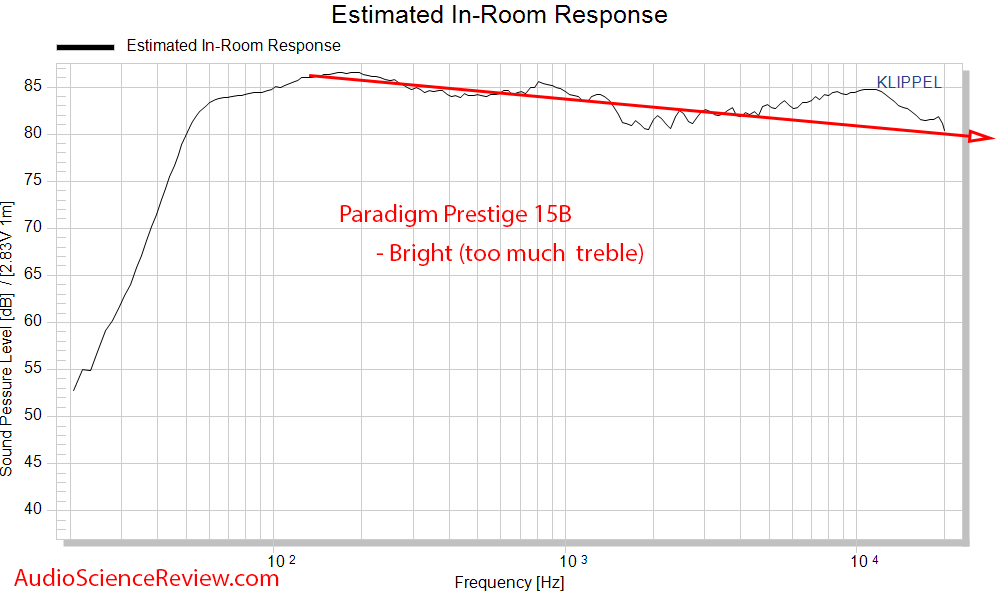 Distortion is kept under control more than budget speakers:
Our directivity is good as mentioned:
Paradigm Prestige 15B Listening Tests
I tested the 15B in my 2-channel listening room (very large open space). The showroom trick worked with first impression being, "man this sounds nice." But in a few seconds this became, "well, this is bright." Continuing on the message became, "this is very bright!"
One thing about it though: it is clean bright. Often times I hear grungy brightness that is distortion induced which can be very annoying. Here is just a tonality issue. You may like it if you have lost a lot of high frequency hearing. I have lost a lot of mine but not enough to put up with this so out came the EQ tool:
I put the shelving filter on the right starting with -3 dB. But gradually knocked it down to -5 dB to get a balanced sound. I then went after the resonance and peaking around 800 to 1.2 kHz with that broad filter. And then my usual 105 Hz filter for room mode.
Once there, the sound was still a bit too bright for my taste. But there was this nice clarity and play super loud that kept me from disowning the 15B. No sub-bass is played but what it does play doesn't get distorted. You must have a subwoofer to have any physical sensation of bass.
Conclusions
Whenever people ask me about Paradigm as a speaker company, I say that they know the science but on purpose deviate from it to make sure they stay in mass market and sells speakers. That is abundantly clear in the elevated tweeter response for the speaker to stand out in a showroom (and even post purchase). The industrial touches are first class, making for an effective sales cycle.
As I noted in the introduction, I thought for $799 a pair (discounted to less than that), this wasn't a bad combination. But when I realized it sells for $1,500, then I don't think it is a good value at all. There are superb choices here that don't require any EQ and sound delightful out of the box. So I really can't recommend the Prestige 15B. Company is not aiming at us for customers.
------------
As always, questions, comments, recommendations, etc. are welcome.
Appreciate any donations using:
https://www.audiosciencereview.com/forum/index.php?threads/how-to-support-audio-science-review.8150/