Founder/Admin
Staff Member
CFO (Chief Fun Officer)
Joined

Feb 13, 2016
Messages

30,375
Likes

90,222
Location
This is a review and detailed measurements of the Paradigm Monitor SE Atom bookshelf speaker. It was kindly sent to me by a member for testing. It costs US $239 from Amazon including shipping for a pair.
I have to say, the Atom looks better than its price indicates:
Look at the nice grill over the tweeter and curvy smooth waveguide. Even the woofer seems like a step up from bargain basement with inverted dust cap and such.
The back naturally looks plain:
In case you are not familiar with Paradigm, they are a Canadian speaker company and a spin off of the research at NRC where Dr. Toole and Sean Olive worked. So similar pedigree. How well they follow that science is what we are going to examine here.
Measurements that you are about to see were performed using the
Klippel Near-field Scanner (NFS)
. This is a robotic measurement system that analyzes the speaker all around and is able (using advanced mathematics and dual scan) to subtract room reflections (so where I measure it doesn't matter). It also measures the speaker at close distance ("near-field") which sharply reduces the impact of room noise.
Both of these factors enable testing in ordinary rooms yet results that can be more accurate than an anechoic chamber.
In a nutshell, the measurements show the actual sound coming out of the speaker independent of the room.
The system performed over 1000 measurement which resulted in error rate of more or less 1%.
Temperature was 60 degrees F.
Measurements are compliant with latest speaker research into what can predict the speaker preference and is standardized in CEA/CTA-2034 ANSI specifications. Likewise listening tests are performed per research that shows mono listening is much more revealing of differences between speakers than stereo or multichannel.
Reference axis was the center of the tweeter. In another measurement online I noticed they used the boundary between tweeter and woofer. Based on measurements to follow, I think center of the tweeter is the more correct one.
Paradigm Monitor SE Atom Measurements
Acoustic measurements can be grouped in a way that can be perceptually analyzed to determine how good a speaker is and how it can be used in a room. This so called spinorama shows us just about everything we need to know about the speaker with respect to tonality and some flaws:
Looks like Paradigm is half married to NRC research. On-axis response is fairly uneven with a dip between 2 and 4 kHz followed by significant peaking and finally a bit resonance around 15 kHz or so. On the other hand, they do have good directivity in the way the three graphs follow each other in parallel. This will make equalization easier and room dependency lower.
Because the directivity is good, off-axis fortunately and unfortunately looks like on-axis:
So summing the two to get our predicted in-room frequency response has the same issues that we saw at the start:
Shame.
Here are the driver responses: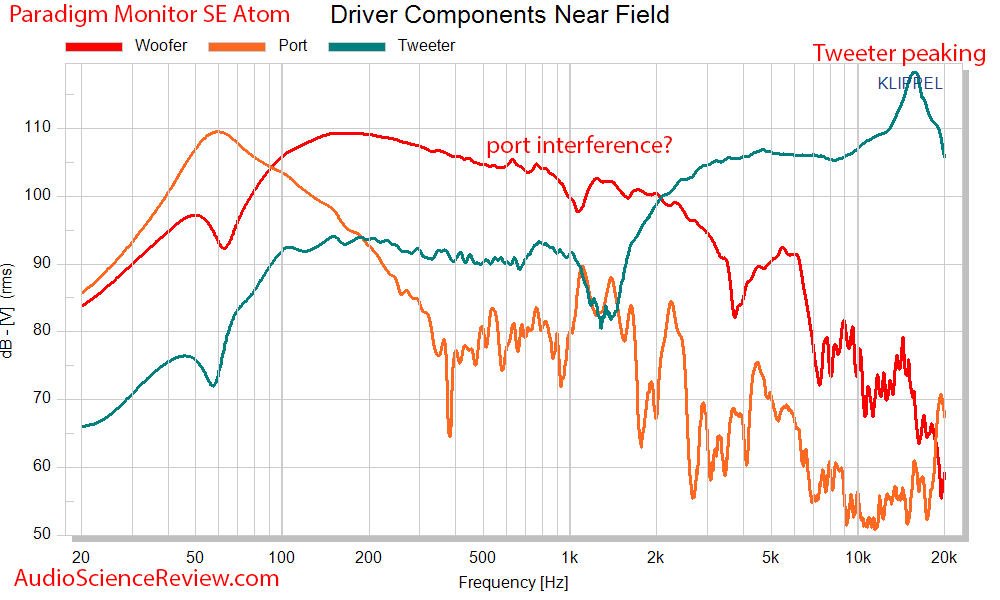 The port integration with woofer seems good. But the crossover is not as good as it could be, polluted likely by some port resonances. And of course we have that rising response from the tweeter.
Distortion data says what one expect in this category:
As indicated, directivity is good so our horizontal dispersion is good as well:
Here is our vertical directivity:
Seems to me if I had put the center lower, it would have fallen more in that 3 to 4 kHz ditch. So stay at or slightly above the tweeter axis.
Finally, here is our impedance graph showing multitudes of resonances:
Paradigm Monitor SE Atom Listening Tests
At first blush you get the impression of a highly detailed sound, nailing the "showroom experience." Continue listening though and gradually the brightness starts to be much. Everything sounds "exciting" for the lack of a better word. You can almost hear the "hiss" in the recordings. Or sensation thereof. So out comes the EQ tools:
Ignoring the 102 Hz one which is for a room mode in my listening space, the rest are basically eyeballing the on-axis errors. I initially did not put in the filter at 3000 Hz but was necessary as the brilliance was gone with all the high frequency filters.
Once there, I was pleasantly surprised by the fidelity of this little speaker. It produced very clean sound at elevated volume courtesy of no deep bass. This meant the woofer did not bottom out at all even on my "speaker killer" tracks. This does mean you need a sub though as there is no physical sensation for bass. Techno drums are fine but anything lower just doesn't get reproduced much.
Conclusions
My point of view of Paradigm is that they know the research. But they have also survived in the brutal speaker retail market for decades. As such, they have sacrificed some of what research says to compete on the showroom floor with likes of Klipsch. So not a surprise that the highs are accentuated. Luckily they did not throw out the science book and built good directivity into Atom. And provide very good tuning for bass to keep things from getting distorted and out of hand.
As is, without EQ, I cannot recommend the Paradigm Monitor SE Atom. With EQ, it is quite serviceable and likely superior to other speakers.
------------
As always, questions, comments, recommendations, etc. are welcome.
Have to drive 700 miles tomorrow to pick up something cool. That is lots of gas that I will be burning, making me feel pretty poor. So any
donations
are appreciated using
:
https://www.audiosciencereview.com/forum/index.php?threads/how-to-support-audio-science-review.8150/
Last edited: