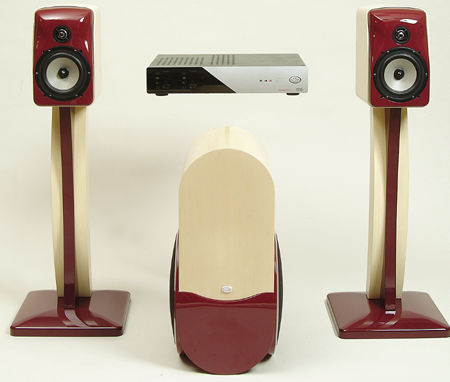 I got these new on closeout for $3k circa 2008 (original price was $6k). I hauled them out of the side room yesterday and hooked everything up.
This is still a great sounding speaker system!
It also measures extremely well (including impulse response), apart from a dip at the subwoofer crossover frequency when using a single subwoofer.
Spinerama measurements:
https://www.soundstagenetwork.com/measurements/speakers/nht_xd/
Stereophile measurements:
https://www.stereophile.com/content/nht-xd-active-loudspeaker-system-measurements
The Xd system has been reviewed a lot, but in brief, it's a pair of very small, two-way, crossover-less satellite speakers on dedicated stands, one or two "dumb" powered subwoofer(s), and an amp/DSP crossover module (with a DEQX badge) that handles the crossover between tweeter, midrange, and subwoofer.
There are a few reasons these have been sitting idle in the side room for 10 years:
* The amp emits an annoying mechanical high-pitched whine (airborne, not thru the speaker outputs). I sent the amp in for repair, and it came back the same. Amps should not make noises of their own! I assume the noise is from the switching power supply.
* NHT abandoned this ambitious system (there is, for example, an XLR mic input on the back, never used for anything AFAIK). They then went into "restructuring". It was clear the Xd system had no future. (NHT is back, but I don't think they ever regained their former glory.)
* Butterfingers here managed to break the subwoofer volume level pot clean off. Luckily the level is stuck at "fulsome" rather than a too low setting. It looks like it's a simple job of desoldering/resoldering a new pot on one of the PCBs in the subwoofer amp, but I've never done this in anything that actually had to work before.
So now I'm thinking of ways I can update the electronics. I believe I can measure the impulse response of each amp/DSP channel and then repurpose these in something like a MiniDSP OpenDSP 8 channel unit. Amplification might be Hypex modules or something from Emotiva. Then add one or two powered subwoofers.
Or I could put the money into a modern digital active system like the KEF LS-50W. I do worry about their QC issues, but they do seem to be in it for the long haul.
What other options are there for, say, under $3k?
Last edited: