This is my review for the new "Windows Media Player" that was included in a Windows 11 update. I discovered that I had it installed via the Microsoft Store. I'll mainly be comparing against it to Windows Media Player 12. This review focuses on the Music aspects not the Video ones.
Before I start the review lets just have a quick look at what were dealing with:
Windows Media Player 12:
New Windows Media Player:
Customization:
The New WMP offers a few color settings, Dark/Light Theme and Accent Color.
Although WMP12 doesn't offer color options, it does offer custom Skins and custom visualizations, which will be talking about later.
If you want some skins, Skin Factory re-released there skins:
https://www.theskinsfactory.com/wmpdesign
Graphic Equalizer:
New WMP's Graphic Equalizer features 9-band sliders and an option to move sliders together.
WMP12's Graphic Equalizer features 10-band sliders and 2 options on how to move the sliders together (Tight and Loose). WMP12 also features SRS WOW effects.
Mini Player:
New WMP offers a few Mini Player sizes but its glitchy at the moment
WMP12 offers a few mini player options including default skins
Eye Candy Virtualizations:
New WMP doesn't any have visualizations while WMP12 has a good amount of default ones and you are able to add even more.
Ripping:
Although ripping a CD with any WMP is a sin for perfectionist audio lovers, WMP was a good ripping tool for the average joe. New WMP does not offer any ripping option while WMP12 does
Formats:
WMP12 can play a good amount of common formats like FLAC. New WMP supports more formats like OGG. You can make WMP12 play OGG files with Plug-ins and Codecs. There is no New WMP official format list.
File Properties:
New WMP is missing the "Composer" section.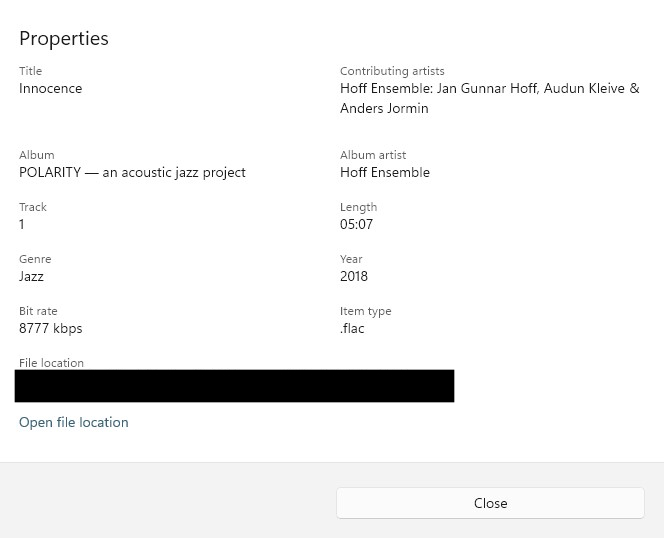 WMP12 Properties is missing the "Year" "Album Artist", and "Track Number".
Both are missing the "Bit Depth" and "Frequency" when comparing to other players.
Metadata Editing:
For whatever New WMP doesn't want to edit any Info. Even when you select a song directly, and click the "Edit Info", It just then deselects.
With WMP12, you are easily able to edit a good chunk of the metadata.
Metadata Lookup:
New WMP has an option to lookup missing info automatically but that's about it. It is turned on by default.
WMP12 has 3 options technically, Automatic Retrieval, "Find Album Info" and "Update Album Info".
"Find Album Info" let's you manually search for metadata.
"Automatic Retrieval" has 2 options itself. I'm fairly certain it is enabled by default on "Only Add Missing Information".
"Find Album Info" is a feature where you can force the player to lookup metadata automatically for your album.
Output Support:
Both WMP12 and New WMP do not have customizable output settings.
Simple Conclusion:
Although New WMP does fit Windows 11, WMP12 offers more features and does better overall. WMP12 is a viable option for any person that just wants to play there music with stability, features and customization.
Last edited: