Joined

Jan 21, 2020
Messages

1,290
Likes

2,722
Location
Hello,
I would like to share my experience of how the Neumann KH310 behaves in a small room and what measures have improved the acoustics for me.
I thought it might be interesting for others, since the KH310 has been reviewed and measured and the predominantly neutral characteristics are well known.
It might also help some who are very interested in small differences between speakers, but perhaps haven't thought much about room acoustics yet.
I'm not looking for advice since I'm moving in a few weeks anyway and will be starting all over again.
My setup at the moment looks like this:
- Neumann KH310
- 2x Neumann KH750
- 2x PSI AVAA active bass absorbers
- RME UCX II
The room is a small bedroom with the dimensions 3.0 x 4.8 meters (14 sqm). There is a bed and a big closet full of clothes, books and other stuff in it. The front view looks like this:

There are:
- 2x basotect absorbers at the ceiling ("cloud"), ca. 12cm thick
- 2x basotect absorbers on the side walls, 10cm
- 2x basotect absorbers in front of the window, 10 and ca. 12cm
- 2x green basotect absorbers in the corners, 25cm thick, with another 25 airgap
- 2x green basotect absorbers, 40 cm trangles
The 2 AVAAs are at the back wall. Subs are in the L/R corners (on top of the small wooden boxes and partially behind the absorbers) at 1/4 room heigt.
Listening distance and distance between monitors is 1.55 meters.
Desk is small, 1.0 x 0.5 meters and tilted 10 degrees. I use furniture risers like this: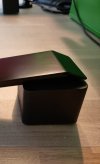 This is the frequency response i get with all measures after calibration with the Neumann MA 1 (single sweep L/R + average): red: left 1/24; green: right 1/24; blue: average with var smoothing
And here is the same without treatments:
And now the interesting part, i hope. I'll go through the individual measures and show the differences in each case:
Left channel single sweep only for all graphs.
1. I switched off the AVAAs:
2. I removed the "cloud":
3. I removed the risers and put the desk flat:
4. I removed the absorbers in front of the window:
5. I removed the green absorbers in the corners:
6. I removed the side wall absorbers:
7. And finally disconnected both subwoofers and deactived the built in DSP:
And here again most of it in one picture:
Some additional graphs:
ETC before (blue)/after (red) treatments:
Group delay before (blue)/after (red) treatments
Waterfalls:
Some conclusions for me:
- AVAA in my room helps only below 30 Hz
- Tilting the desk was very important for imaging
- Basotect absorbers behind the monitors and in the corners help in upper bass and lower mids, but have no effect below 100Hz
- Cloud in my case may be the least helpful measure.
- Subs were needed to fill the gap between 70 and 100 Hz (1 sub did most of it, btw. second sub didn´t add very much)
- EQ is mandatory in a small room even with neutral speakers, absorbers and PSI AVAA
Last edited: