Founder/Admin
Staff Member
CFO (Chief Fun Officer)
Joined

Feb 13, 2016
Messages

35,029
Likes

130,725
Location
This is a review and detailed measurements of the Natural Sound (NS) Audio NS17 speaker. It was sent to me by their distributor,
Aoshida Audio
and costs US $2,300.
These speakers are designed and built in China. The latter is not unusual but the former is. The selection of finish and material on this sample seems first class:
You can see the gloss finished veneer better from the back:
The picture does not do it justice as far as the luxury feel it imparts. Alas, as you may be able to see, there is chip around the port which has been patched. And there is a foggy spot on the top left of the speaker. Don't know if this is limited to my sample or general defects/lack of quality control in building them.
To be honest, my first reaction when I was approached to test the NS17 was to say no. Figured they are mimicking the look of a high-end speaker but that there is no design involved there. A quick look at the product page changed that opinion and fast: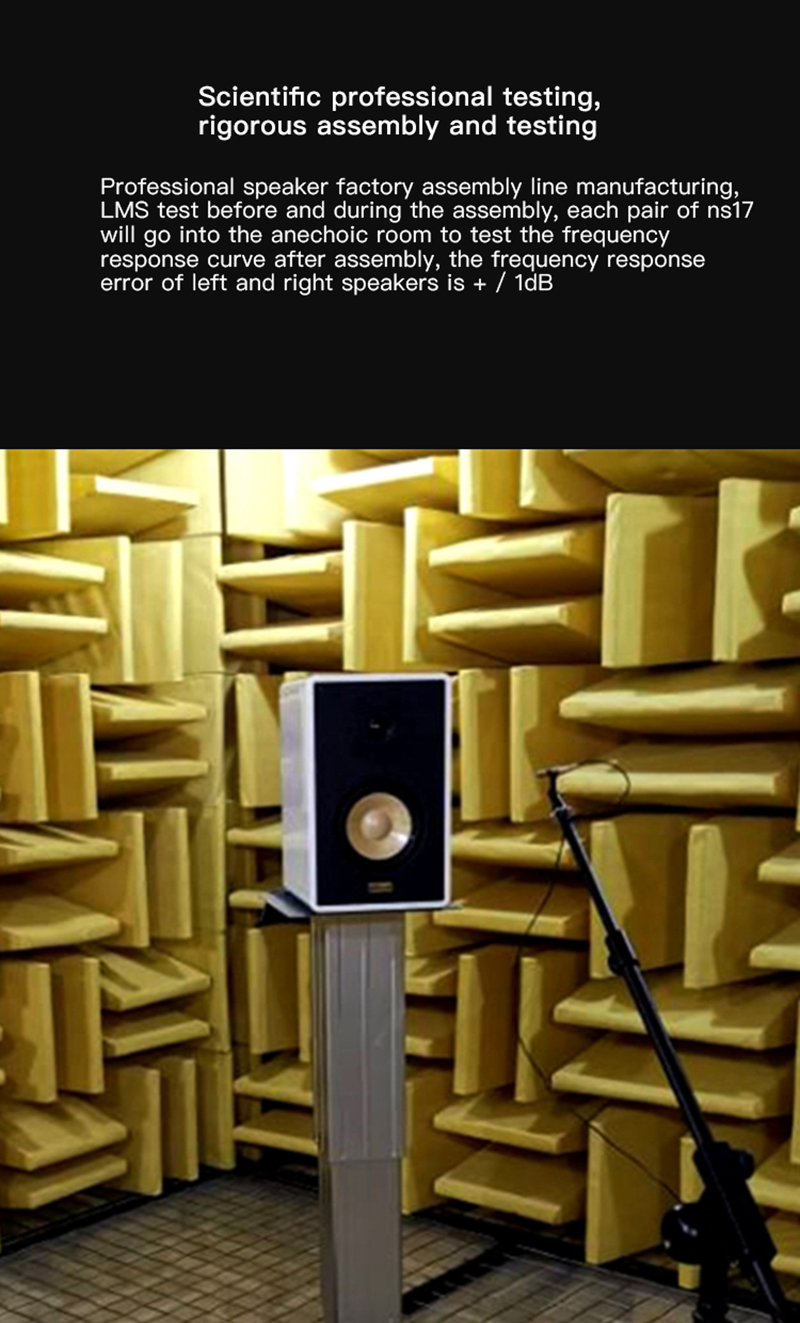 They are calibrating each sample manufactured in anechoic chamber??? I don't think there is any other speaker company doing that. They use the chamber for design but manufacturing QC is done elsewhere. Another unique thing here is distortion graphs directly from Klippel analyzer as I run them: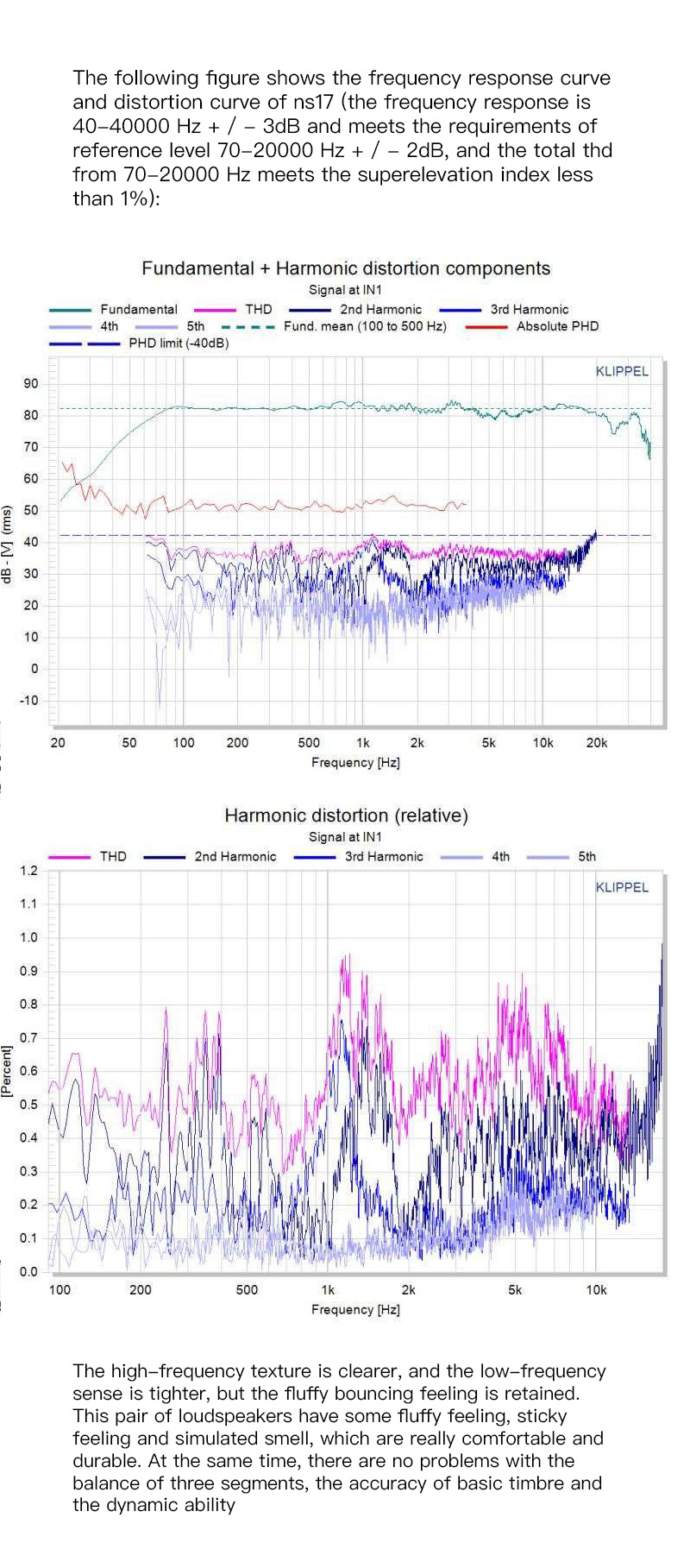 Alas, the scale on the top graph is way too large, making the frequency response look flatter than it is. Still, they should be commended for producing more measurements than I have seen any manufacturer produce including high-end professional monitors.
Measurements that you are about to see were performed using the
Klippel Near-field Scanner (NFS)
. This is a robotic measurement system that analyzes the speaker all around and is able (using advanced mathematics and dual scan) to subtract room reflections (so where I measure it doesn't matter). It also measures the speaker at close distance ("near-field") which sharply reduces the impact of room noise.
Both of these factors enable testing in ordinary rooms yet results that can be more accurate than an anechoic chamber.
In a nutshell, the measurements show the actual sound coming out of the speaker independent of the room.
I performed over 1000 measurement which resulted in error rate of about 1%.
NS Audio NS17 Measurements
Acoustic measurements can be grouped in a way that can be perceptually analyzed to determine how good a speaker is and how it can be used in a room. This so called spinorama shows us just about everything we need to know about the speaker with respect to tonality and some flaws:
I was impressed with the ruler flat in bass to lower midrange and again in upper treble. Unfortunately in between things get a bit messy with two broad peaks comprised of smaller variations. Near-field response gives some clues here but not a complete answer:
Port resonance is kept at lower frequency so it should not interfere as much as it does in other designs. There is a notch in woofer response.
The second issue which is visible easier in early window is the sudden narrowing of the tweeter response:
There is no waveguide so the tweeter starts to beam as soon as it takes over. Vertical dispersion has created a dip at 2.3 kHz as well.
Putting the two together we get a very unique predicted in-room frequency response:
Ideal response is a sloping down one. Here, we have a flat response and then the slope. What do you think this will sound like? Not an easy question to answer.
Looking at the 1000 to 3000 Hz response we see the disturbances in the middle:
Beamwidth graph shows the directivity issue:
Here is our colored directivity graphs:
As noted, you should sit at or above tweeter axis so you don't fall in the "eye" between 2 and 3 kHz and have more of a dip there.
A highlight of this speaker is the very low distortion in bass frequencies at 86 dBSPL:
Something is going on though between 1 and 2 kHz though:
There is a switch in the back that tailors the high frequency response. Here is the effect:
So looks like it does what it says.
Finally, impedance is reasonable at above 5 ohm:
I liked that no resonances are visible in there.
For those of you up to no good which keep asking me for "timing" graphs, here is the impulse response:
Don't say I never listen to you. While it is true that I don't, I don't want to hear it from you....
NS Audio NS17 Speaker Listening Test and Equalization
This speaker had me stomped for nearly 24 hours. I played it, it could handle tons of power. The sound was clean but bright sounding. I toggled the switch to -2 dB but that didn't help much. Tried to EQ down the two broad areas but in AB testing, I did not always prefer the equalized setting. After a few hours of listening and experimentation, I thought maybe it is me and not the speaker. To verify, I replaced the NS17 with
Revel M16
. Wow, was this a huge improvement. The sound was now warm, inviting, and just enjoyable. I went back and looked at the measurements of the M16, specifically the predicted in-room response:
We have a sloping down response and a bass hump around 100 Hz. I switched back to NS16 and dialed in the same hump:
That was it! Now the NS17 was also warm sounding and quite inviting. The response in NS17 is too flat up too flat and even peaky up to lower treble and hence the brightness. I suspect you could keep the bass the same and fix this and the upper mid-range but it was easier to just boost the bass.
Once there, the effortlessness of the NS17 showed its value as I cranked up the volume and enjoyed the tracks being played.
Conclusions
There is clearly good effort and engineering that has gone into the design of this speaker. They have the right tools to measure and optimize the drivers and overall design. I think smaller detailers are getting in the way such as not using a waveguide and/or having the tweeter way away from the woofer that is causing directivity errors in vertical direction. I confess that I don't have 100% confidence in my subjective evaluation. It was a challenge and I think I got to some place decent, but not going to swear by it. You have the data and you judge.
Overall, I am going to recommend the Natural Sound NS17 if you use equalization to impart a sloping down target.
-----------
As always, questions, comments, recommendations, etc. are welcome.
Any
donations
are much appreciated using
:
https://www.audiosciencereview.com/forum/index.php?threads/how-to-support-audio-science-review.8150/