Founder/Admin
Staff Member
CFO (Chief Fun Officer)
Joined

Feb 13, 2016
Messages

42,660
Likes

214,743
Location
This is a review and detailed measurements of the NAD CS1 Network Streamer and DAC. It was kindly drop shipped to me by a member and costs US $349.
The CS1 comes in a compact plastic part befitting its cost and brand. Upon power up, you see a red light blinking until it downloads its firmware. Process could not be more painless and only lasted a few minutes. There are no controls or apps. Streaming only operates in "push" mode meaning you use your favorite app and point it at CS1 for its output.
Back side shows support for stereo analog and coax/Toslink S/PDIF digital outputs. Trigger support is a nice touch. A high quality usb-c cable connects to the included power supply.
I used my Roon player to stream content to it over Ethernet. It worked flawlessly.
The included DAC is TI 5141 with the following specifications:
So best case we are missing 16 bit performance with SINAD of 92 dB.
If you are new to these measurements, please set aside some time to watch my
video on DAC measurements.
NAD CS1 Measurements
Let's start with our usual dashboard while sampling analog RCA output:
We see quite high level of distortion. Lowering the digital input by a few notches did not improve things at all. We are 11 dB short of the internal DAC chip specification. Fortunately switching to digital output remedies that with bit perfect output:
This is a dithered (noise added) signal so we are seeing the best case 140 dB SINAD. You are limited by the performance of the external DAC.
FYI when I was tested the digital output, I was not getting a signal unless I told ROON to keep output at 100%. In other words, there is no digital volume control which is fine but I didn't expect the output to shut down.
Jitter test shows a few inconsequential components although much may be hidden by high noise floor: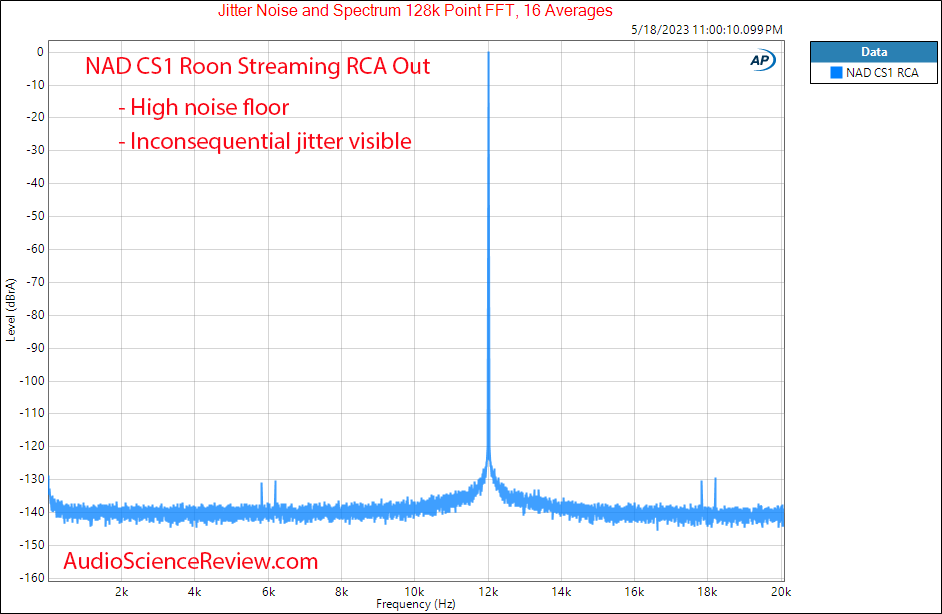 Switching again to Coax digital and sampling the spectrum of timing variation (jitter), we see low correlated jitter (spikes that match the others in the graph):
The noise floor though rises a bit towards high frequencies indicating random high frequency jitter. I don't expect any of this to deter any half decent DAC and should assure high level of compatibility as well.
I can't run my interactive/sweep tests so let's finish with the last static test, Multitone:
We see that the news gets even worse past the 1 kHz tone uses in the dashboard.
Conclusions
You all probably know my preference for push streaming as implemented in CS1. There is no app to download or learn. No reliance on the unit keeping up with updates and such (as long as the push protocols don't change). Support is provided for key services including Tidal and Spotify. In my case, for LAN streaming, we get ROON and DLNA. Over the air update was painless and reliable. As well, digital output is bit perfect allowing you to use DAC of your choice to get full streaming functionality.
The down side is the poor performance of the internal DAC. I know it is a checklist item but NAD, let's get the same performance as the DAC chip is spec'ed at. Why do we need to give up so much performance to distortion? A bit of attention to measurements would have found the cause and resolved it.
Without the internal DAC being worth much, you have to decide if $349 is worth it for a digital only solution.
Personally I am not going to recommend the NAD CS1 due to poor internal DAC. If I did otherwise, there would be no reason for them to fix this in future products!
-----------
As always, questions, comments, recommendations, etc. are welcome.
Any
donations
are much appreciated using
:
https://www.audiosciencereview.com/forum/index.php?threads/how-to-support-audio-science-review.8150/