Founder/Admin
Staff Member
CFO (Chief Fun Officer)
Joined

Feb 13, 2016
Messages

39,148
Likes

174,997
Location
This is a review and detailed measurements of the NAD C658 streamer and DAC. It also acts as a preamplifier with Phono and line in. A cool feature is inclusion of Dirac Room EQ and balanced out and you get a killer feature set. For that, you need to pay though to the tune of US $1,650. The owner purchased a factory refurbished which I see going for US $1,300.
The overall design looks quite nice with a larger and informative display: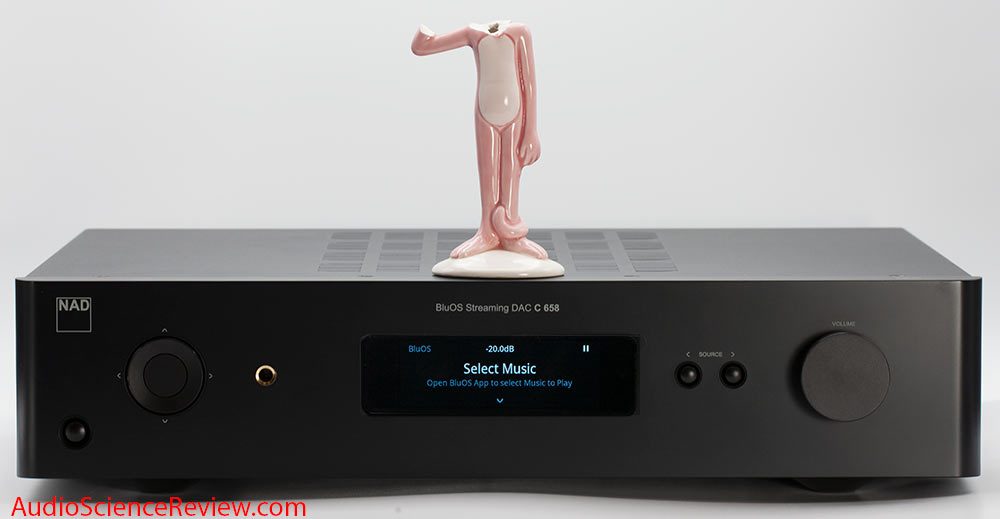 Here is the back panel:
The only feature missing that should be there is the unit acting as a USB DAC. It has a USB connector but that is it acting as a host, playing content from external storage.
Since there is no USB input, I started my testing with Coax S/PDIF. To my surprise, the frequency counter on Audio Precision was jumping all over the place as was the waveform. This indicate lack of lock on the incoming clock which could either be a design flaw or something broken in this unit.
I then switched to Toslink optical with the same result. Wanting to make sure my analyzer had not failed, I powered another DAC and it worked perfectly there.
Without these inputs working, the only digital path I had was streaming using Roon which worked fine. Roon complains that it is not certified but worked anyway.
Streaming DAC Audio Measurements
Here is our usual dashboard:
Even though performance bests the specification at 0.005% distortion, this is well below acceptable in a high priced device like this:
The only other test I can run this way is jitter:
That spray of spikes should not be there. Fortunately it is at -130 dB so not an audible concern.
Conclusions
Shame to see quality control or design issues in a brand like NAD. Even if the digital inputs were not broken, the performance of the DAC fails to even match a half decent $9 phone dongle. So despite great feature set, NAD needs to go back to the drawing board and clean up its implementation.
Needless to say I can't recommend the NAD C658.
------------
As always, questions, comments, recommendations, etc. are welcome.
The panthers are threatening "social distancing" if I don't give them a raise. Can't let that happen as I will be out of business. So please
donate
as much you can using
:
https://www.audiosciencereview.com/forum/index.php?threads/how-to-support-audio-science-review.8150/